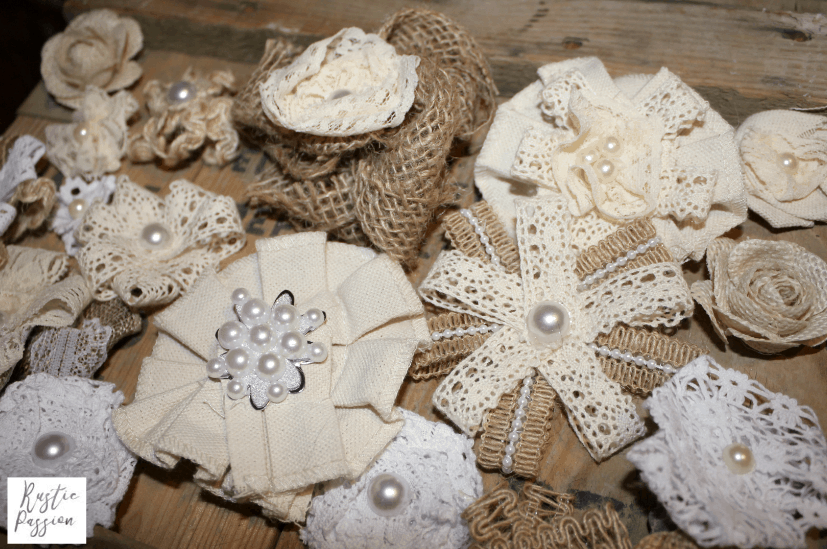 Hey guys! I hope you all are having an amazing week. Valentine's Day is coming up soon so I wanted to do some fun shabby chic flowers to show you all. These were so easy, and turned out gorgeous. I love white and neutral so much so these were perfect. There are so many ways you can display your fabric flowers. I will show you what I ended up doing with them!
I knew I wanted to make a lot of fabric flowers so I just picked up a bunch of different ribbon from Hobby Lobby, and Amazon.
Some of the links on my blog are affiliate links, meaning no additional cost to you, I earn a commission if you purchase through the links. Thanks for supporting my dream!
Items you will need for this project:
Hot Glue Sticks – The link I have included is a kit of Glue Sticks and Glue Gun
First I cut some jute ribbon in about 3 inch long pieces.
I folded them in half and hot glued the ends together.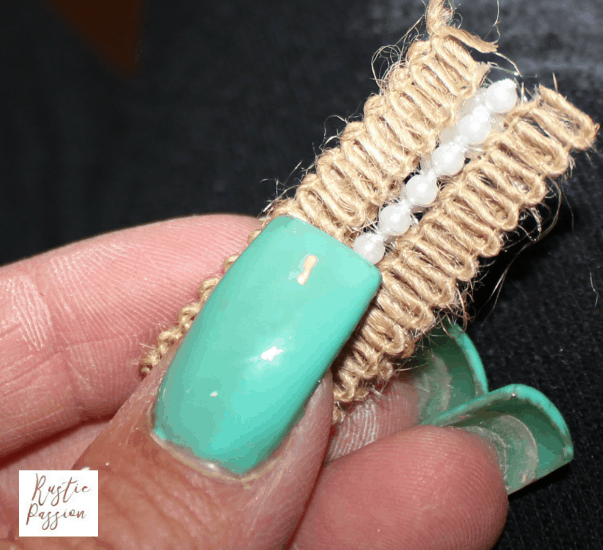 I glued all 5 fabric pieces to a small square of felt.
I wanted there to be a couple different kinds of ribbon on this one flower. So I cut 5 strands of white ribbon. This ribbon was so pretty I love it!
Same thing on this ribbon, I folded them in half and glued the ends together.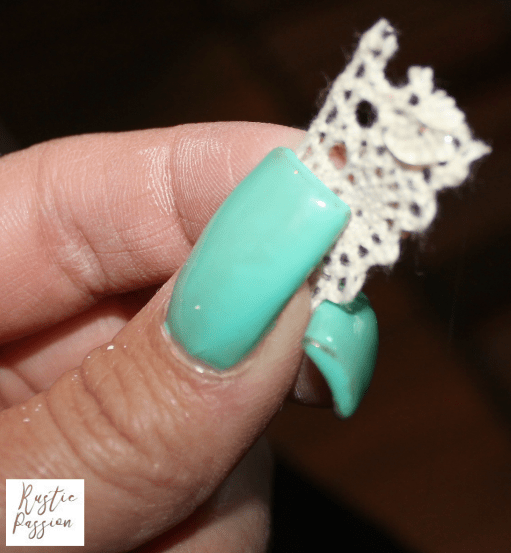 I glued the white ribbon on top of the burlap strands in the middle, and glued a pearl in the center on top.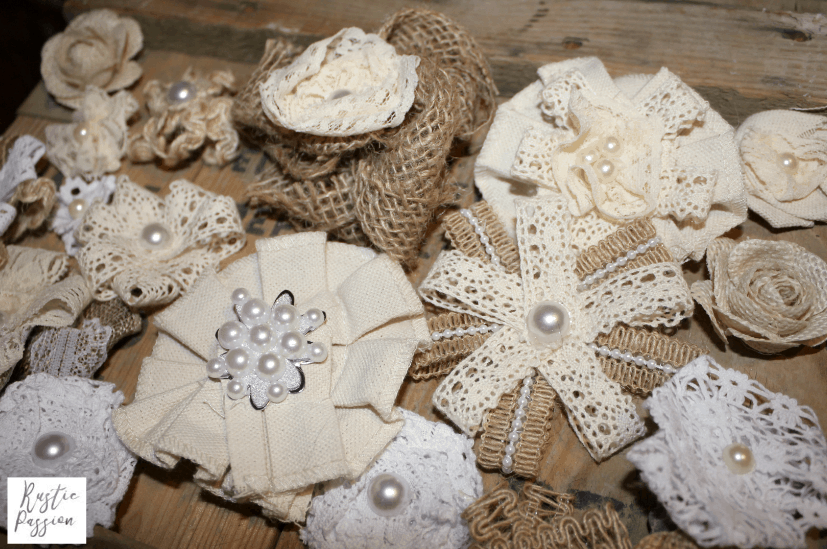 Here is the end result guys! These flowers turned out so pretty! I love the neutral shabby chic look. They are so beautiful.
I used them for decor on white vintage books. See how to make these shabby chic faux vintage books here.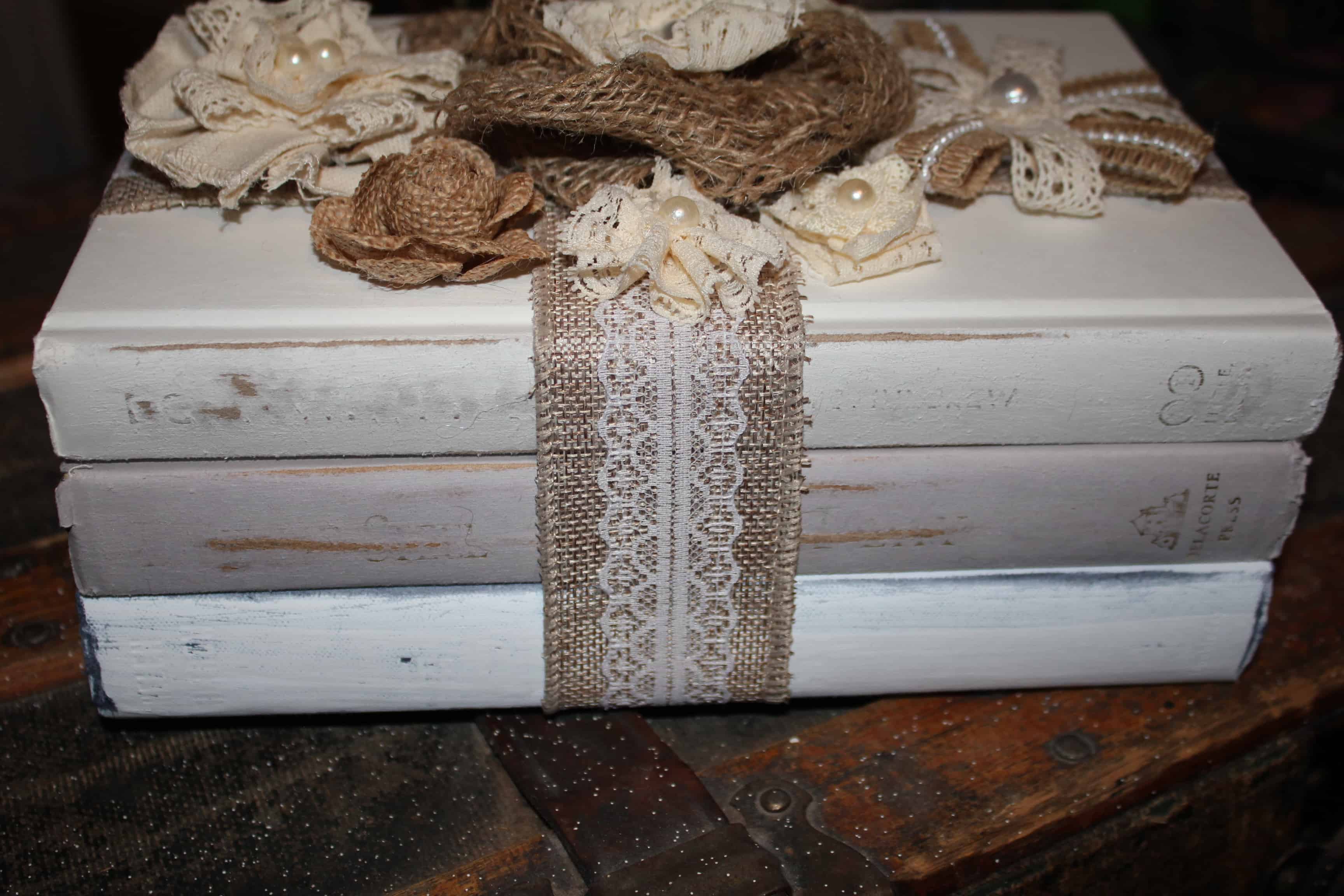 Thanks for stopping by friends! Have a great day.
Don't forget to tag me in your photos of your own Fabric Flowers! My instagram is @Rusticpassion or my email is Allie@RusticPassionByAllie.com. I love seeing what you guys are working on!
[one_fourth]
[/one_fourth] [one_fourth]
[/one_fourth] [one_fourth]
[/one_fourth] [one_fourth]
[/one_fourth] [one_fourth]
[/one_fourth] [one_fourth]
[/one_fourth] [one_fourth]
[/one_fourth] [one_fourth]
[/one_fourth] [one_fourth]
[/one_fourth] [one_fourth_last]
[/one_fourth_last]