How To Start A Blog and Make Money from a website right from the start!
I get asked these questions all the time what is a blogger? What does a blogger do? What is a blog? And what does a blogger even write about on a blog?
So let me help you understand a bit more what a blogger is! And never ask again "what is a blog?"
If you have been dying to know what is blogging or how to become a blogger but can't figure out exactly how to do it. Then you are in the same place I was. I have heard this question time and time again.. can you make money blogging?
This post will teach you exactly how to make money from a website and help you understand all the many ways to make extra money. It seems like you can never do enough research or read enough blog posts on Pinterest to get educated. The best advice I can give you on how to start a blog and how to make money from a website is that you just have to start one! You have to jump all in. And become a blogger!
What better ways to make extra money is there than working for yourself? Truthfully, none that I can think of! I have included some of my favorite products that I personally use. Continue reading if you want to learn how to actually make money from a website and become a blogger.
As a matter of fact, let me explain further ways to make extra money.
If you are wondering if you can actually make money from a website the short answer is YES absolutely! Not to mention I have been a full time blogger for a year and a half. I bring in a full time income that I am truly grateful for.
Learn the exact steps for how to start a blog and learn how to make money from a website.
I am NOT a blogger that ONLY blogs about blogging. It seems like that's what everyone does these days. Truthfully so many people believe that's the only way to make money. Because that's what EVERYONE talks about. But that is just NOT TRUE!!! I promise you can make money from a website by blogging about your passions.
The truth is I created this Home Decor/DIY blog to share what I am deeply passionate about. I love creating and designing home decor that is affordable and fun to make. However, you will have will have bumps along the way. And don't say I didn't warn you. Learning something new is always a bit of trial and error in the beginning. But please stick with it. Because it will be worth it!
All things considered, you will be so incredibly happy you learned how to become a blogger and how make money from a website.
So in this post, I am going to share exactly what products I use to create a profitable blog. That lets me share my passion with the world and make a full time income doing it.
Now without further to do, let's get down to business and learn how to make money from a website.
Remember, I only recommend products I use myself and that I absolutely love!
Some of the links on my blog are affiliate links, meaning no additional cost to you, I earn a commission if you purchase through the links. Thanks for supporting my dream!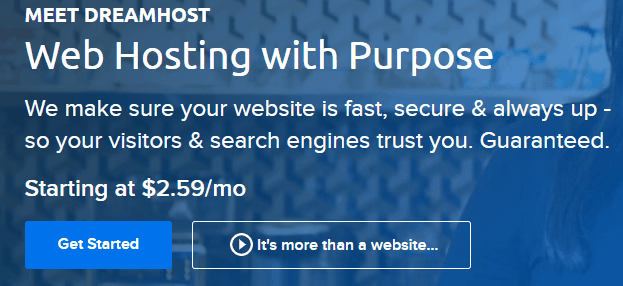 My blog is WordPress self hosted through Dreamhost for only $2.59 a month! They have been amazing. I wouldn't recommend anyone else! You will want to sign up for a year hosting plan, I feel like it's the best way to go. If you want to actually make money from your blog self-hosting is the only option.
Before you start researching a ton about how to start a blog do yourself a favor. And research affiliate marketing for beginners. I make a lot of passive income through affiliate marketing. If you aren't involved in affiliate marketing yet you need to be… Because you are leaving so much passive income behind. Would you love to continue making passive income from a product that you promoted on autopilot and it just kept bringing in sales? It's the best feeling ever! My favorite affiliate program is ShareASale. They offer partnerships with so many amazing companies. Join shareasale.com, Earn Cash Easily Now!
Who doesn't love Amazon? Literally no one!
Amazon Affiliate Program is the second top affiliate program where I make most of my money. If you haven't signed up for the program yet you will absolutely want to and take full advantage of it. Amazon is taking over the online shopping world right now. It's the best time to sign up for the program and start getting your portion of Amazon affiliate sales.

The She Approach Making Pinterest Possible is probably the best eBook I have read through out my blogging journey. It has helped me create a completely new strategic Pinterest plan that actually works. 90% of my blog traffic comes from Pinterest and I get over 2 million Pinterest views a month on my account. If you want to learn a flawless strategy that actually works to get more traffic to your blog look no further.

The She Approach Boosting Your Blog Traffic eBook has taught me incredible tips for increasing my blog traffic. Which of course is a must because without blog traffic you can't make money. That's the goal for every blogger out there is increasing blog traffic. A lot of trial and error goes into blogging. But this book will make your blogging journey so much easier. I promise!
Have you ever heard of Tailwind?
Tailwind is a MUST for me. If you aren't sure what Tailwind is let me be the first to explain it's the best Pinterest approved Pin scheduler. And like I mentioned above most of my traffic comes from Pinterest and without Tailwind that wouldn't be possible. I schedule 5 months worth of Pinterest pins and I can just let Tailwind automatically share my pins for months.
ConvertKit is what I use for my email list. If you have been listening to blogging podcasts for a while or reading how to make money blogging blog posts from Pinterest… You will see over and over building your email list is the key to success. I have recently started building my email list more and just wish I focused on it from the very beginning. I have used other Email List tools and found none have been as easy for me as ConvertKit.
Courses I absolutely love!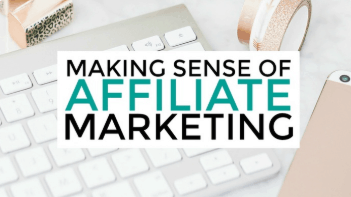 If you haven't heard of Michelle from MakingSenseofCents.com you will fall in love with her blog. She makes more than $100,000 a month on her blog. Most of her income is from Affiliate Marketing. To be honest this course truly changed the way I looked at affiliate marketing and passive income. Because it educated me that the possibilities to make money blogging are endless. Absolutely, look into this course. You won't be disappointed. As a matter of fact, you will thank me later.
I wish I would have signed up for this amazing bloggers toolkit sooner than I did. I heard EVERY single blogger out there talk about. Over and over.. But I didn't jump on the bandwagon to buy it right away. Regretfully, I wish I would have. Because it brought tremendous value to my blogging journey. It came with so many educational courses, PDF's and eBooks. All the HUGE bloggers that I learned so much from included their products in this bundle. Sign up for this amazing Bundle!
Like I mentioned before I DO NOT blog about blogging. But I just had to share all my favorites with you. So on your journey of how to start a blog you can use the best products to make money blogging right away…
I blog about what I am passionate about, I blog about what I love doing most, I blog about how anyone and everyone can be creative. So finding your "WHY" has to be your priority.. Whether you want to learn how to start a blog to also bring in some extra income and share your passions. Remember, you will want to find your exact "why." More than anything, why it is that you want to learn how to start a blog.
It has to be so much deeper than to just make money blogging.
Because you will fail if that is your only reason. Although, if part of your why is to make money blogging and make money working from home that's okay. Because it's a pretty great perk! But blogging is hard But so incredibly rewarding! What other career can you work on your own time, talk and teach people what you are passionate about, build relationships with strangers who actually turn into your online family.
Not to mention, I have always felt like DIYing and interior design are my calling in life. So when I found the opportunity for blogging. I literally jumped in with both feet and quickly learned how to start a blog. I was going to do everything that I could to share my passions with the world all while learning how to start a blog.
I promise if you do these things to start a blog and make money you will be able to make an income doing something you love!
And I can not say enough how much blogging has changed my life. But really I know it can change yours too!
Thanks for stopping by the blog today. I am so happy you came. If you want to connect with me don't forget to on any of the above places. I love talking with you and answering any of your home decor/crafting questions. Remember always follow your heart on this journey of blogging! You will never regret it!
Learn exactly how to make money online!