13 Decorative Amish Mailboxes That Add The Perfect Rustic Style.
Unique country style mailboxes and Amish mailboxes to add some rustic style to your front yard.
Are you looking to bring a unique look to your front yard? I will show you the perfect thing to add the perfect touch of rustic style. Why should you use Amish mailboxes or a rustic wooden mailbox? What makes them rustic mailboxes vs others? Why are they so much better than metal or plastic ones? Well, if any of these questions have crossed your mind, you are at the right place!
First of all, rustic mailboxes are made of wood instead of metal or plastic. The reason why rustic mailboxes are so much different than others is that this material has many unique materials and provide a rustic country look. They look different than the usual metal ones. Which is something I love!
After reading this article, you will more than likely want to buy an Amish mailbox for yourself! Because they are unique and you will hardly see them anywhere else. They look like a cute decoration for your yard.
Tell me below in the comments which amish mailbox is your favorite one.
I'll share all my favorite Amish mailboxes in this blog post.
Let's go over the basics.
The Amish mailbox brings a little touch of country to every home. No matter if your style is rustic, farmhouse charm or you love more of neutral design! They all bring the rustic charm that you want to your home. These rustic country mailboxes bring a unique country style to the front area of your country home. The Amish mailbox is tall enough for tall packages from Amazon, but it's still a great fit for smaller packages too.
The Amish are known for their beautifully handcrafted wood products so it makes sense that they would come up with creative, unique mailboxes. These mailboxes may be used in place of traditional metal or plastic boxes.
They are also well known for their beautifully made wood products such as furniture, carriages, and toys. It makes sense that they would create unique and rustic looking mailboxes.
What is an Amish mailbox and where can you buy one?
Every homeowner's dream is to add a little rustic charm to their home and their front yard. Adding an Amish mailbox in your front yard is one way to accomplish this goal. Mailboxes are more than just functional, they also play an important part in the curb appeal of your home. You want to make sure you have a mailbox that is functional and adds a touch of unique style. That's exactly what an Amish mailbox will do.
First of all, rustic wooden mailboxes are unique. They do not spoil the overall look of your house or yard. For example, if you have rustic shingles on your roof and rustic shutters on your windows, rustic mailboxes will perfectly compliment them. They are all the same style to complement each other.
Secondly, rustic wooden mailboxes also prevent plants on your lawn from drying out. Wood is a very porous material and it absorbs water like a sponge. It does not allow the sun to reach the roots of the plants which results in blocking evaporation from leaves.
Thirdly, Amish mailboxes provide a rustic and country look to your yard and house. They take you back to the old days and make you feel like everything was better and more rustic back then. You will also see that rustic mailboxes are much more interesting than simple metal or plastic ones.
Keep scrolling and I will share my favorite Amish Country Mailbox ideas to make your front yard unique and cute!
Keep in mind that an Amish mailbox is a beautiful way to add some rustic charm and country flair to your home. Because not everyone lives on a farm so you have to find ways to decorate your home with rustic pieces even if you do not live in the countryside.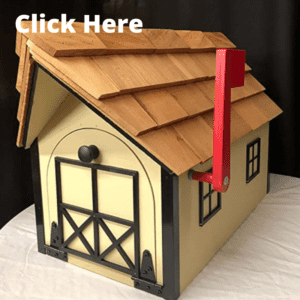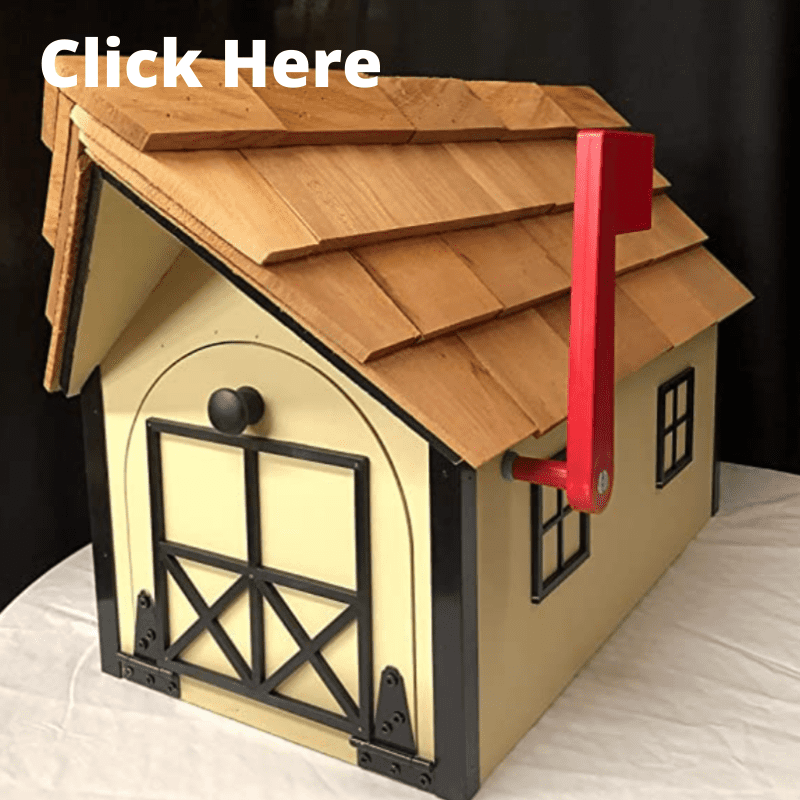 Many people want to add a touch of rustic appeal to their homes. One way they accomplish this goal is with Amish mailboxes.
As I mentioned above I would share where you can get your own Amish mailbox. There are many Amish businesses online, but Amazon is one of the most popular Amish suppliers. Amazon sells all types of Amish products and fulfills Amish orders directly. A unique wood mailbox my favorite place to get a unique Amish mailbox is Amazon. They offer many different styles and colors of mailboxes.
The rustic farmhouse charm is seen throughout these country style mailboxes.
This rustic wood mailbox was made with a little of everything, from rustic to farmhouse charm. The country area is where every mailbox should be rustic and charming! Rustic indeed brings country charm, but rustic doesn't mean tacky! All of these rustic farmhouse mailboxes show the rustic portion of rustic farmhouse charm. The simple-sized rustic wood mailbox is perfect for every country home.
So trust me that a great Amish mailbox is a perfect example of rustic and charming it's what rustic farmhouse charm brings.
If you decide to get one of the Farmhouse mailboxes, rustic wood mailboxes, or country mailboxes you won't regret it. They bring the simple country front yard style you have been looking for.
Take a look around the blog you can see other popular posts below.
Thanks for stopping by the blog today. It means so much that you came.
If you want to be friends fill out the form below so we can hangout more than just here. I love connecting with my blog family. You'll be the first to see DIY projects and decor tutorials that you can do. Along with tons of freebies that I send only my email list.
Shop all my favorite home decor products HERE.
Rustic Farm House Mailbox – rustic wooden mailbox rustic front yard rustic farmhouse style Amish country mailbox rustic wood rustic fence post-Amish country rustic handmade style rustic flagstone mailboxes available, their unique qualities.