13 Genius Pallet Plant Stand Ideas That You Can Easily Make.
The cutest Diy plant stand ideas that you can make for cheap!
I love this time of year. Because I'm thinking about all the Spring ideas and projects for the garden. Fun things that I want to get done. Since moving on the farm last Spring I have really wanted to make our outdoor living space something I love spending time in. Because the idea of being outdoors a lot of time when the weather is good excites me. Wyoming has the most beautiful mountains and the weather is perfect during Spring and Summer. That was one of the main reasons we chose this farm. One of the ideas I've had in my head since we moved here is creating a gorgeous garden with a pallet plant stand.
If you want to see my must have Gardening list you can CLICK HERE.
I have always loved the look of pallet garden beds they are rustic and perfect outdoors.
If you have a green thumb and want to create a gorgeous pallet plant shelf or even if you just want to learn and get new ideas you have come to the right place.
Some of the links on my blog are affiliate links, meaning no additional cost to you, I earn a commission if you purchase through the links. Thanks for supporting my dream!
I am going to help you understand how you upcycle plant stand out of pallets!
I will share some inspiration with you so you can figure out which look you like the most from these DIY plant stands!
If you've even wondered can I use pallets in my garden?
There are so many things that can do done with pallets in your garden. You can use them as different kind of planters. My favorite DIY plant stand right now is a vertical pallet planter. It's so gorgeous to display your different kinds of flowers and plants.
What can I do with a pallet in my garden?
You can upcycle plant stands out of pallets so easy. Keep scrolling and I will share my favorite ideas.
How do I make a plant stand out of pallets?
You need to make sure you are using a heat-treated pallet. You can make a lot of different types of pallet planters. The best way to do this is figure out what kind of pallet planter you are looking for. I will list a few different kinds so you can see which one would be the best fit in your garden. Definitely remember how much space you are working with. That will depend on a vertical planter, a wall/fence planter, planter box, a pallet base to hold small pots. There are so many options.
One of the reasons I love a cute pallet plant shelf and pallet raised bed ideas is because it's such an affordable way to bring some garden design the easy way.
Your eye needs different levels and texture to look at in design whether that's in your home or garden.
Anyone can find a pallet for dirt cheap or sometimes free! I see them listed in my local online groups all the time. People want to get rid of them! You can always call your local grocery store as well they give them away for free too.
So now that you know how to land a free pallet or a few of them let's get down to business so you can see what ideas you can make for your own backyard heaven.
This one is gorgeous if you are looking for something that is larger and takes up a lot of space. It can be it's own garden and a pretty focal point for your yard. This one has wheels on it which makes it nice to be able to move around.
This one is simple and can be made easily just by attaching four pallets on the sides and one on the bottom. I really love the look of this pallet planter because it's super rustic and a great size for the corner of your yard.
So this is a little bit of a different idea. You can lay your pallets down attach them together and use them as a base for your pots and galvanized planter tub.
This one is super simple you can easily attach small pots to a hanging pallet. And even use an extra pallet to create a small DIY plant stand to set more pots on.
This pallet has been painted white and then a hole was dug in the ground in the middle. It's a great way to display larger pots that don't fit right on the top of the pallet when it's laying down.
The look of this pallet wood plant stand is pretty. And very efficient it's attached to the fence of the yard. This might be a great idea for you if you have little to no space for a garden.
Here is another diy pallet wood plant stand that they made into a decorative fence. This one offers more of a garden look because you can plant tall flowers in it instead of just small plants.
Tell me below which one of the pallet plant stands is your favorite so far?
This next one is a gorgeous vertical pallet planter. It's fun to see the variety that can be used together.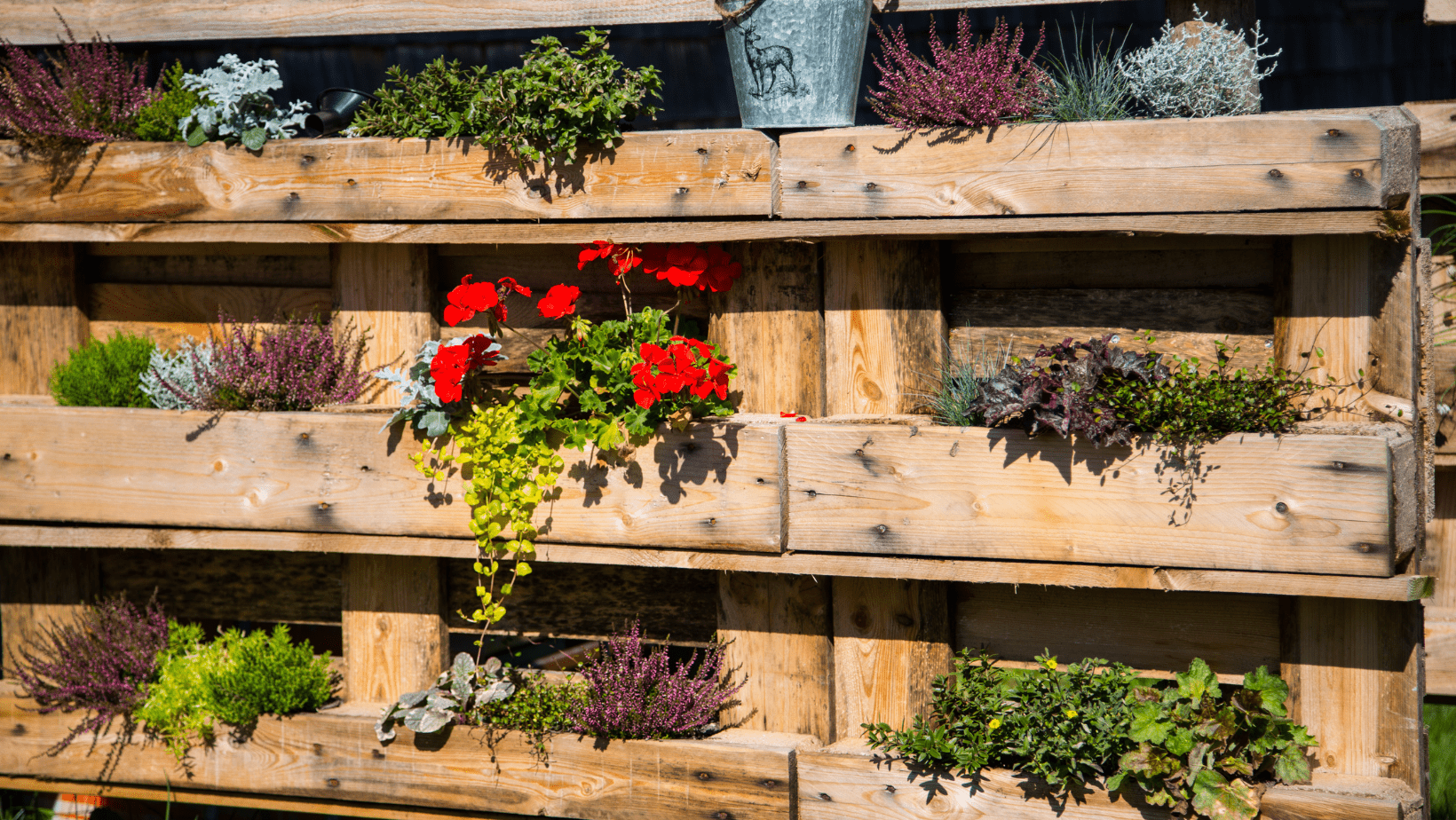 This one is pretty simple when it comes to pallet raised bed ideas. But it's perfect if you are looking to have a few pallet planters in your yard.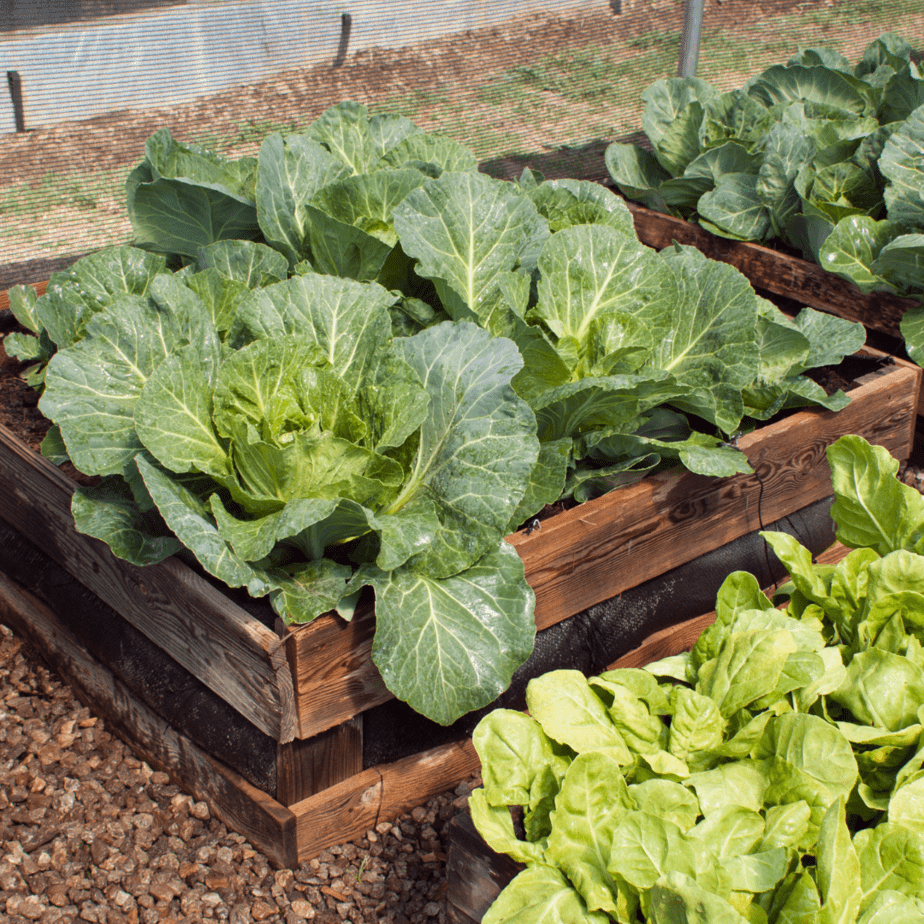 Wowww this pop of red is gorgeous and brings such a fun look from any of the pallet plant stands we have seen so far. It really brings out the different colors of flowers.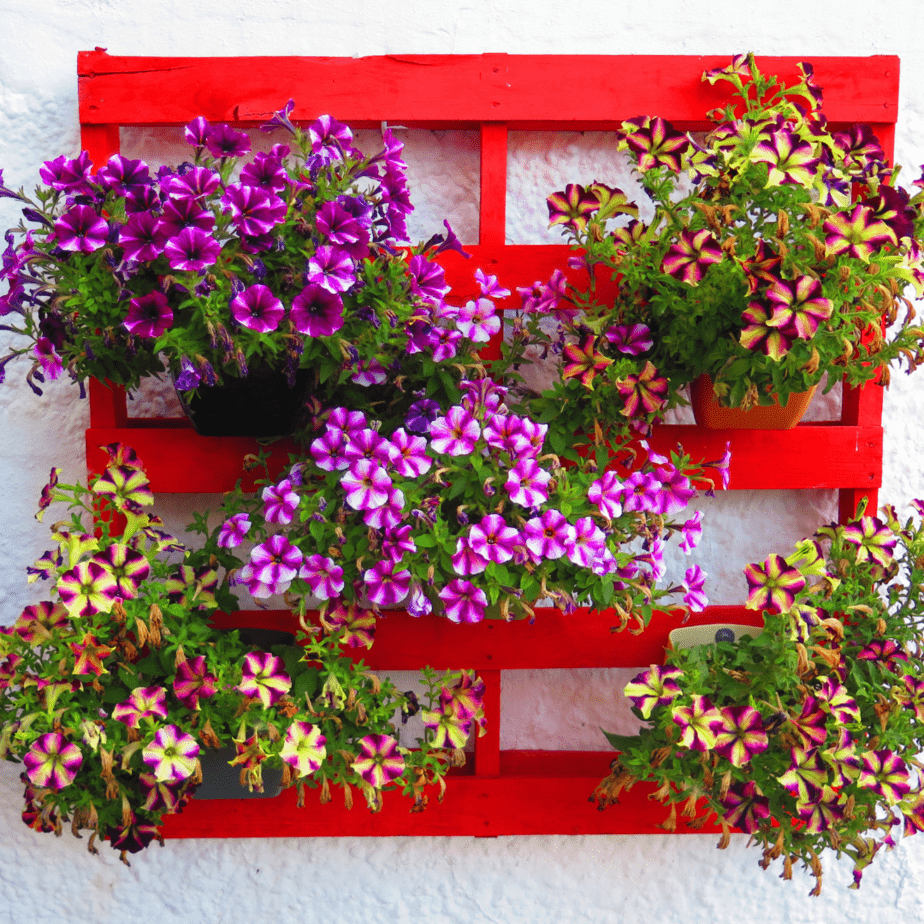 So these last two pallet garden beds are my favorite out of all of them. The white is gorgeous and the hooks at the bottom make a unique touch so you can hang plants that way.
Which one of these plant stand out of pallets is your favorite? There are so many cute ideas here!
I hope this gives you some inspiration to create a beautiful outdoor space that you can enjoy looking at for many months of the year. I know it's something I really enjoy is looking at the garden and all the beautiful colors it has.
Thanks so much for stopping by the blog today. It means so much to me that you are here.
If you want to be a part of my blog family fill out the link below so we can hangout more than just here.
You will be the first to get DIY project ideas and hear the latest on the blog.
This post is full of inexpensive pallet garden beds and pallet raised bed ideas for your DIY garden.