29 Unique Ways To Display Fake Succulent Arrangements.
How to use fake succulent arrangements in your house and you can't even tell they aren't real!
Are you the type of person who doesn't like real plants? Because you can't keep them alive or just don't have the energy to keep up with them. If so this post is for you. Fake succulent arrangements are really trendy and popular right now.
They don't require any work to take care of them and they look so realistic you can't even tell they are fake.
You can display big succulent plants or make faux succulent arrangements easily.
There are so many gorgeous succulent decorating ideas
Below I'll share some small fake succulents so you can buy succulent plants to create your own DIY faux succulent centerpiece.
There are tons of different options when decorating your home with faux plants. Let's go over a handful of them.
The best thing about fake succulents is that you can put them anywhere because they don't require the sunlight that real plants do.
They can be displayed in your kitchen window sill above the kitchen sink so you have something pretty to look at while doing those dang dishes.
You can use them as a centerpiece on your dining room table so it can be enjoyed during family dinner.
A rustic box succulent arrangement can go on your entryway table so anytime someone walks through the front door they can see it.
You can put it in the corner of your bathroom behind your tub to create a spa like design.
You can put them on your dresser on the side of your TV to bring pops of color.
A succulent arrangement can be displayed on your coffee table so it can be admired when you have guests over.
You can put them on your front porch bench giving it a welcoming cute vibe when someone knocks on your front door.
It can easily be displayed on your bathroom counter giving your bathroom a clean nature look.
Fake succulents can also go in your laundry room on the shelf above the washer and dryer.
Or if you don't want them on the laundry room shelf you can display your faux arrangement on the folding counter in the laundry room.
If you have open shelving in your kitchen which I know so many people do these days you can put your faux plants on the shelves in between your dishes.
Stacking books is really popular right now I see it all the time on your book shelf in your living room. So putting small succulent plants on top of your stack of books is a simple but cute idea.
Something that is pretty trendy right now is circular shelves. I will share an example of one below. It's a cute circle that has a few small shelves to display small knick knacks. Which is the perfect spot for succulents.
Next you can put your artificial succulents on a wreath to hang on the front door.
Another place you can hang that wreath is on the inside of your house on the pantry door. It's on of my favorite kitchen decorating details when I see a wreath on the pantry door.
You can also put that wreath on the front of your kitchen cabinet doors. This is a small detail that makes such a unique look when you walk into the kitchen.
It's also the perfect decoration to sit on your office desk to bring a bit of color by your computer.
You can put your succulent in a galvanized bucket or small galvanized tin and put it in your garden.
The last place I will mention you can put your faux succulent centerpiece is on the kitchen island for everyone to look at while walking through to get a snack.
The options are really endless when deciding where to put your fake plants. I promise the days of faux plants being frowned upon are long gone. Because most of time you truly can't tell that they are not real. Which is the best part! They don't feel plastic and you can not tell they are fake until you touch it.
Some of the links on my blog are affiliate links, meaning no additional cost to you, I earn a commission if you purchase through the links. Thanks for supporting my dream!
If those aren't reasons enough to jump on the fake plant train keep scrolling so I can show you some stunning artificial succulent centerpieces.
As always you can click on each photo to see full product details. The first section of photos I am going to share are individual succulents that you get to create an adorable DIY flower centerpiece.
So this next one might be my favorite because it includes a ton of fake baby succulents it's an entire set.
I love this set so much. There are so many different options for how you can create a beautiful decoration for your home. Seriously so pretty. You can put them in a rustic wood box, a clear sphere, or small vases on your owned but grouped together. These are just a few succulent decor ideas.
Ok here is another simple but cute set that you can make some amazing succulent decor centerpieces with. Let me share a few.
Here are a few more decoration ideas that you can easily make using these succulents.
Here is the circular shelf I mentioned above.
This next arrangement is one I was talking about above as well. It's super unique and you hardly ever see succulent wreaths. You can display it so many different places. So definitely don't skip out on making a DIY succulent wreath with this succulent set.
Now I will share some of the cutest succulent centerpieces you can buy if you don't want to make your own.
Which succulent arrangement is your favorite so far?
Either one of these two might be my favorite they are absolutely stunning.
So this last one might be the most unique arrangement out of the bunch but it's truly gorgeous. It can be used as a decoration around your home or it can even be used as a decoration at your wedding. I had last name wood letters at my wedding but I think this would be so cute too!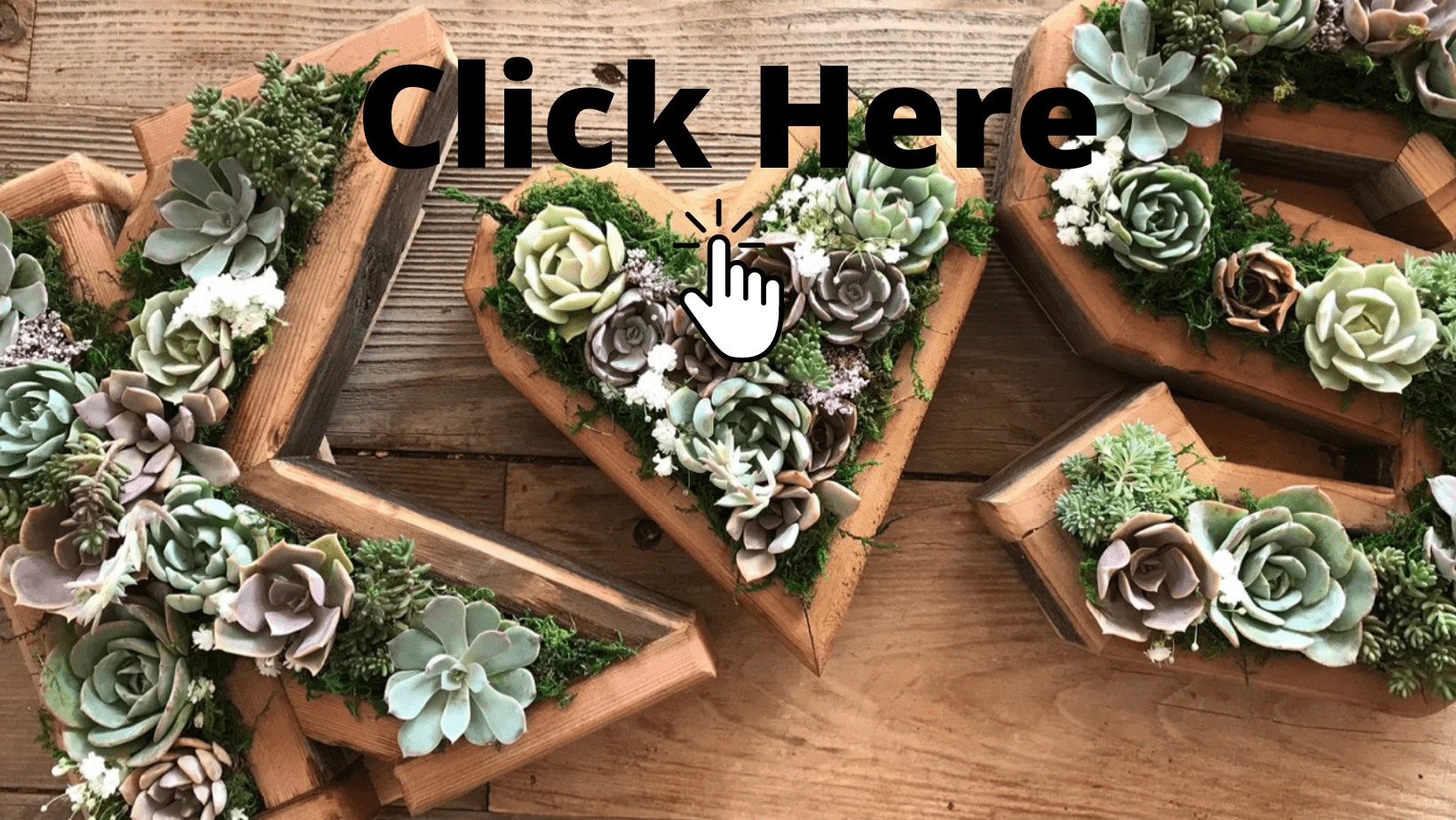 Tell me in the comments which one of these succulent decorating ideas is your favorite.
If you couldn't already tell the options are endless when you decide how to decorate with fake succulent arrangements so get creative and make something cute!
If you want to see another popular blog post about decorating for Spring you can see that HERE.
Thanks for stopping by the blog today it means so much that you came.
Let's hangout more than just here. Fill out the form below to join my blog family. I share all the best tips and tricks for decorating affordably. You'll be the first to see it!
Cheap faux succulent centerpieces that you will absolutely love!