15 Cute Summer Front Porch Ideas That You Will Want to Copy.
15 Cute Summer Front Porches you'll love.
These adorable Summer front porch ideas are so bright and fun. It's the perfect inspiration for you to decorate your own porch. Whether you want decor ideas for your front porch or back porch you have come to the right place.
Hi friends. It's officially Spring now so bring on the warm weather! I have been ready for Spring for quite some time now though. I have been browsing Pinterest for days trying to find the best Summer front porch ideas. Because I have been dying to decorate my porch already. I think the snow storms in Utah are done…. Fingers crossed.
Popular Blog Posts: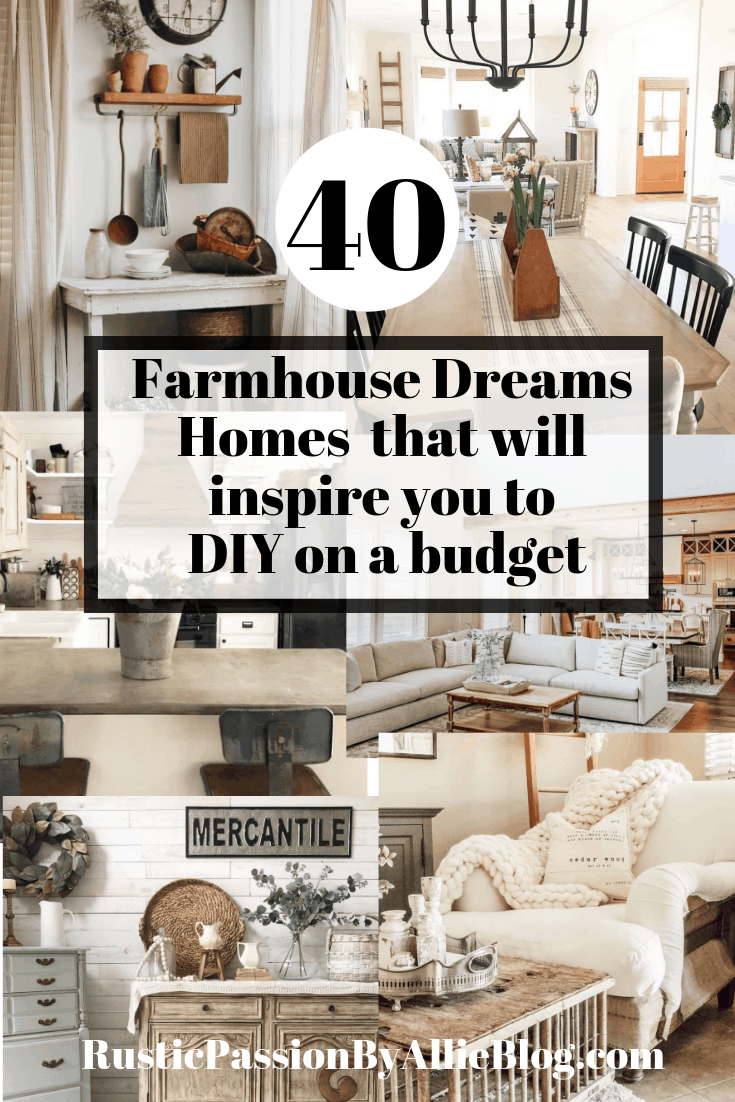 So I love neutral everything. If you have been following my blog for a while you already know that. But I found some adorable bright porches that I am loving. I feel like Summer is all about pops of bright colors. Tell me that I am not the only one that loves mixing up my decor with colorful accents and lots of greenery.
I still keep my home super neutral but adding colorful accents for Summer and Spring is the best! What are your favorite Spring and Summer must have decor items? Tell me in the comments below.
My Summer decor go to always includes floral anything. If you want to see a collection of my favorite Spring Wreaths post you can take a look here.
So if you want to get inspired by these gorgeous front porch ideas keep reading. All of these photos are from HOUZZ.
If you want to gain access to my Free VIP Home Decor Resource Library fill out the form below! I would love to have you be a part of my blog family.
So without further to do… Let's get down to business!
I am dying isn't that Day bed adorable!
I never thought I could love something Orange as much as I do this swing bench. This bold color pulls the white and black together with it so well.
Those chairs are so unique I love them.
My favorite thing about front porches are cozy outdoor living spaces.
I feel like this Summer Farmhouse table is absolutely stunning. The Orange pops draw my eyes right to it. I adore this setup and would eat every meal here.
Let's talk about that white day bed! It's so cute and the neutral look is so welcoming.
This is more of a traditional look for a front porch and it just screams SUMMER!
This day bed is too cute with these outdoor throw pillows.
I love how much space this outdoor living area has. The gray and white porch furniture is everything!
This porch set up is the perfect layout for simplicity.
Wow I love the bright colors on this front porch. The yellow is breathtaking.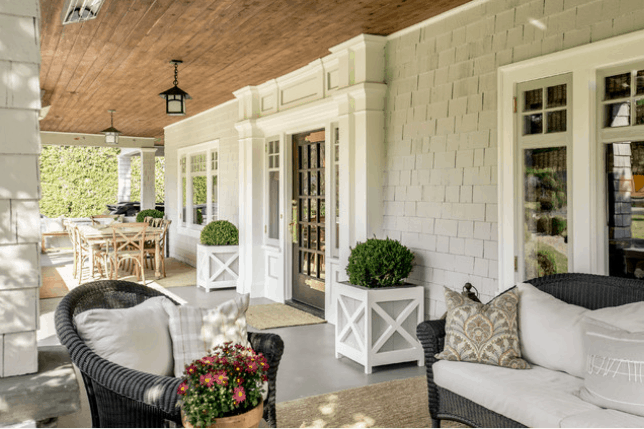 I love multi purpose porches. This layout is so cute the perfect sitting area as well as a cute table for meals.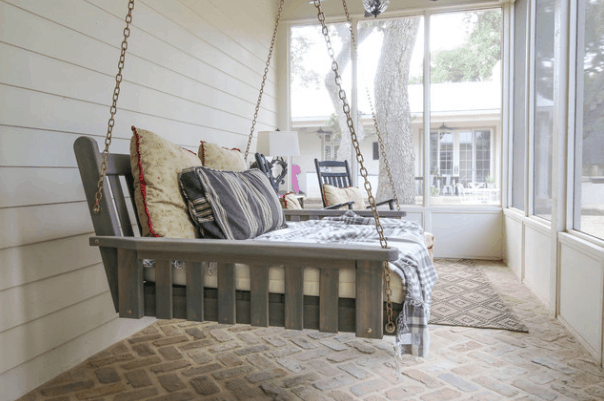 I included quite a few day beds in this blog post. Because I just think they are the perfect porch furniture. And am totally obsessed with them.
I hope you got some cute front porch ideas from this post. Summer will be here before we know it. I am ready for the warm weather and am so inspired to decorate for it. I hope you are too.
Also, have you been wanting to create your own blog? I make ALL of my income from being a full time blogger. Keep reading if blogging is something you have always been curious about. Because you will want to take a look at my blog post How to start a Blog the easy way!
I've included a list of the best tools I use for my blog. I have used all the items in this blog post personally and absolutely love them.
Let's hangout more then just here… Come find me on Instagram, Pinterest, and Facebook.
Thanks for stopping by the blog today.