20 Affordable Gorgeous Spring Wreaths and Garlands that you need for your front door!
DIY Spring Wreath Ideas.
So do you want to learn exactly how to make Affordable Spring Wreaths and Garlands? I guarantee you will be in the mood for warm weather and sunny days after reading this post. You can make or buy spring wreaths on sale. Because if you're like me you love anything DIY spring!
It's the last day of February which means it's almost Spring! And I can not tell you how ready I am for Spring. It has been a cold and snowy Winter here in Utah. So I'm counting down the days until it's warmer weather. In fact, I brought out my Spring decor the day after Valentine's Day. To be honest I was hoping it would bring good luck for warm weather. LOL. 🙂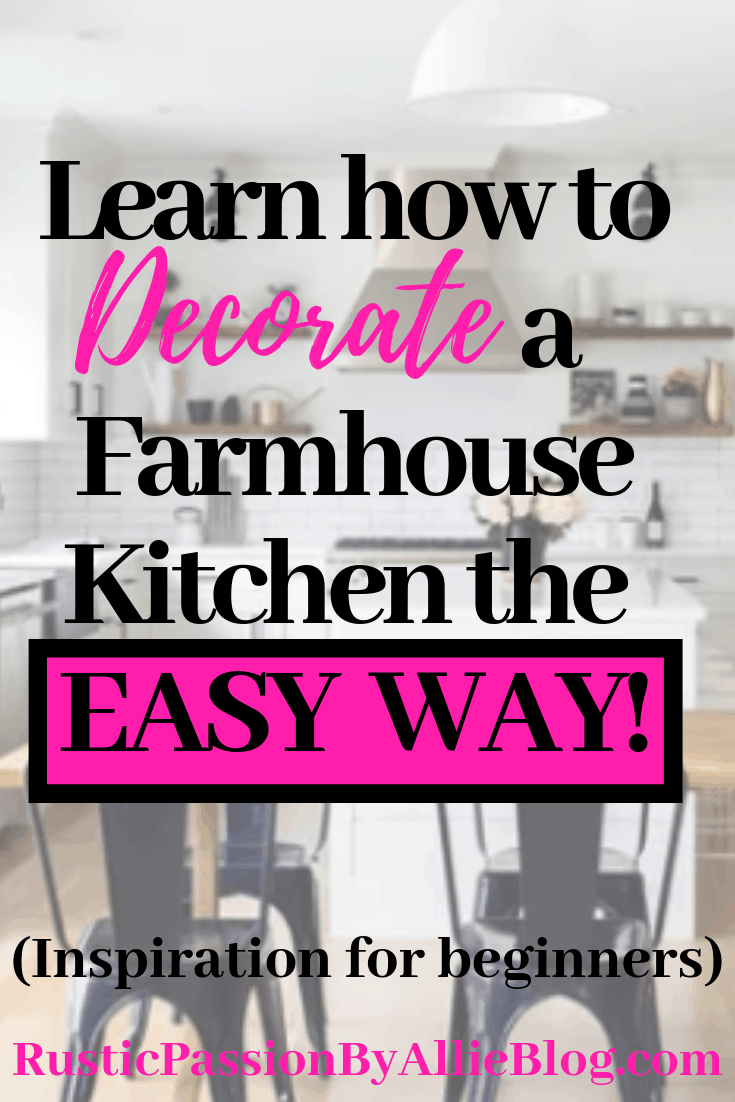 What are your favorite spring activities? Because I need some new ideas. I want to hear them below. Leave me a comment. And tell me what you love doing this time of year! Tyson is a huge hiker. So we try to get out hiking a handful of times a year. We also go camping all the time. If it was up to Tyson we would be camping every single weekend. But I also love the outdoors. So it really doesn't bother me going out often. 🙂
Without further to do… Let's get down to business!
So keep reading to get inspired by these beautiful front door wreaths. For example the stunning wreaths that are included in this post are a twig wreath, a preserved boxwood wreath, tulip wreaths, peony wreaths. Whatever kind of front door wreaths are your style you will find it here. I promise. Because this list of spring wreaths is one of the best I've seen and will be sure to inspire you to make all the spring wreaths and garlands or buy spring wreaths on sale.
Equally as important as beautiful home decor is keeping in your budget. So that's why these wreaths and garlands are gorgeous and affordable!
Some of the links on my blog are affiliate links, meaning no additional cost to you, I earn a commission if you purchase through the links. Thanks for supporting my dream!
If you want to gain access to my Free VIP Home Decor Resource Library fill out the form below!
Finally please grab a cup of coffee, sit back. And enjoy!
Because you will want to soak in all of the spring wreaths! They are to die for! And I want every single one of them!!!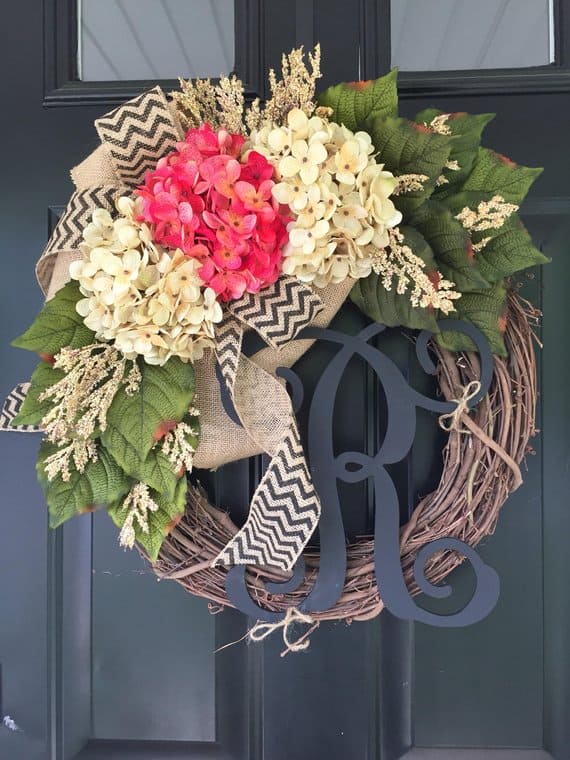 Chevron Floral Wreath
Pink Tulip Wreath
Lemon Wreath
Peony Wreath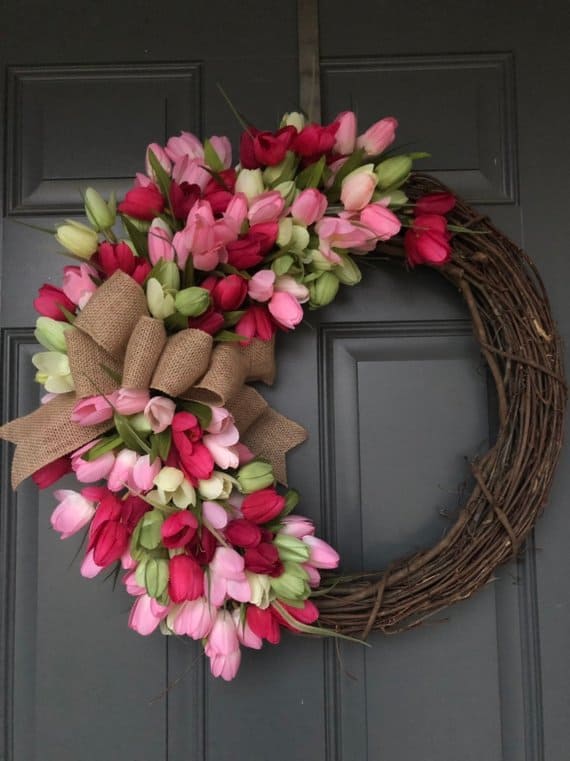 Tulip Burlap Wreath
Light Pink Tulip Wreath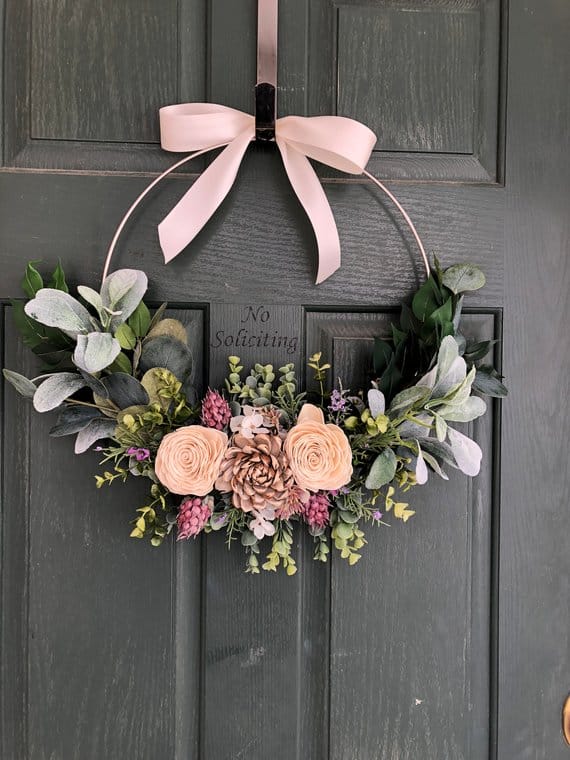 Spring Hoop Wreath

White Peony Wreath
Light Pink Peony Wreath
Purple Tulip Wreath
Blue Tulip Wreath
Greenery Hoop Wreath
Burlap Spring Wreath
Peony Hoop Wreath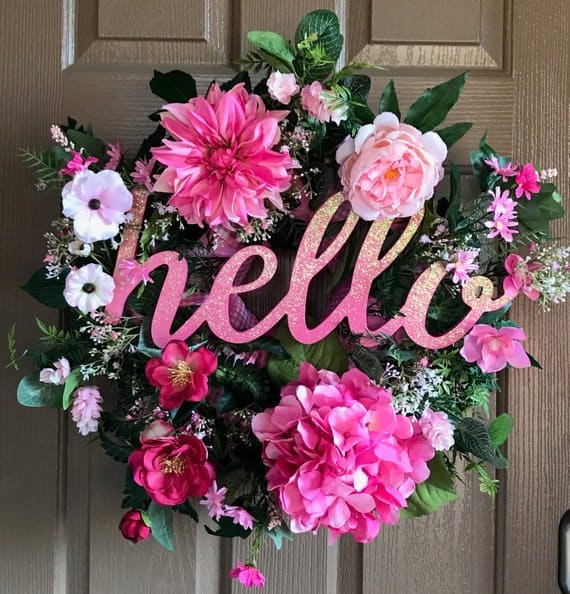 Pink Wreath
Pink Rose Wreath
Pink and Purple Wreath
If you want to gain access to my Free VIP Home Decor Resource Library fill out the form below!
You will get full access to:
-Where to share your blog posts if you are a crafter, home decor blogger, or design influencer.
-I have created the best helpful information guides that will save you time and money including my discount codes when purchasing gorgeous decorations for your home.
-Top 100 Farmhouse decorations that will make your home look like it was designed by a pro!
-Where to buy high quality Farmhouse decor for CHEAP!
-DIY Home Decor tutorial videos to show you step by step how to create beautiful one of a kind decorations. New Video gets uploaded regularly.
-If you are a craft/home decor vendor beginner or pro you will be able to get tips and tricks (including my booth tracker and checklist for shows) that I have learned from many booth events.
-Product List for all DIYers – the best products you NEED to create all your own DIY crafts and home decor.
And let's be friends on Facebook, Pinterest, and Instagram!
Thanks for stopping by the blog today. I am so happy you came. If you want to connect with me don't forget to on any of the above places. I love talking with you and answering any of your home decor/crafting questions.
And have you been wanting to create your own blog? Because I make ALL of my income from being a full time blogger. So keep reading if blogging is something you have always been curious about.
Really though, take a look at my blog post How to start a Blog the easy way! I've included a list of the best tools I use for my blog. Because I linked discounts or the best price possible for each item. I have used all the items in this blog post personally and absolutely love them. Go read it now and start a blog the easy way!