Step by Step Learn the Easiest Farmhouse DIY Lampshade Makeover Out of Chicken Wire.
DIY Farmhouse Lampshade.
Learn how to make the cutest Farmhouse Lamp. Because you'll love this DIY lampshade makeover.
Hiii Friends! Happy Friday! How is your week going? I hope it's been a great week so far. I have been redecorating our house like a crazy person. You can see some of my other Farmhouse DIY's below. I have been looking for perfect Farmhouse Lamp for our nightstands for months. But honestly could never find the right one. I wanted one that had a touch of vintage and modern farmhouse.
Popular Blog Posts:
I was thrift shopping the other day. Which you know is one of my favorite things to do. And I found the cutest iron lamp. But only one of them. So I couldn't use it for my master bedroom.
But I figured it would be perfect in my family room. The only problem was it didn't come with a Farmhouse Lamp Shade. So of course I had to give it DIY lampshade makeover. If you have been wanting to find the perfect Farmhouse lamp for your home you will never have to wonder again how to recover a lampshade.
After Pinteresting for what seemed like hours… I couldn't find a Farmhouse Lamp Shade I was in love with so I had to do a DIY lampshade makeover.
So I decided to make a Farmhouse Lamp Shade out of chicken wire. I use chicken wire all the time. I love DIY chicken wire projects. And absolutely love the rustic look it has. It's so easy to use. Once you read this blog post you will know exactly how to cut chicken wire the easy way, and have your own DIY lampshade makeover.
Who doesn't LOVEEEE freebies! I launched my Free Home Decor Resource Library if you want to get full access to it and join my blog family fill out the form below.
Some of the links on my blog are affiliate links, meaning no additional cost to you, I earn a commission if you purchase through the links. Thanks for supporting my dream!
Let's get down to business! Keep reading to learn exactly how to make your own DIY Lampshade from Scratch out of chicken wire.
Items you will need for this DIY chicken wire project:
So to start out I cut the middle of the lamp shade. I left the circular top and bottom part of the lamp shade.
I painted the circular part of the lamp shade black so it matched the iron lamp.
Next you will want to wrap chicken wire around the lamp shade circle frame. Because that is the easiest way to measure how much chicken wire you should cut.
And then you will hot glue chicken wire to the lamp shade circle frame.
And that's it. Just attach the lamp shade back onto the lamp. So here is an up close of the chicken wire lamp with the gorgeous Edison light bulb I bought for it.
I absolutely love the way it turned out. It was such a fun DIY chicken wire project. I hope you liked this DIY lampshade makeover.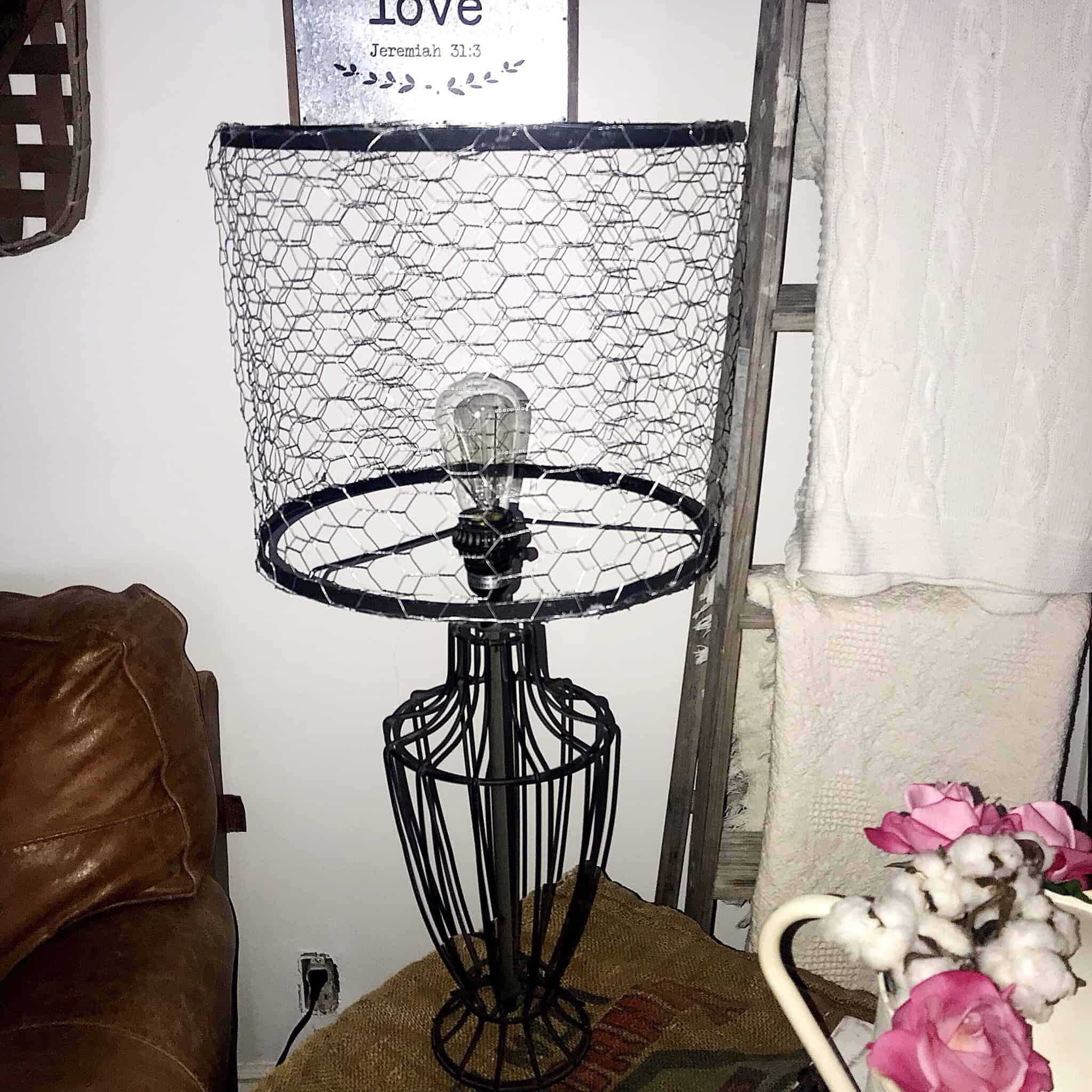 All things considered I would make this DIY lampshade makeover over and over. Because it was easy and affordable!
Did you guys like this cute DIY Farmhouse lampshade?
All in all it turned out adorable and it looks perfect in my living room with my other Farmhouse Home Decor.
Also, don't forget to tag me in your photos of your own DIY lampshade makeover! I love seeing what you guys are working on! Let's be friends on Social Media! I am super active on Instagram, Facebook, and Pinterest!
Equally as important to me as my blog is my email list. Because it's something I pour my heart into! So don't forget to sign up. Emails get sent out weekly. I ALWAYS share the best Home Decor tips possible with you!

And have you been wanting to create your own blog? Because I make ALL of my income from being a full time blogger. Keep reading if blogging is something you have always been curious about.
Also take a look at my blog post How to start a Blog the easy way! I've included a list of the best tools I use for my blog. Because I linked discounts or the best price possible for each item. I have used all the items in this blog post personally and absolutely love them. Go read it now and start a blog the easy way!
Thanks for stopping by the blog today friends.