Make this EASY Farmhouse Centerpiece.
The cutest Summer farmhouse centerpiece.
Do you love Spring crafts? This is the perfect EASY centerpiece that anyone make for Spring and Summer!
Happy Monday friends. I hope you had an amazing weekend. We had a fun weekend. Tyson's new schedule for work is staying home on weekends. Occasionally he was working Saturdays. So it's been nice having him home. We spent some time in Park City yesterday. If you are local in Utah or have ever visited you will want to make sure you go to Park City.
I love it up there. It has such a unique vibe. It's the best. There are so many fun restaurants and cute little shops on main street. We visit some interior design stores and home decor boutiques.
The weather was perfect it was sunny and finally felt like Spring! YAYYYYY!!!
Let's hangout more than just here?! Sign up and become a part of my blog family! I would love to connect with you. Fill out your info below.
So in some of my recent blog posts you have probably seen my Spring crafts. I have been making Moss Easter Eggs, and a Vintage Egg Decoration. So check out my Spring crafts and tag me on Instagram if you make any of them. I love seeing your DIY's!
So I made the cutest farmhouse centerpiece for Spring and Summer. Because it only took a few minutes to make anyone can make it! And it brought some pops of color to my table. Which I love this time of year! You can't go wrong with small pops of color to mix in with your neutral decor.
So let's get down to business! And I'll show you how to make the cutest Farmhouse Summer centerpiece.
You will need colorful sytrofoam balls. I used an old spring wreath I had.
So I cut off individual branches at the stem.
I snipped off 6 branches to use for my centerpiece.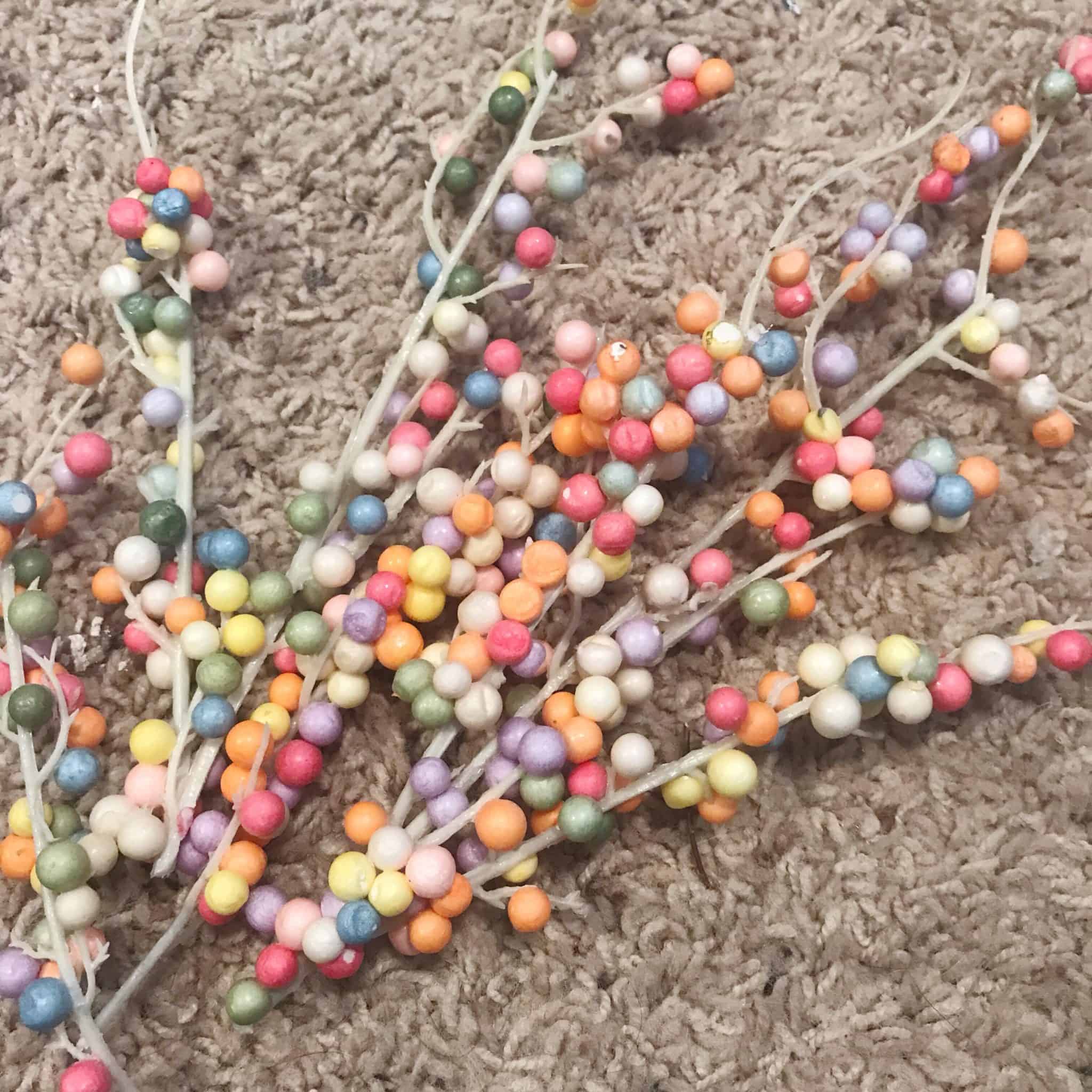 And then used some styrofoam glitter Easter Egg Ornaments. Because these were ornaments I had to cut off the string.
And then you will need to hot glue the eggs on the branches in random spots.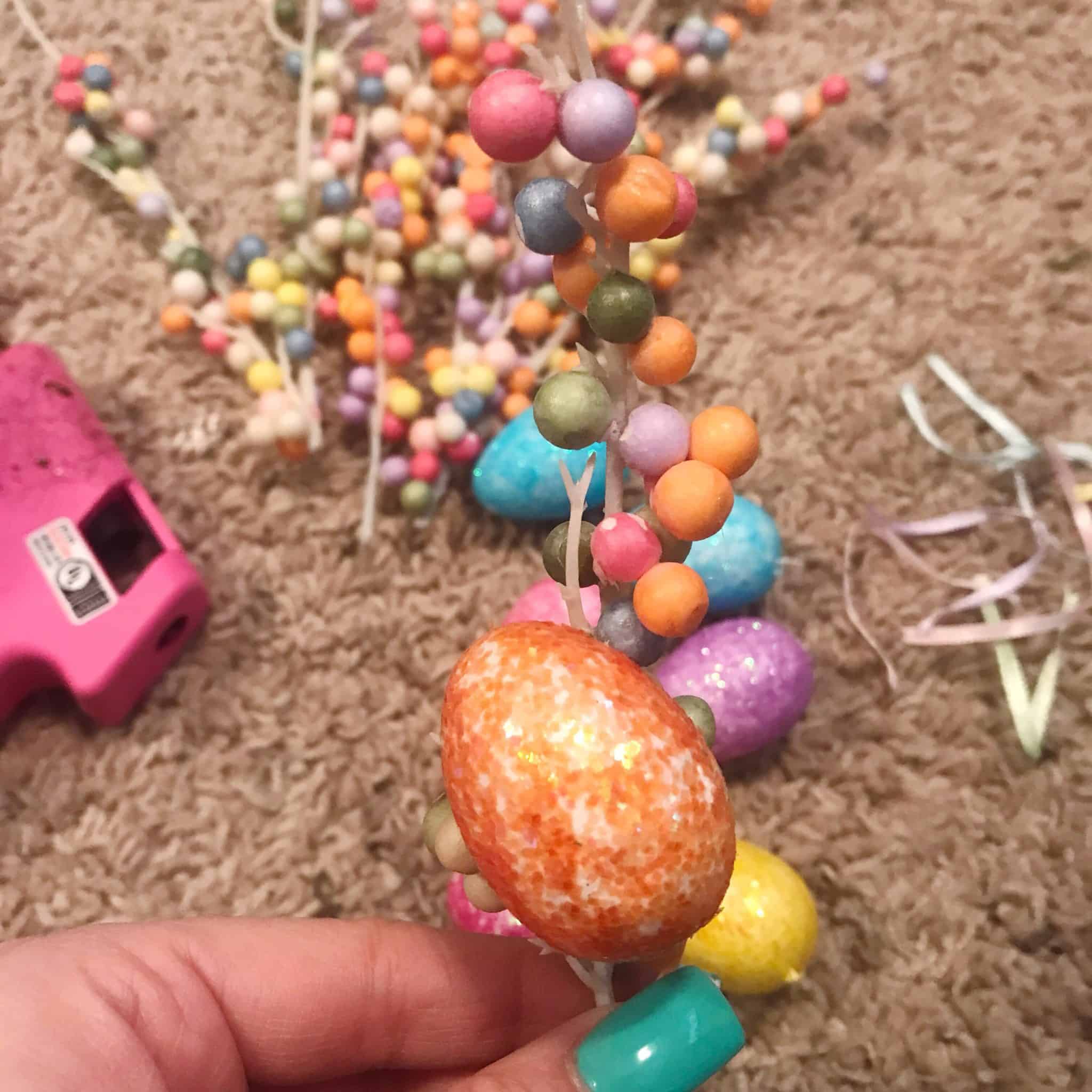 A trick I always use when filling pots or vases is putting something in the bottom. Sometimes fabric or a dishcloth anything like that works. It's just makes it so the flowers have something to sit on. Ultimately you won't be using as many flowers because they don't have to fill as much of the vase.
I filled it with the colorful ball branches with the Easter eggs, greenery, and cotton stems.
I arranged it the way I thought looked best. And love the farmhouse Spring feel it had with the pops of color.
It turned out so cute.
It is a super easy DIY to add to your Spring crafts and barely cost anything to do! The pops of color really looked amazing with my normal farmhouse design style.
This time of year is one of my favorites because of all the DIY Summer and Spring crafts!
Have you been wanting to create your own blog? I make ALL of my income from being a full time blogger. Keep reading if blogging is something you have always been curious about.
Take a look at my blog post How to start a Blog the easy way! I've included a list of the best tools I use for my blog. I have used all the items in this blog post personally and absolutely love them. I have also linked discounts or the best price possible for each item. Go read it now and start a blog the easy way!
Let's hangout more than just here?! Come find me on Instagram, Pinterest, and Facebook.
Take a look around the blog.
Thanks for stopping by friend. I am so happy you did! It means so much to me.