Learn how to make the easiest Farmhouse Earring Holder from an old Shadow box.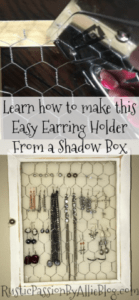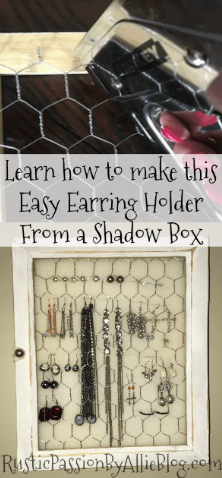 I was using an old wire earring holder that was such a pain to get earring backs on and off of it. So most of the time I would just throw my earrings in a small dish to save the hassle and time. I was looking online at a new earring holder but didn't find any that I loved. So I decided to make my own. So easy and fun! Learn how to make your own earring holder.
I had this old shadow box that I made years ago lying around. I have been wanting to give it a makeover forever! But just kept putting it off until I knew exactly what I wanted to do with it.
Some of the links on my blog are affiliate links, meaning no additional cost to you, I earn a commission if you purchase through the links. Thanks for supporting my dream!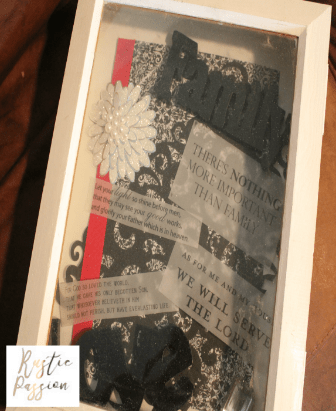 Things you will need to make your own Earring Holder:
To start I took off all the scrapbook paper that was glued on the inside. It's so funny to see how much my decor style has changed over the years!
I used chicken wire on the inside where the glass was. I am obsessed with chicken wire it's so cute and has the farmhouse look that I love!
I used my staple gun to secure down the sides of the chicken wire. You won't need to use a lot of staples, I just stapled all the corners and a couple in between.
[wpforms id="992″ title="true"]
Using poly foam was a bit of trial and error. The piece I had was way too big for the size of my shadow box.
So I had to cut it around the edges and then cut the back off. I cut it directly down the middle.
I cut 7 rows through the front of the poly foam they were about 1/2 inch deep.
I hot glued a pearl and a piece of lace ribbon to the front of the shadow box to keep the front closed. I love how just a simple pearl added to the look so much.
Here is the end result. You guys!!! I love how it turned out. It fit so many pairs of earrings. It looks perfect hanging in my bathroom! If you would rather purchase this item instead of making it, it's available in my shop.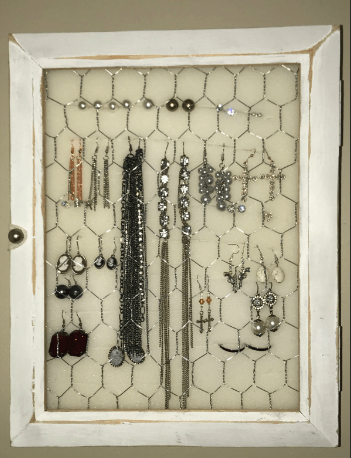 Well friends thanks for stopping by! I hope the rest of your week goes amazing! I want to see your earring holders that you make! So don't forget to tag me in your projects Instagram is @RusticPassion or email me pictures Allie@RusticPassionByAllie.com. I would love to see them!
If you want to get inspired for more DIY projects view some of my other blog posts here.
[one_fourth]
[/one_fourth] [one_fourth]
[/one_fourth] [one_fourth]
[/one_fourth] [one_fourth]
[/one_fourth] [one_fourth]
[/one_fourth] [one_fourth]
[/one_fourth] [one_fourth_last]
[/one_fourth_last]