Learn How to Make the CUTEST Vintage Book Page Craft Easter Egg.
Make this Vintage Easter Egg decoration.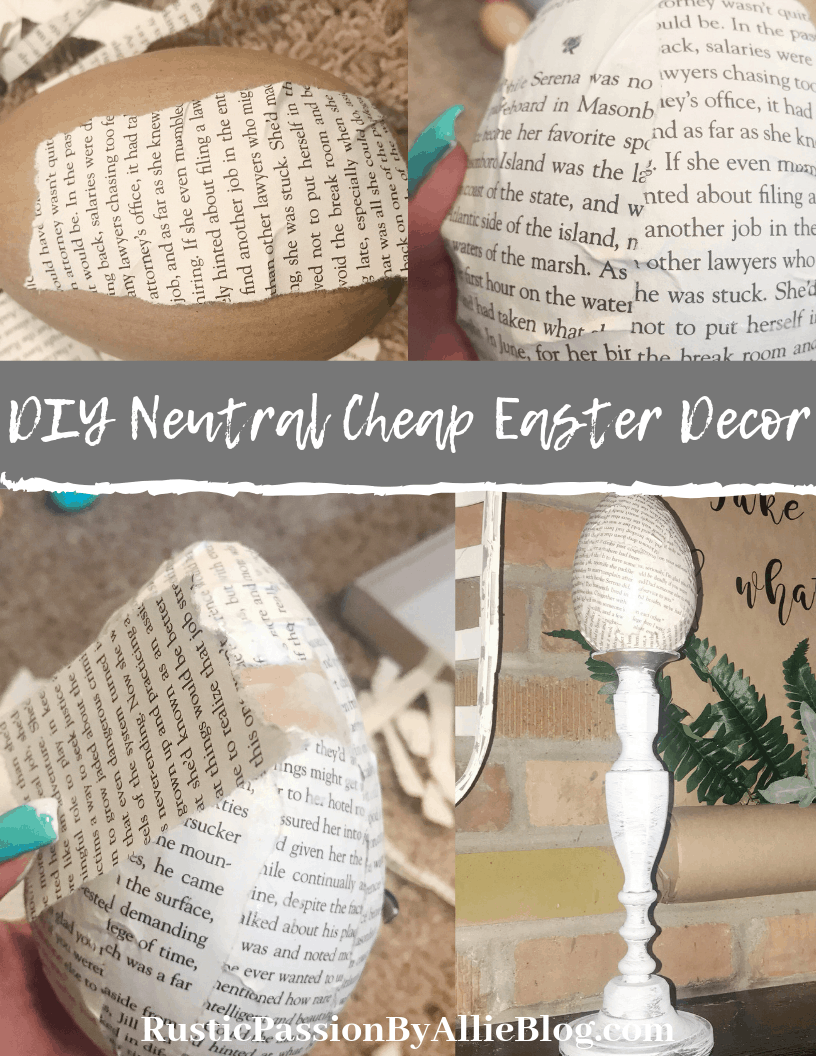 Do you want to make something unique and fun to add to your Spring Decor collection. You will love this book page craft for Easter!
Hiiii friend. Thanks for stopping by the blog today! So if you have been following the blog for a while you know that I always love affordable home decor and DIY crafts. My favorite is making something beautiful that barely costs anything and you can't even tell.
Because DUH who doesn't love to save money!
If you want to gain access to my Free VIP Home Decor Resource Library fill out the form below! I would love to have you be a part of my blog family.
I have been bringing out the Spring and Easter Decor for a while now. And have been making A LOT of new decorations to display this year. So take a look at a few more Spring crafts below. Because I promise you will want to make 'em all!
I bought a cardboard Egg and wasn't sure what to do with it.
In fact, I thought about painting it, covering it with pearls, covering it with moss… Because the options are endless. Truth be told, I couldn't decide for the life of me.
But after wracking my brain for ideas… I decided to cover it with ripped up book pages. I love the vintage look it gave it. I love book page crafts.
This Easter craft is so easy and cute. I know you will love it like I do!
Popular Blog Posts:
Items you will need for this project:
My Easter Egg is pretty big, it's about the size of my whole hand.
I found an old book, and ripped out 3 pages to start with. Which ended up being the perfect amount of paper.
You'll need mod podge to stick the book pages on the cardboard egg.
I ripped the book pages in small pieces that were about 3 inches long. And I didn't use scissors because I like the rough edges that ripping caused.
I mod podged the first piece on the egg. You will want to mod podge the bottom and the top of the book page sheet.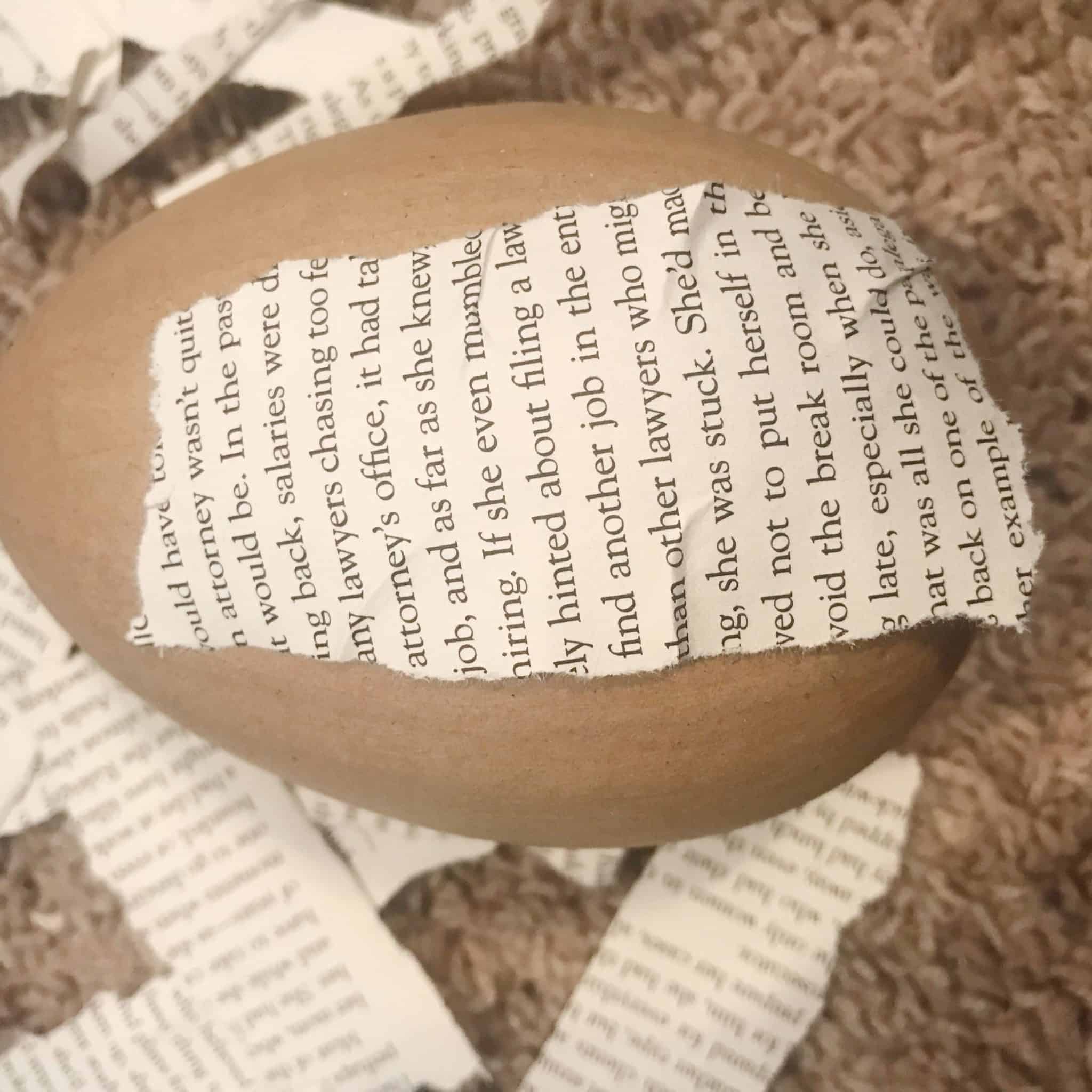 I started placing pieces next to each other to cover the entire egg.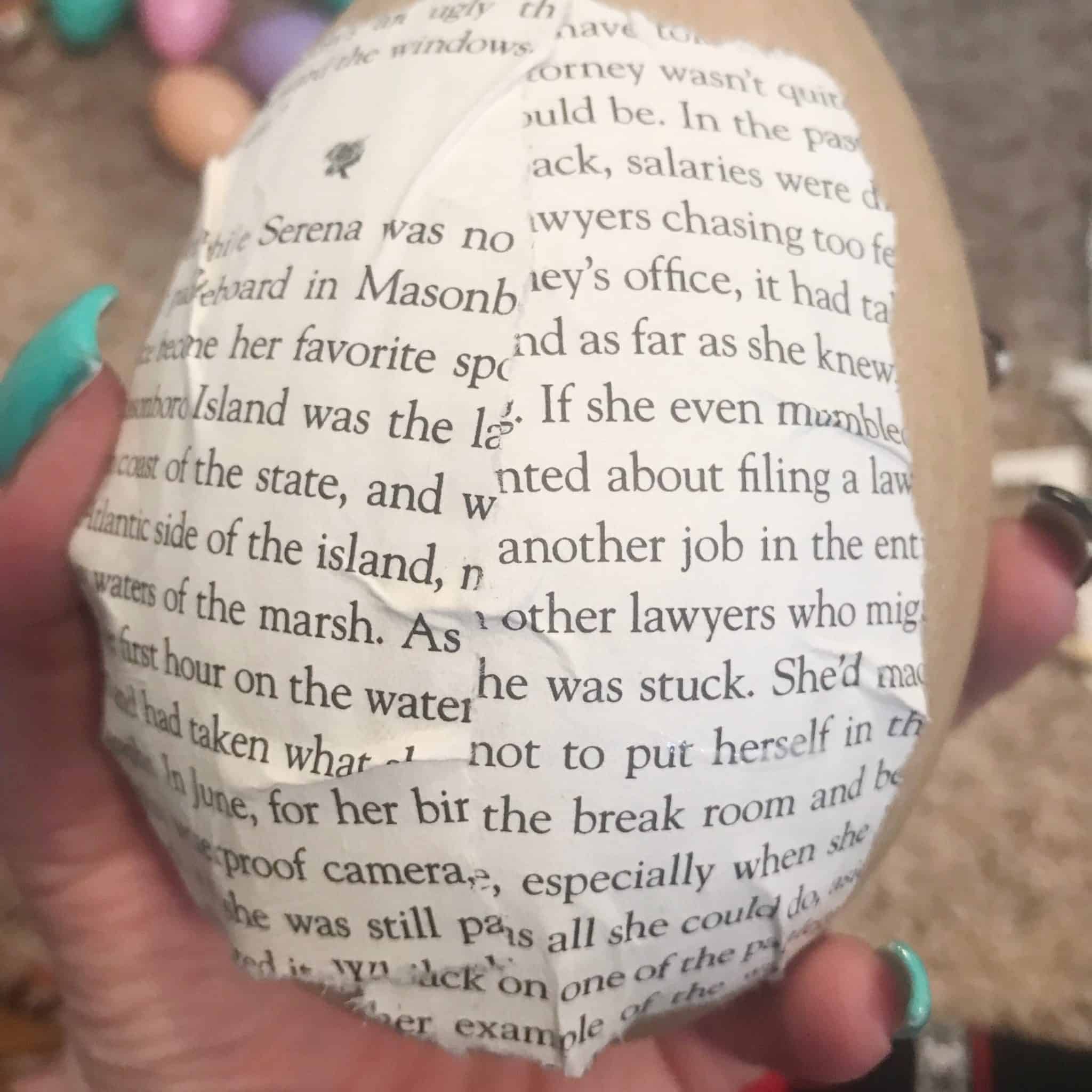 Then you will want to cover the whole egg with mod podge.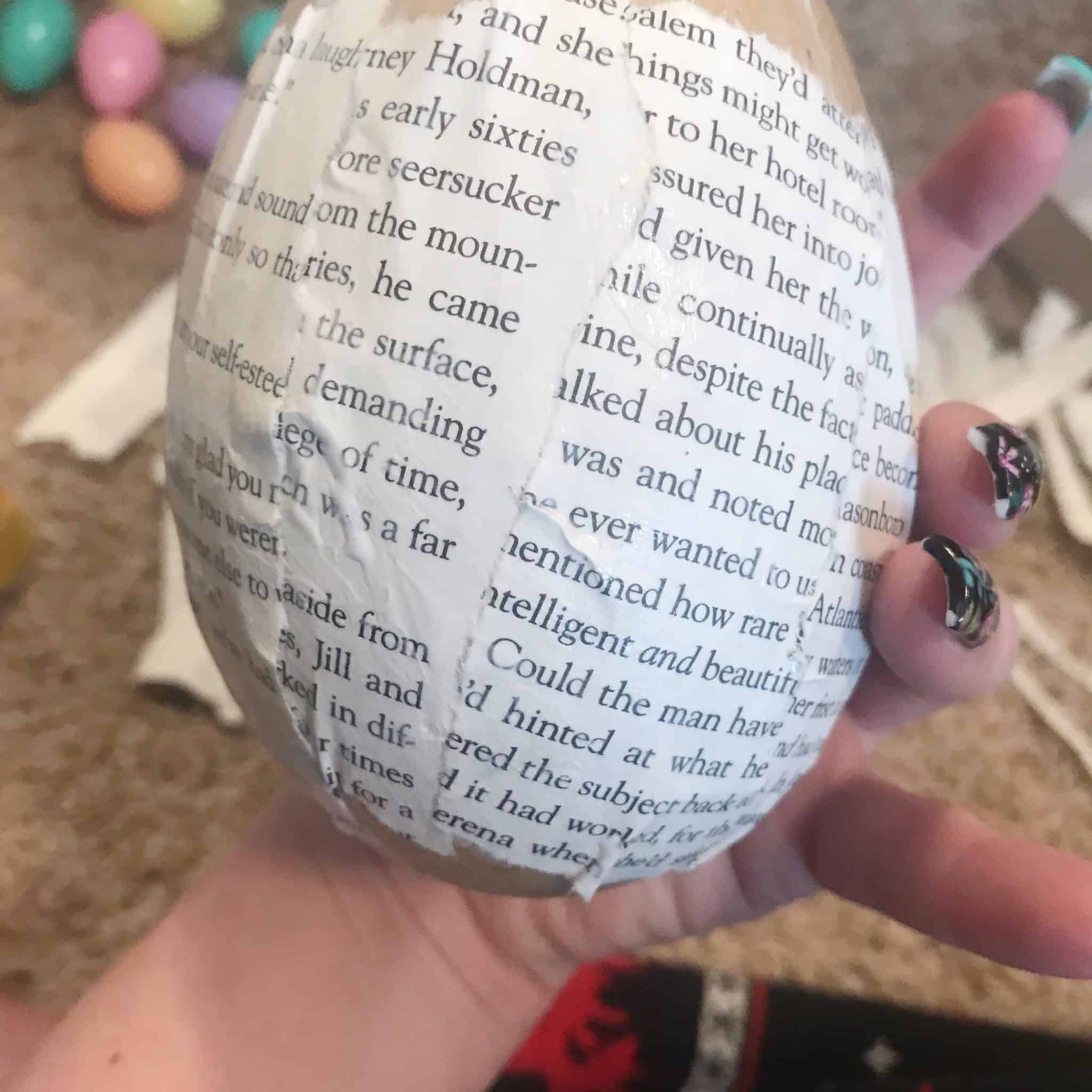 And double check to make sure any empty spots are covered up. Make sure you let it dry for about 30 minutes.

Here it is! I put it on my fireplace mantel on top of a candle stick. And it looks so dang cute. I love the neutral vintage design style it brings.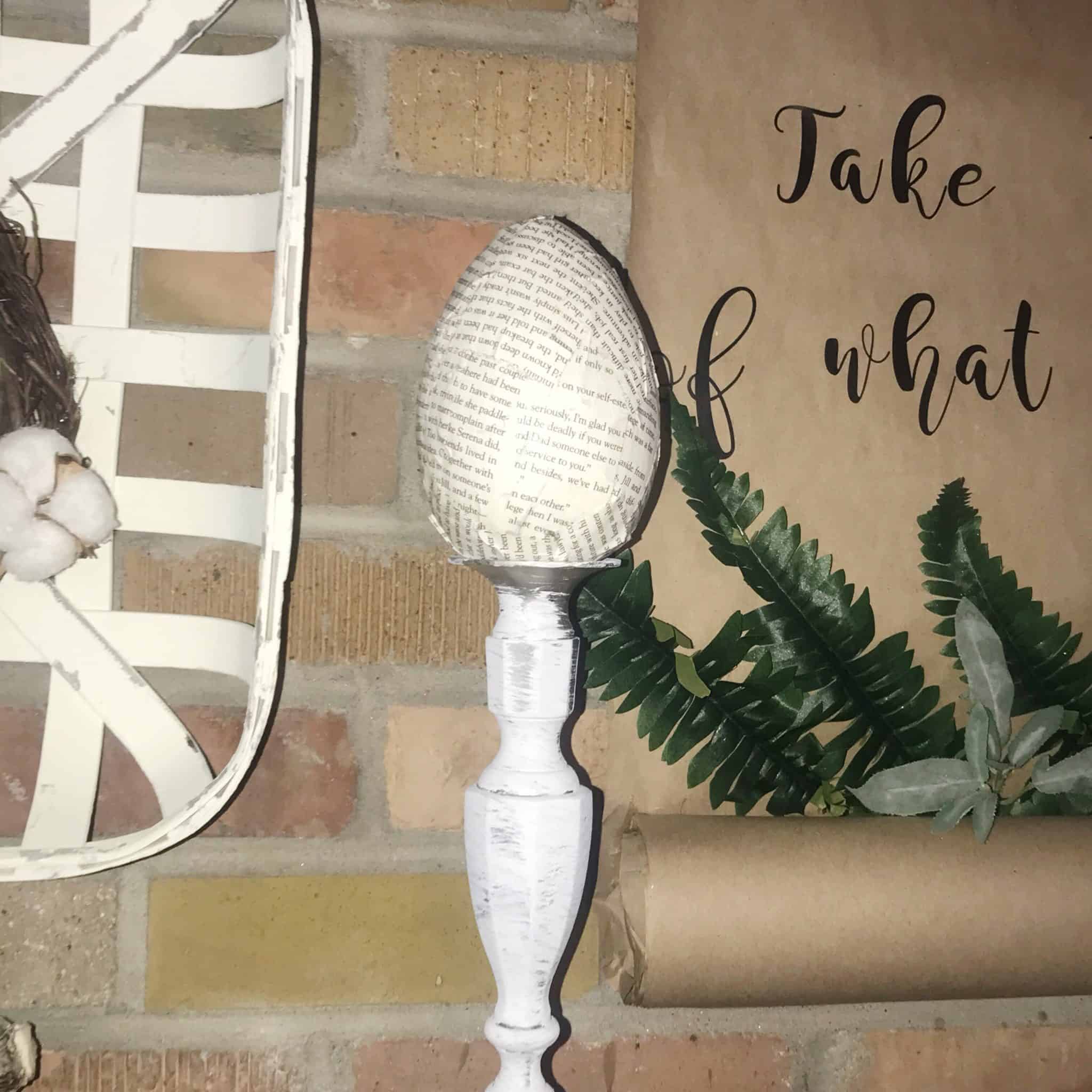 This book page craft is adorable. And anyone can make it in only a few minutes!
So do you like it?
And let me know if you make it, tag me on Instagram. Because I would love to see what Spring DIY crafts you are working on.
So another important thing I can't forget to say is I want to hang out with you more! Let's be friends on Instagram, Facebook, and Pinterest.
Also, have you been wanting to create your own blog? I make ALL of my income from being a full time blogger. Keep reading if blogging is something you have always been curious about. Because you will want to take a look at my blog post How to start a Blog the easy way!
Lastly, thanks again for being here. It's means so much to me to have you here. And don't forget to join my blog fam!