9 Genius Reasons Why You Should Be Using Eucalyptus Sheets Instead Of Cotton.
You need to use all natural eucalyptus sheets for your luxury bedroom.
Buying bedding and bed sheets that aren't comfortable is the worst thing I promise! Because then you end up hating it. I want to make sure that doesn't happen and help you find the perfect natural bedding. My favorite thing at night is getting cozy in bed with the hubby and kiddos after a long day to watch a movie. With that being said I am all about the absolute best and softest bed sheets out there. It's really does make a difference when we are sleeping. Considering we spend 1/3 of our lives in bed being comfortable is so important!
Are you familiar with eucalyptus sheets?
If you aren't you definitely need to be. Let me explain further… Eucalyptus sheets are so unique and are completely different from cotton sheets. They offer a ton of benefits keep reading so I can share a few with you.
If you have been wondering are eucalyptus sheets worth it let me answer that for you!
Eucalyptus tencel sheets are amazing they are hypoallergenic meaning they are perfect for people who have sensitive skin.
Eucalyptus sheets are the best natural home bedding.
They will keep you cool all night long. The worst feeling for me is getting too hot at night. With these eucalyptus bed sheets that will never happen. But the cool thing about eucalyptus sheets is that they are temperature regulating so they are perfect for Summer and Winter.
One thing you always want to keep in mind when buying new bed sheets is the durability. You have to ask yourself if they are going to last a long time. I've made the mistake many times over the years buying cheap bedding and it didn't last longer than a couple months. With two babies, 3 dogs, and a rough on things husband I have to make sure my bedding lasts.
Let me answer one of the most common bedding questions out there when it comes to natural bedding.
Are Eucalyptus sheets better than Bamboo sheets?
The short answer is YES!
Bamboo sheets have been popular for the last almost 20 years. They made an entrance in the early 2000's. That's why they have been known for many years as the best natural sheets out there. Until now! Eucalyptus tencel sheets are cool to the touch so they are perfect for sweaty sleepers, pregnant women, or people that want the softest sheets all while staying the perfect temperature.
Eucalyptus tencel sheets can be explained as a mixture of silk and cotton which is the perfect blend!
So keep reading so I can share with you some of the best organic sheets that are made in the USA.
Because I know now that everyone is trying to go green with everything these natural sheets are the perfect eco-friendly option. Because being aware of our environment is so important to a lot people. Myself included. We can do that in so many different ways! Even a simple thing like what kind of bedding we purchase.
Also it's a known fact that cotton sheets keep in the bacteria. Which is so gross! When you are exhausted you jump into bed after a long day of work a lot of the time without a night time shower so we are covered in the worlds germs from that day. Soaking into our sheets that's not something that always comes to your mind when sleeping. But it should! A huge way to eliminate that worry is by using eucalyptus origins sheets. They are antibacterial, and dermatologist-approved.
Keep scrolling to see the top rated eucalyptus tencel sheets and find a favorite one!
One thing that I want to mention is that I love sharing my favorite products with you things I truly love. You can always click on the photo for full details of each item.
Some of the links on my blog are affiliate links, meaning no additional cost to you, I earn a commission if you purchase through the links. Thanks for supporting my dream!
Also I love staying in touch with my blog family. You will be the first to get DIY projects and see new blog posts! So fill out the form below so we can hangout more than just here!
These brands of eco friendly sheets are definitely all about luxury and being comfortable at the same time.
A lot of hotels use eucalyptus tencel sheets and you can tell the difference. Once you wash your sheets a couple times to break in the firmness you will absolutely fall in love.
Also each one of these sheet sets comes in a variety of colors. So they will match whatever color your master bedroom is decorated in.
One thing I want to just go over again because it's so important… We spend so much time in our bed. Our bedroom is supposed to be a getaway in our home. It should be cozy for you and bring you peace. Investing in good quality bedding that will last is a must! Your bedroom is the place in your home that you spend most of your time.
So here are my favorite all natural bed sheets. As always you can click on the buy now button or the picture to see full product details.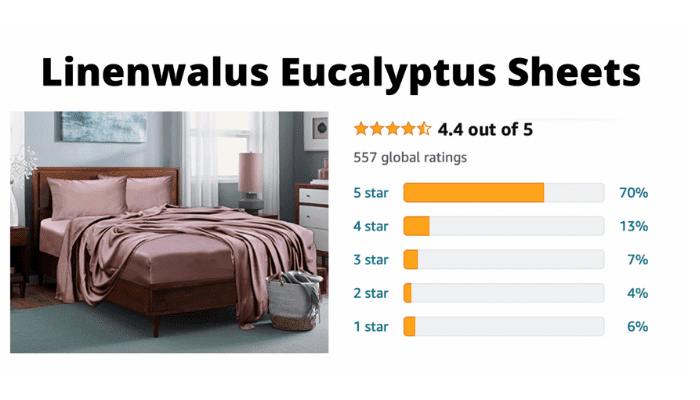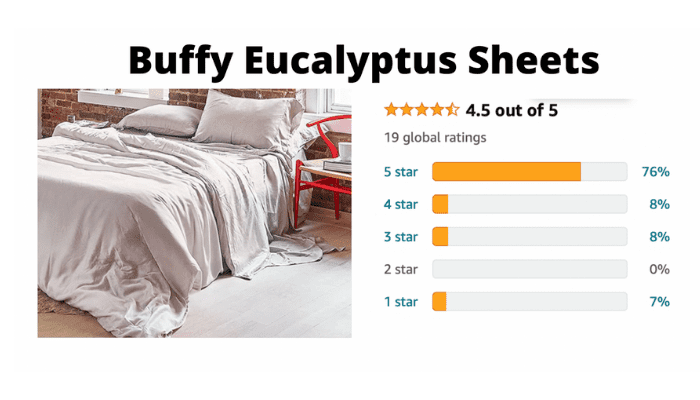 Whether it's just about natural bedding types or brands always do your own research. You can definitely read each product description to see which eucalyptus bed sheets set fits your needs the best. I love reading all the product reviews and product descriptions when I am buying something new. It really helps out seeing other customers experiences.
You can see another one of my favorite bedding blog posts about the cutest farmhouse bedding sets you can CLICK HERE.
I also have a really popular blog post about tips for decorating your master bedroom you can see that HERE.
Thanks for stopping by the blog today. It means so much to me that you came. Don't forget to fill out the form so we can be friends and stay in touch!
The very best, affordable, and high quality eucalyptus tencel sheets.