16 Unique Rustic Wooden Nightstand Options +5 Tips to Pick the Most Affordable One!

The best Farmhouse Style nightstand and other bedside tables.
When choosing a rustic wooden nightstand you have to keep a few things in mind. I will tell you exactly what you need to remember when choosing a nightstand and how you can find the best one at the most affordable price. Nightstands are a small piece of bedroom furniture that we don't focus on a ton. Because we are always drawn to the bed automatically.
Blog Posts you may also like:
So when picking out the perfect nightstand you'll want to think about the following things…
How much space do you have for your nightstand? Do you have a lot of room on each side of your bed? Nightstands can take up a decent amount of room depending on what kind you get. So you'll need approximately 2-3 feet on each side of your bed.
What kind of nightstand are you wanting to have? What is your style? There are a lot of different kinds of nightstands. The most common type are a nightstand with a lot of drawers, one with one drawer, a simple bedside table.
Do you enjoy a rustic wood nightstand, a rustic white nightstand with a farmhouse design style, a more neutral simple nightstand, an industrial metal nightstand. What kind do you have in mind? I've included all of these kinds listed below.
You'll want to think about how much storage you need. Do you need a few drawers to store your items or would just one drawer be sufficient to keep all your stuff in. Or do you even need a drawer at all.
Bonus tip – this is the tip that not a lot of people even realize. A design trend that is super popular right now is nightstands that don't match. It's a common thing to see mismatched bedside tables. Which I actually really love.
When picking out the perfect farmhouse nightstand or any kind of nightstand for cheap keep the above tips in mind.
So I want to to share some of my favorite affordable nightstands with you. This post will help you decide exactly what your style is.
These nightstands are unique and beautiful. If you are looking for a one of a kind cheap nightstand look no further!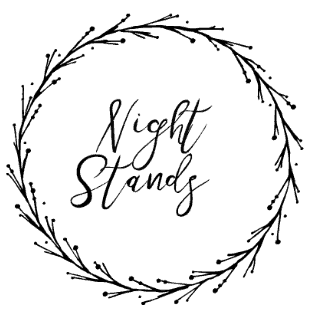 You can see below some of my favorite items. I have put a lot of time into this list and have only included items I love and trust. So grab a cup of coffee and spend some time on the blog. You will adore our collection of Home Decor.
I pour my heart into my blog family I would love it if you were a part of it. You'll be the first to get blog updates and DIY tutorials.
Take a look around the blog. You will love our recommendations page it includes hundreds of Farmhouse styled home decorations and furniture that I am obsessed with.
Some of the links on my blog are affiliate links, meaning no additional cost to you, I earn a commission if you purchase through the links. Thanks for supporting my dream!
Which one is your favorite nightstand? I absolutely love how unique they are. These nightstands are one of a kind that you aren't going to see in every master bedroom.
This one is my favorite. It's honestly so beautiful!
You may also like these Blog Posts full of the best budget friendly furniture and decor:
Have you ever thought about starting your own blog? I blog full time and absolutely love what I do. If you want to find out exactly how you can start a money making blog read this blog post.
Thanks so much for stopping by the blog today. It means so much that you came.
The very best white nightstand drawers and neutral nightstands.