So if you are looking for the perfect vintage farmhouse lamp look no further this post is full of the best ones!
Heyyyy friends! Happy Saturday. I hope your weekend is off to a great start. It's a busy weekend over here. We have tons of stuff to do around the house. With the renovation it's been non stop.
Lighting is so important in a home. I love farmhouse table lamps and farmhouse floor lamps. These lamps have so much character with a vintage touch. You will the love the neutral design look that they will bring to a room. These farmhouse lamps are the perfect addition to a neutral living room.
Also I have been really focusing on bringing the best DIY projects for you lately. My passion is to bring you the best DIY home decor crafts that you can make on a budget! There is nothing better than making something adorable to display in your home that barely costs anything.
The neutral lamps are from Amazon and Kirklands.
If you want to be a part of my blogging family please fill out the form below. You will get full access to my Free Home Decor Resource Library. I pour my heart into my email list sharing the best tutorials with you.
Speaking of DIY home decor last week I shared my DIY Farmhouse Lamp shade makeover with you. It was such a fun project. And I loved making it. If you have been wanting to find the perfect Farmhouse lamp forever like I was keep reading. You will exactly what you are looking for here!
Find exactly what you have been searching for.. Whether that's vintage farmhouse lamps, farmhouse table lamps, country cottage style table lamps, neutral lamps, rustic lamps, or farmhouse floor lamps.. Look no further.
Farmhouse lighting is so important. It makes such a difference in your home. So take a look at the vintage farmhouse lamps below.  Tell me which one is your favorite in the comments below
Other Farmhouse Lighting posts you will enjoy DIY Farmhouse Lamp shade makeover and Farmhouse Lighting.
So let's get down to business!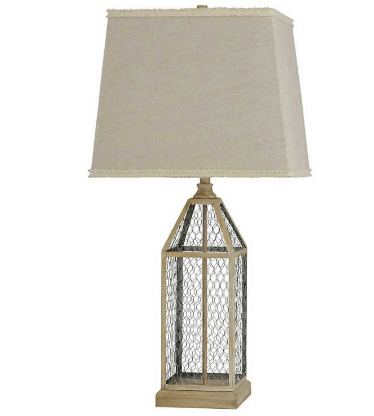 So do you love these lamps as much as I do? I searched for months to find the perfect lamp so I hope you found a good one from these neutral table lamps.
Tell me in the comments below if this blog post helped you find a modern farmhouse lamp you love! Also, if you end up purchasing any of these lamps don't forget to tag me on Instagram. I want to see how you styled it in your master bedroom or living room.
Popular Blog Posts:
Last but not least, have you wanted to create your own blog? I make ALL of my income from being a full time blogger. Keep reading if blogging is something you have always been curious about. Because for the longest time I sat back and wondered if it was possible to make money online and from a blog.
So take a look at my blog post How to start a Blog the easy way! Because I've included a list of the best tools I use for my blog. I have used all the items in this blog post. And absolutely love them. I have also linked discounts or the best price possible for each item. Really though go read it now and start a blog the easy way!
Because you won't regret it!
You may also like these Blog Posts full of the best budget friendly furniture and decor:
Also let's be friends more than just here. Come find me on Pinterest, Facebook, Instagram.
15 farmhouse table lamps that will look gorgeous in your neutral living room.