13 Genius Front Yard Patio Ideas On A Budget.
Use these 13 hacks for small front porch decorating ideas on a budget
Front yard design and outdoor living spaces are so important to me. I love spending Spring, Summer, and Fall outside as much as possible. The was one of the most important things to me when we moved to the farm in Wyoming. I had to make sure we had a great outdoor "room" and affordable patios have always been on my checklist. So I want to share with you front yard patio ideas on a budget.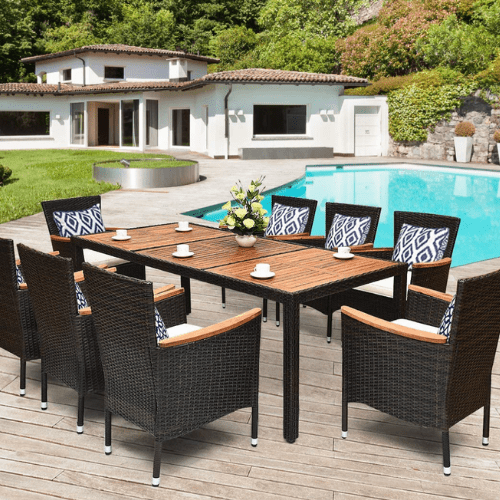 I will give you some great ideas for what we have done to make outdoor living as amazing as possible. We have a huge yard that has front yard space and a back patio. Summer fire nights are always fun. We really enjoy sitting by the fire pit for an hour or two at night. We have it set up so a lot of the time we have dinner on the patio and just relax.
So I want to share with you small front porch decorating ideas on a budget.
Because you know that decorating on a budget it something I am so passionate about. I have been focusing so much on indoor and outdoor design with our new home.
Tell me in the comments below what is the most important thing about outdoor living space for you.
I'll give you a list of 13 of the most important decorations for front yard patio ideas on a budget.
I've even seen some amazing enclosed patio ideas on a budget that make outdoor living spaces so convenient. The thing that you always need to remember when building and designing that perfect front or back porch is making sure it fits your needs. Now that can look a bit different to everyone.
Whether you need a large outdoor table for eating family dinners at, a big porch swing to hangout on and relax, a functional yet beautiful fire pit. These can all be things that we want or won't use.
So a vision of a beautiful patio or front porch design will look different for all of us.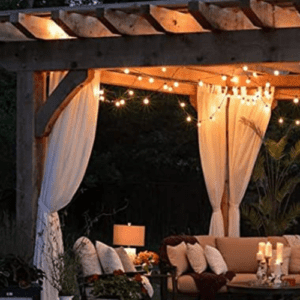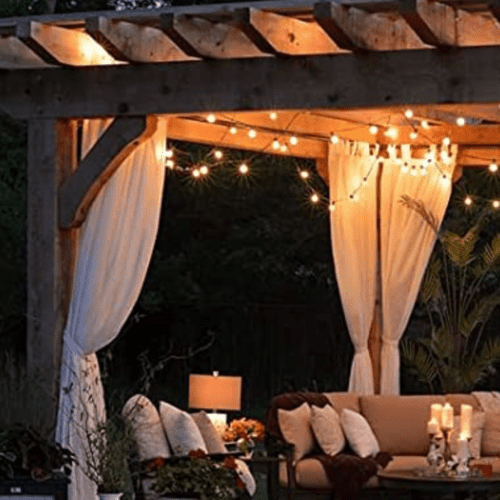 These cheap way to make a patio look amazing will help you create an outdoor space you love.
How can I make my front yard more usable?
You can make your front yard and back yard more usable by putting furniture you will actually enjoy and use. As well as putting decorations out there you love looking at.
Some of the links on my blog are affiliate links, meaning no additional cost to you, I earn a commission if you purchase through the links. Thanks for supporting my dream!
This is one huge thing that made such a difference for me once I did it. You know I am all about making a space look like you, whether that's inside your home or outside in your yard. It's so important to use unique pieces that speak to you. Decorations that you absolutely love. I know I always say that but I truly believe it.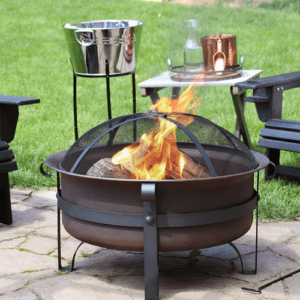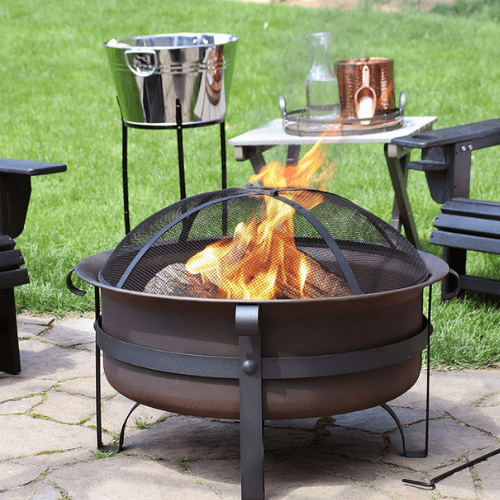 If you have been looking into affordable patios these yard design tips will help you create a yard you adore with easy porch decorations.
Keep reading for 13 must haves for your patio and genius small front porch decorating ideas on a budget
Use planters in your yard, garden, or on your front porch. In THIS blog post I share my absolute favorite pallet planters. Planters can include many different types ceramic pots, wood planters, plastic pots, wall planters, galvanized planter. You can see my favorite galvanized planters HERE.
A small bench is perfect for your front porch or back porch. You can use it to enjoy the sunset or visiting with the neighbor when they stop by. You can always just use it for looks as well by throwing some cute throw pillows on it. Throw pillows are great because they can be switched out for holidays or each season. Perfect to add a bit of small design detail.
Add a cute porch swing or you can do a stand alone one THIS is the one I have and love or a hanging swing chair. It's fun to lounge for a few minutes outside.
If you want to have family dinners outdoor you need a patio dinner table that will fit your entire family and guests. We always have friends over during the summer for bbq's so having a large outdoor table is a must for us.
Adding small decorations in your yard like Cement lawn ornaments can be a cute little touch that are fun to look at or hanging fence decorations.
Water features are one of my favorite things in a front or backyard. There are so many different kinds of water features. Some of the ones I enjoy looking at are small ponds, streams, waterfalls, or fountains. There are so many budget friendly fountains that I have.
If you are having an outdoor dining area you need to make sure you have an outdoor rug. It's a small thing that makes a huge difference.
I love watching the birds at the farm. It's one of my favorite things. We absolutely love setting up the hummingbird feeder and watching them for hours. You may want to set one up in your garden or yard for a fun activity to do on a quiet afternoon.
Everyone knows someone that has a hammock. They are the hottest thing now a days. My husband got one for me for my birthday and let me tell you.. I understand why they are so popular they are comfortable and fun! If you have the room in your yard get a hammock that you can relax in.
Make sure you are using outdoor lighting so your outdoor space can be used during nighttime hours!
We love taking the kids out on Summer nights and making s'mores around the fire pit. It's one of my daughters favorite things. If you enjoy spending nights out on your patio this is a must.
So this one is something I've been trying to talk my hubby into forever. It's a budget friendly hot tub. Did you know they had such a thing?! I'll share a few with your HERE. I've been dying to get one since because these Wyoming nights can be a bit chilly.
Don't forget to get a huge umbrella for shade. They are so convenient because you can open and shut it super easy.
I hope you loved these cheap ways to make a patio look gorgeous without breaking the bank!
Of course you don't need all these items you can pick and choose what ones are the best for your yard. You can always redecorate your outdoor living space with small items depending on the time of year. But these main items are must haves that you can't go without to have the best outdoor space.
If you aren't already part of my blog family fill out the form below so we can hangout more than just here. You'll be the first to get all the updates on the blog.
Thanks for stopping by today. It means so much to me that you came!
Decorate an enclosed patio ideas on a budget