9 Silver Christmas Tree Decorating Ideas.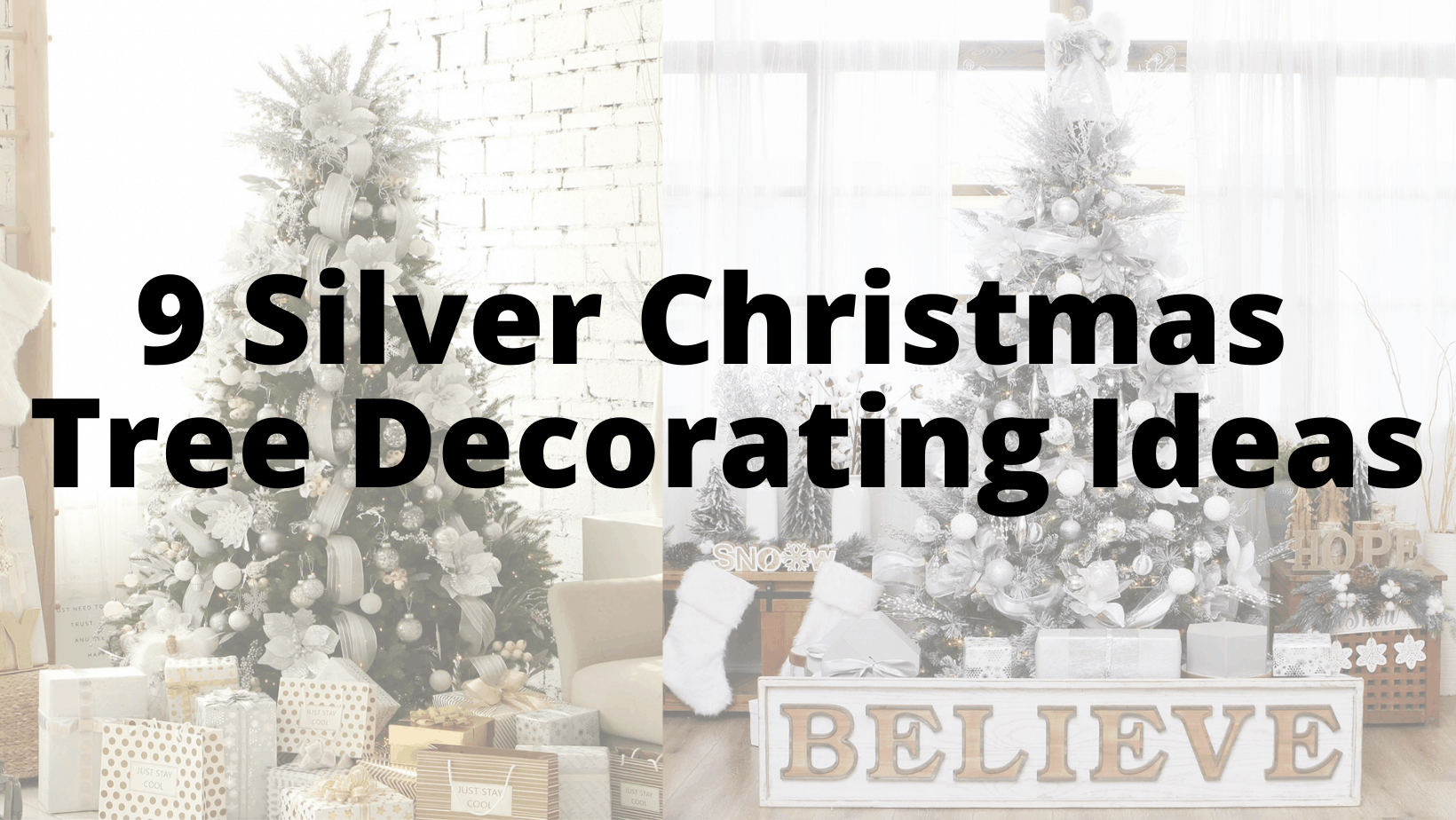 Hi friend. It's that time of year where we can start pulling out the decorations for Winter time and get into full holiday mode. I have been going back and forth on what theme I want to decorate my Christmas tree this year. I love decorating my Christmas tree unique and doing something that is completely different. So this year I have been questioning if I want to do a Silver Christmas tree.
Silver Christmas Trees were popular a long time ago, they have been around for a long time.
People used aluminum Christmas trees in the late 1950's and early 1960's. They were the hottest trend then, but a faux Vintage Silver Christmas Tree is making a huge comeback.
I love Silver trees because they are so unique! But if you are looking for something that isn't super out there you can always just decorate a normal pine tree with silver decorations.
Silver tree decorations will always look classy and never go out of style.
If you are looking for more Christmas decoration ideas then you can see some other popular posts below.
In this blog post I will share all the details about how to decorate a Silver Christmas Tree.
I'll show you some of my favorite Silver Christmas Trees designs and the color themes that are the trendiest right now.
Are you looking to create your dream home without spending a lot of money? There's a way to have a beautiful home without breaking the bank! That's what I teach in the Rustic Passion VIP Community. If you want to learn more you can click below.

If you are wondering what colors and ornaments go with a Silver Tree keep reading. The most popular color combinations right now are a Red and Silver Christmas Tree and a White and Silver Christmas Tree.
You can see below perfect examples of both of these designs.
If you have wondered if it's best to do a small Silver Christmas Tree or go BIG that depends on your home and how much space you have to put up your tree.
I have tall ceilings so I never wonder about the height of my tree and if it will fit in my home. But if that's a concern for you, you can just look for a smaller tree. The average height of a Christmas tree is 7 feet tall.
I always want to make sure my Christmas tree is put in the best place possible where neighbors and guests can easily see it.
I will tell you the best places in your home to display your Christmas Tree and explain why they are so great.
The goal of a Christmas Tree is creating something that's beautiful and that you enjoy looking at. That's the most important thing is that you love it.
My favorite places to put up a Christmas Tree are any of the following:
In front of your living room window so it can be seen outside
In the entryway so it can be seen right when you walk in to your home
At the bottom of the stairs so you can view it while walking down the stairs
In the family room so you can see it while spending time with your family
Lastly a place that not a lot of people think about when deciding where a Christmas tree should be displayed is in the bedroom. I love putting a Christmas Tree in the corner of my master bedroom so that I can turn on the lights at night.
You definitely want to really think about the place that will make you the happiest to put your tree. Christmas trees are a lot of work to put together and decorate so taking pride in it and having it on display for everyone to see is the best part.
Some of the links on my blog are affiliate links, meaning no additional cost to you, I earn a commission if you purchase through the links. Thanks for supporting my dream!
As I mentioned above what the most popular color combinations for your Silver Christmas Tree are I'll give you examples of each.
The color combos and Christmas decorations below will show you exactly how to decorate a Silver Christmas Tree.
Click on each photo below to see where you can buy it for a great price!
Don't you love the red ornaments with the silver tree? It's such a beautiful design that I am obsessed with.
If are looking for White and Silver Christmas ornaments to decorate your tree this year below are some of my favorites.
The best part about using White and Silver tree decorations is it creates a Winter Wonderland theme for your tree. Which is such a classy look.
Now that I've shown you some of my favorite ornaments to use for Silver theme I want to share some of my favorite vintage inspired Silver trees.
Like I said before they are super unique and will definitely make you stand out when it comes to Christmas decorating.
When decorating for Christmas you can think outside the box. It doesn't always have to be the same Red and Green decorations.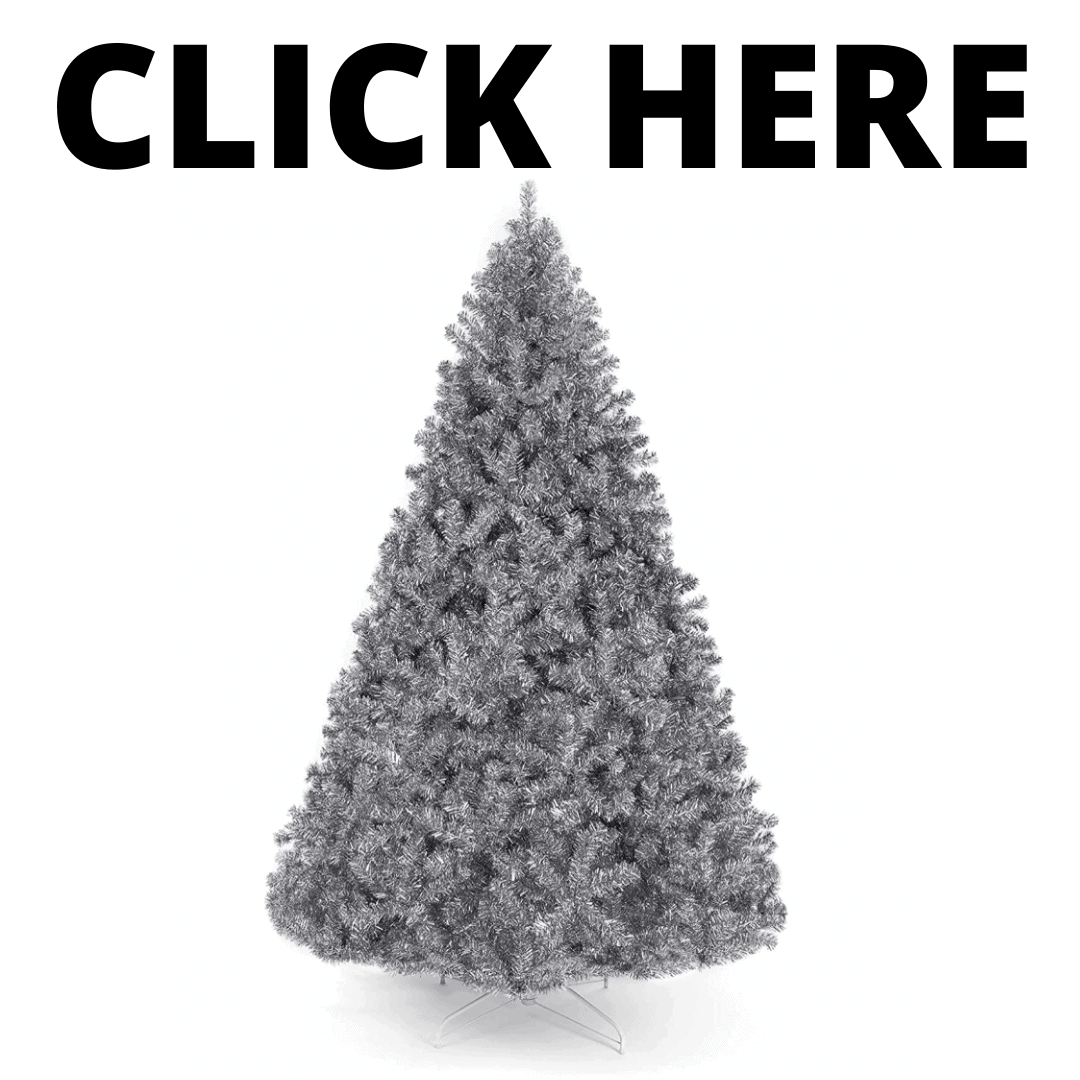 Silver is the way to go this year if you want to do something different and and create a design that will stop everyone in their tracks.
Your home can look elegant and timeless this Christmas with these decorations that you can buy on a budget.
Since I decorate my tree different every year I like to make sure I find the most affordable decorations so I can stick to a holiday budget. It's super important to me to find the best deal for decorations. I will share below my favorite places to buy Christmas decorations and Christmas ornaments to decorate the perfect tree this year.
I have found that the shops above have the cutest decorations and great prices. I always look for discount prices and look in the clearance section. If you are shopping for decor in person instead of online look for discounted items at the back of the store. That's usually where they are displayed that way they are in the back and not everyone will see them. I learned that a while back to always look for sale items in the back of the store.
So this year if you are wanting to do something super unique and fun buy all the Silver Christmas decorations. You can really add some many complimentary colors that will look great with silver. My favorites are red, and white as I listed before. But other popular ones are purple, and teal.
My biggest tip for you is always stick to what you love, always decorate with items that make you happy looking at. Design trends come and go it's important that you create a home with something you love.
I hope you enjoyed this blog post and it's gave you some helpful information.
With all the information you've read you don't have to wonder anymore what goes with a Silver Christmas Tree and how to decorate it.
Thanks for stopping by the blog today. It means so much to me that you are here. As always send me a message if you have any decorating questions or just want to connect.