9 Hacks To Create Your Dream Craft Room With An Affordable Craft Table.
9 functional craft table ideas for your DREAM craft room.
I have always wanted to have a gorgeous craft room to create all my DIY projects. I knew when we moved into our new home I had to have one. It was the one thing that was so important to me when it came to the design of my home. When decorating a craft room you want to make sure you have tons of storage and a great craft table. I will share all my must haves that have helped me be able to craft easily.
I will share 9 tips to design the most amazing craft room. The things you need for a stunning place to do all your favorite crafts.
Whether you are looking for a craft table with storage or a sewing desk look no further.
I have a handful of things I really can't go without in my craft room. The main thing that I love is having a lot of storage it makes it easier to stay organized when doing projects.
If you are looking for amazing gifts for the DIY crafter in your life you can get some great ideas HERE IN THIS BLOG POST.
The options are really endless when it comes to arts and crafts table, a folding table with storage, or a small sewing table. You can really find the best craft table and design your room around that.
I love an amazing craft desk with drawers. Because you can put all your crafts supplies that you use regularly in them. That's where I store the supplies I use the most.
So as I said above I have some amazing hacks that have helped me stay on top of my game when it comes to an organized craft room.
I knew that everything needed a specific spot in my craft room so I could easily make my decorations without losing supplies because I wasn't able to find them.
These 9 tips helped me while designing my craft room…
Make sure everything has a spot. Small Drawers were my best friend while trying to organize everything in my craft room.
I labeled like a crazy person. I put labels on every drawer and it helped so much. It saves me time every project I am working on because I can quickly look what is in each drawer.
I organized all my paints by color. This makes painting so much easier because you can grab the colors you need right out of your paint organizer.
Wash your paint brushes right after you use them, and put them back in your paint brush holder. I can't tell you how many hundreds of paint brushes I ruined because I left them out.
If you are a scrapbooker like I am make sure you get a scrapbook paper organizer. I have all my scrapbook paper organized by style, color, and holiday.
You can NEVER have enough storage. So if you need extra shelves or a craft desk with drawers do it. I have so many shelves in my craft room because I love staying organized.
Pegboards are a super popular thing for craft rooms. You can customize them how ever you want and use different hooks to organize it to your needs.
If you are on a budget for your craft room I would recommend finding an expensive craft item you want and save up and splurge on it. You won't regret it. For me that item was my cricut. I love it and it makes crafting so easy and fun!
Last but not least you need to find the perfect craft table. Having a large space for me to do all my crafts made the difference for me to level up on my diy crafts and my home decor projects. You can see all my favorite craft tables below.
Also I've listed my absolute favorite must have craft supplies that every craft room needs. These are the items that I use in every DIY craft project.
As you all know I make home decor and redo furniture for my home all the time so having the best craft supplies is very needed.
All the supplies I use regularly are going to be shared below.
Some of the links on my blog are affiliate links, meaning no additional cost to you, I earn a commission if you purchase through the links. Thanks for supporting my dream!
If you want to see my CRAFT SUPPLIES SHOP you can see it HERE.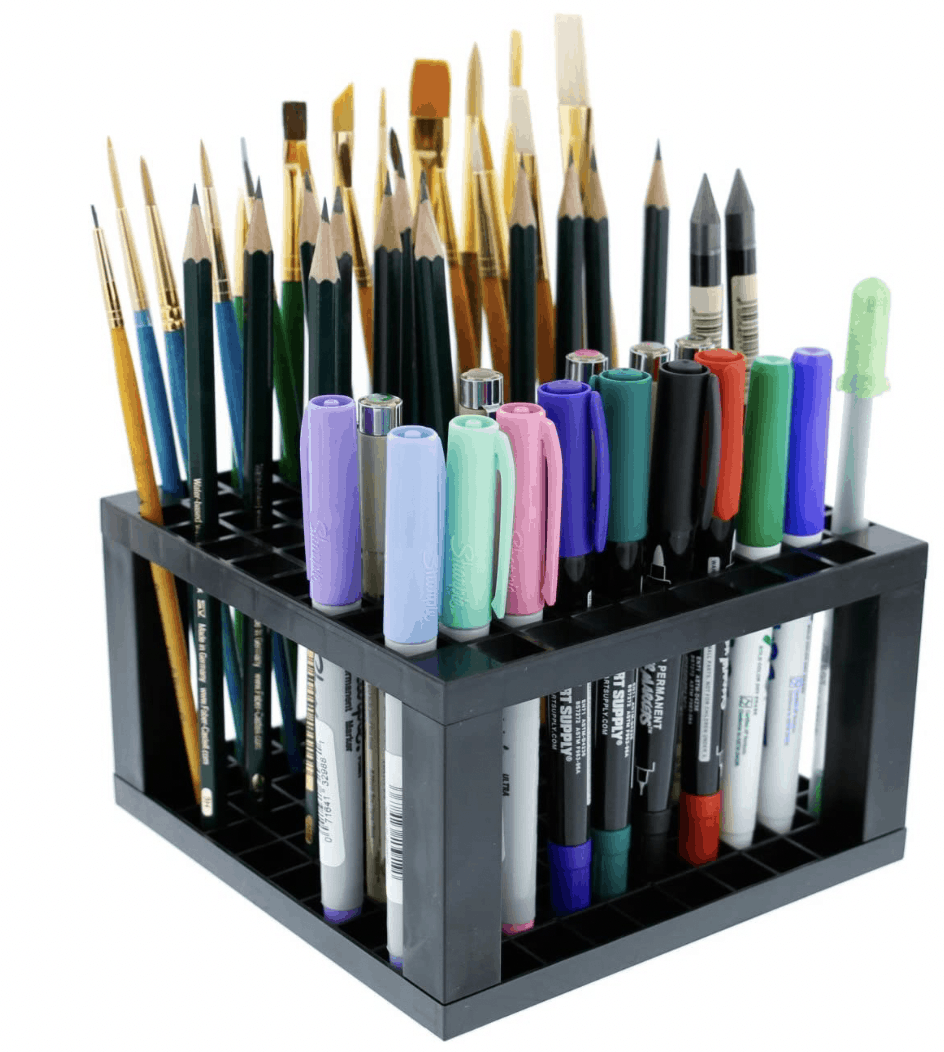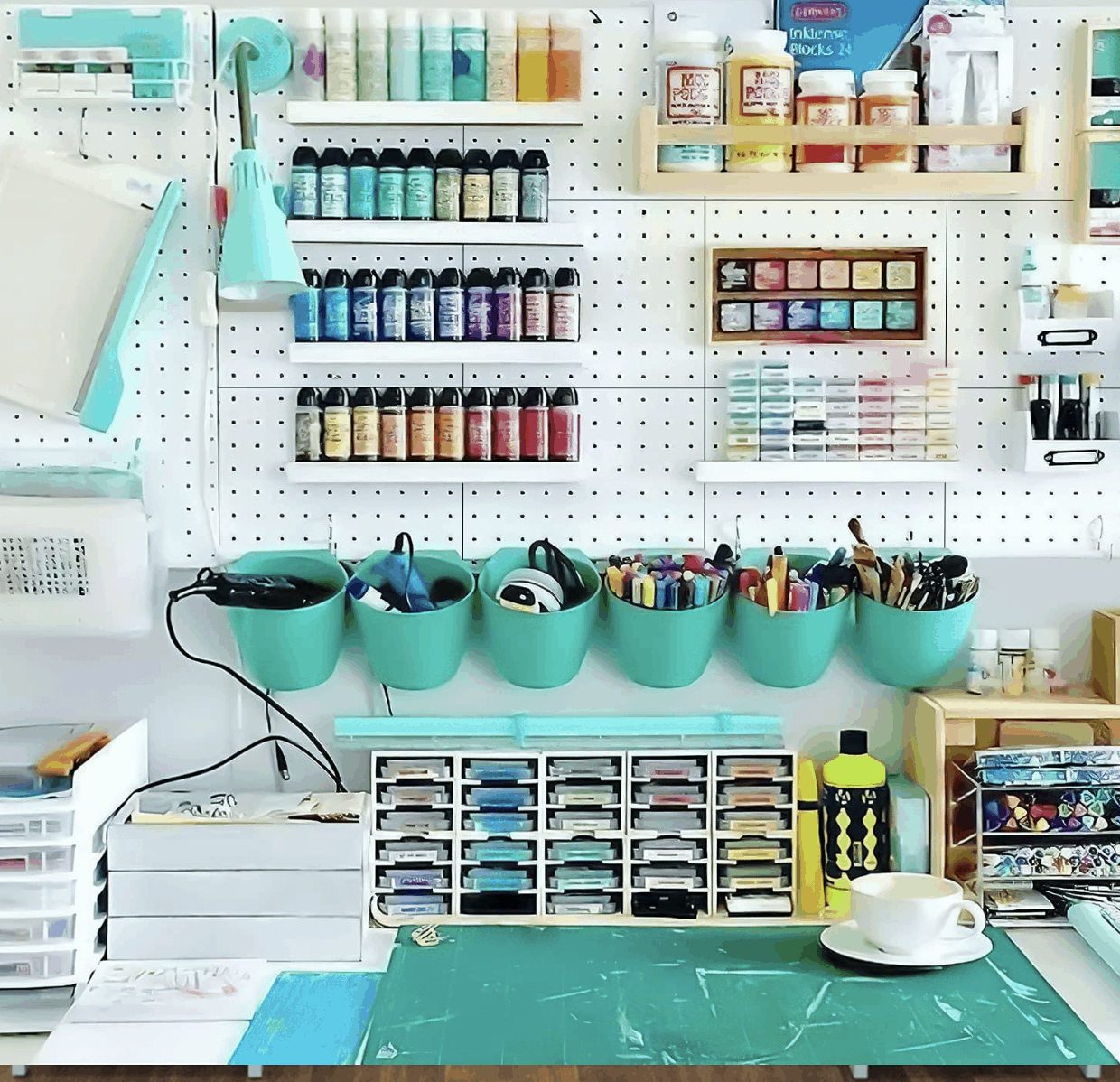 Which one of these craft room must haves it the thing that you feel like you need the most? Tell me in the comments because each one of these things is just perfect for having an amazing craft room.
I'll say it time and time again a craft table should be the focus of your craft room. I mean that is where you will be doing all your crafts and it's so important to have one that fits all your needs.
When picking out the perfect craft table you have to thing about a couple different things. How much space you have for your craft table, so that means deciding if you want a small craft table or a large one.
If you need a craft table with drawers or if you can just use separate shelving. My craft table has 6 drawers and I love it. I use them all the time and it helps to keep all the things I'm using right there handy ready to grab.
Here are a few craft tables that you will love.
This craft table has wheels and it folds down so you can put it away when it's not being used. Which is so nice! You can see it HERE.
This craft table is so nice because it has a lot of built in cubby shelves. You can fill them up or use totes in them if you don't want all your craft supplies on display showing. You can see this table HERE.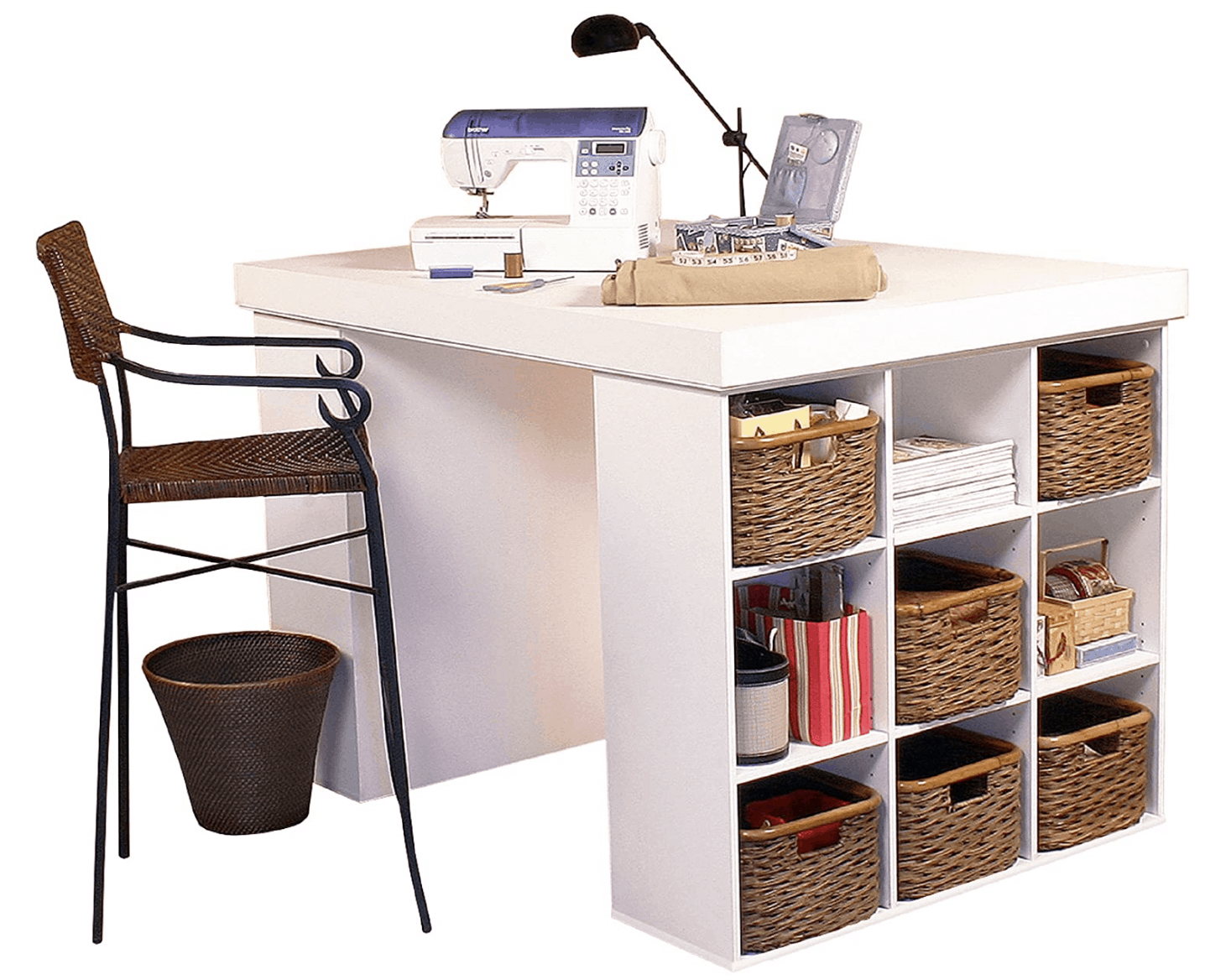 This table is a very cute rustic look. I feel like it's more of a craft table for looks wise instead of functional. I absolutely love the way this one looks. So if rustic is your style and you don't need tons of storage you can see this craft table HERE.
This table right here is the cutest small craft table. It's the perfect sewing desk if you love sewing. You can see it HERE.
So whatever kind of craft table you get depends on your needs and what you are looking for in your dream craft room. If you don't needs a huge table there are so many cute small craft tables that don't take up a ton of space. Or if you don't have a large area you can get a table that folds down small so you can keep it hidden away in a closet and pull it out when you are ready.
Keep in mind craft rooms take a lot of work and time to organize all your supplies and get it designed the way you want. But there are so many organization things to help you create a gorgeous room for all your projects.
I hope you enjoyed this post and liked all my favorite craft room supplies and the adorable craft room tables that I shared. Tell me which table you like below and what the reason is. I know it's so hard because everyones needs are different. That's why I love finding affordable options for everyone when it comes to decorating your home.
If you are looking to get more home decor tips or DIY craft tutorials take a look around the blog. I share all my favorite projects with you all. And I absolutely love seeing all your diy crafts that you have made from a tutorial I shared.
If you found any of these craft room makeover supplies helpful or you end up getting them I would love to see pics of your craft room. @RusticPassion don't forget to tag me so I can see all the things.
Thanks for stopping by the blog today. It means so much that you are here.
How to design a gorgeous affordable craft room with the cutest craft table.