9 of the Best Affordable Oversized Chair Ideas for Your Living Room.
9 stunning oversized chairs to create a cozy and warm feeling home.
I have a huge oversized chair in my front living room and it's the coziest thing ever. People always wonder where I got it. So I decided I wanted to create a chair guide of my favorite chairs out there. These chairs will give you the design look you are looking for but also create a warm cozy feel that we all desire for our home.
With it being Fall in Wyoming the weather is starting to get a little chilly now. We are always sitting inside relaxing by the fire during this time of year. So it's so nice to have a cozy spot to relax and unwide. Is there a certain spot in your home that you like to just relax in?
So I will share with you my favorite oversized chairs that I know you will love! Whether you are looking for a oversized chair with ottoman, a oversized round swivel chair, or a oversized recliner chair there are so many options out there!
There are a lot of different places you can display your oversized chair. If you have a small reading nook that you love to sit down and read for hours. Or just your living room that sits in the corner by the fireplace, or even in the basement family room that you can hangout and lounge in watching movies or if you're like me your favorite reality tv show.
Tell me what kind of oversized chair you are looking for and where you would display in your home.
I love giving you guys the very best prices and best quality furniture when making recommendations for furniture that I love.
You can see a list of my favorite accent chairs HERE.
When decorating with accent chairs or an oversized chair you have to make sure you display gorgeous throw pillows on it or throw blankets.
If you want to see 50 of my favorite throw pillows you can see them HERE.
My house was always been super neutral. I have loved whites, creams, and grays of all kinds. So a neutral chair was a must for us. Which of course you have use pops of color depending on what season it is or what time of year you are decorating for.
Since moving to Wyoming I changed my design theme a bit. I decorate with a lot more wood tones and colors to give a western feel. Which I really love. I still enjoy decorating with my neutrals especially as the large pieces of furniture and bringing in colorful accent pieces.
So if you were like me before and didn't really have a ton of color in your home a good oversized chair is a nice way to add some color because you can change out your throw pillows and throw blankets for each new season coming. I have a ton of Spring pillows, Summer pillows, Halloween pillows, and Christmas pillows that I love using to decorate my living room.
Pillows are one of the easiest and most affordable ways to change up the decor in a room. If you are looking for a quick fix for a new style in a particular room in your house always mix it up with new throw pillows.
Because you need a place for your pillows keep scrolling below and you can see the very best options for an oversized chair.
Some of the links on my blog are affiliate links, meaning no additional cost to you, I earn a commission if you purchase through the links. Thanks for supporting my dream!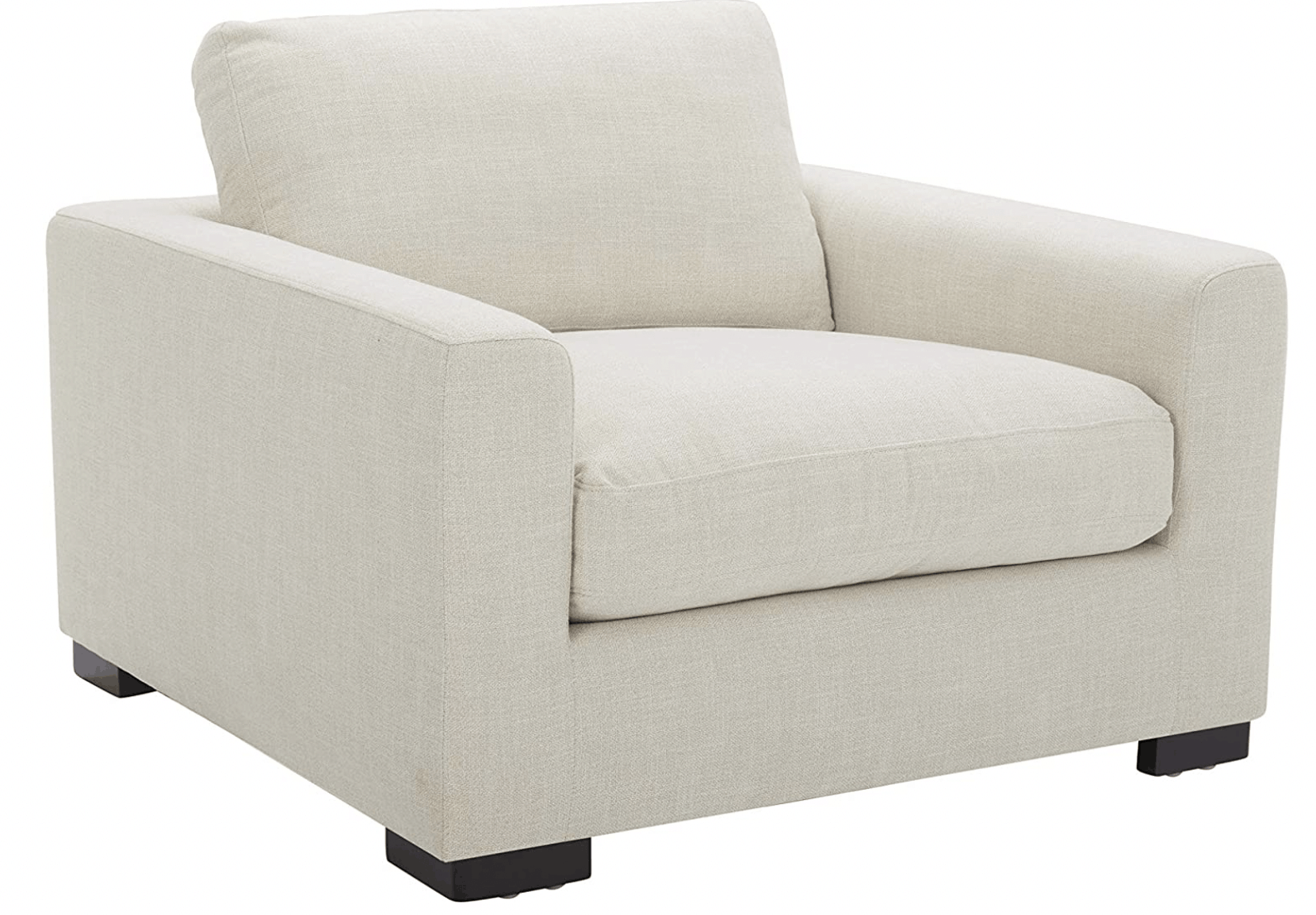 This one is such a gorgeous oversized swivel chair.
I love this gray oversized chair and ottoman.
This is the best extra large recliner chair out there!
Because oversized swivel chairs are one of my favorite pieces of furniture right now I want to share a few more of the ones I love. When it comes to oversized round swivel chairs the options are really endless.
I never thought about oversized swivel chairs before when decorating but I've seen them more and more in homes lately and they are functional and look gorgeous in the living room. My favorite thing is seeing an oversized swivel chair in the corner by the window so you can look outside and have a view but turn around and be a part of the conversation in the living room with your family.
When choosing an oversized chair you can decide what your main needs are pick a style based on that.
You can figure out what kind of fabric or texture you want your oversized chair to have. So while you are scrolling the rest of these chairs keep in mind what color or feel you need for your oversized chair.
Ok this may be my favorite swivel chair ever. Literally so dang beautiful. I adore the tufted look it has and it comes in cream and gray. So whatever the color theme you have picked for your home can go with either one of these colors.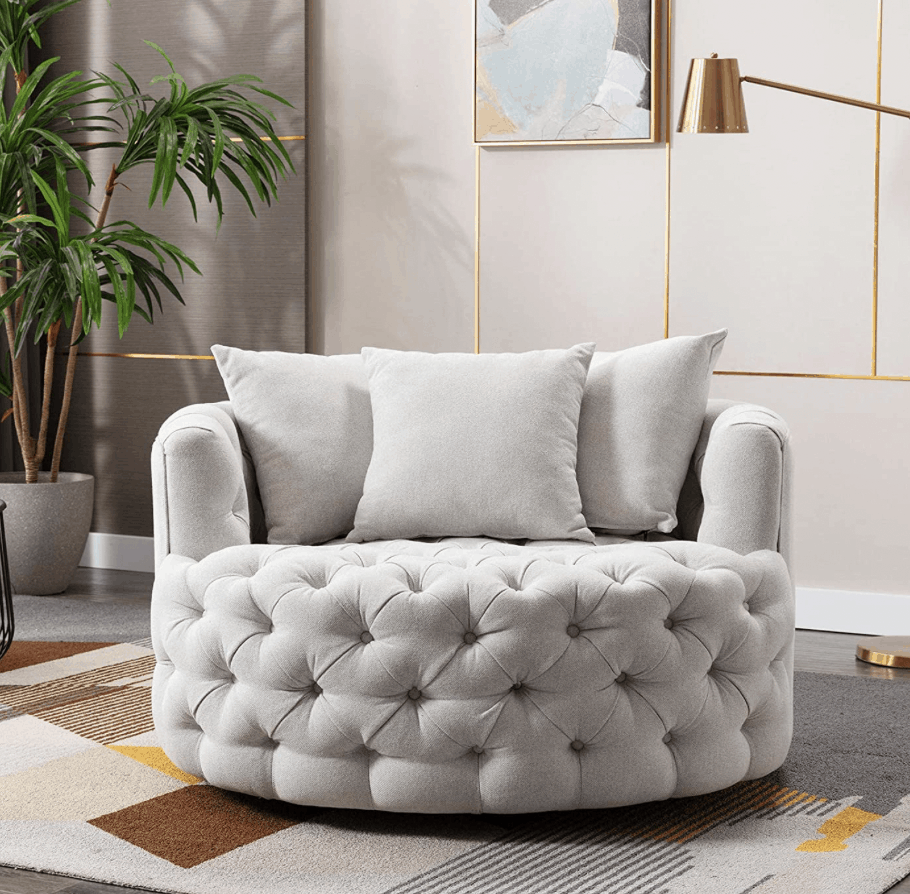 This next swivel chair is one of the biggest chairs I've seen. It's so cozy looking and makes you want to curl up and take a nap on a relaxing Sunday afternoon.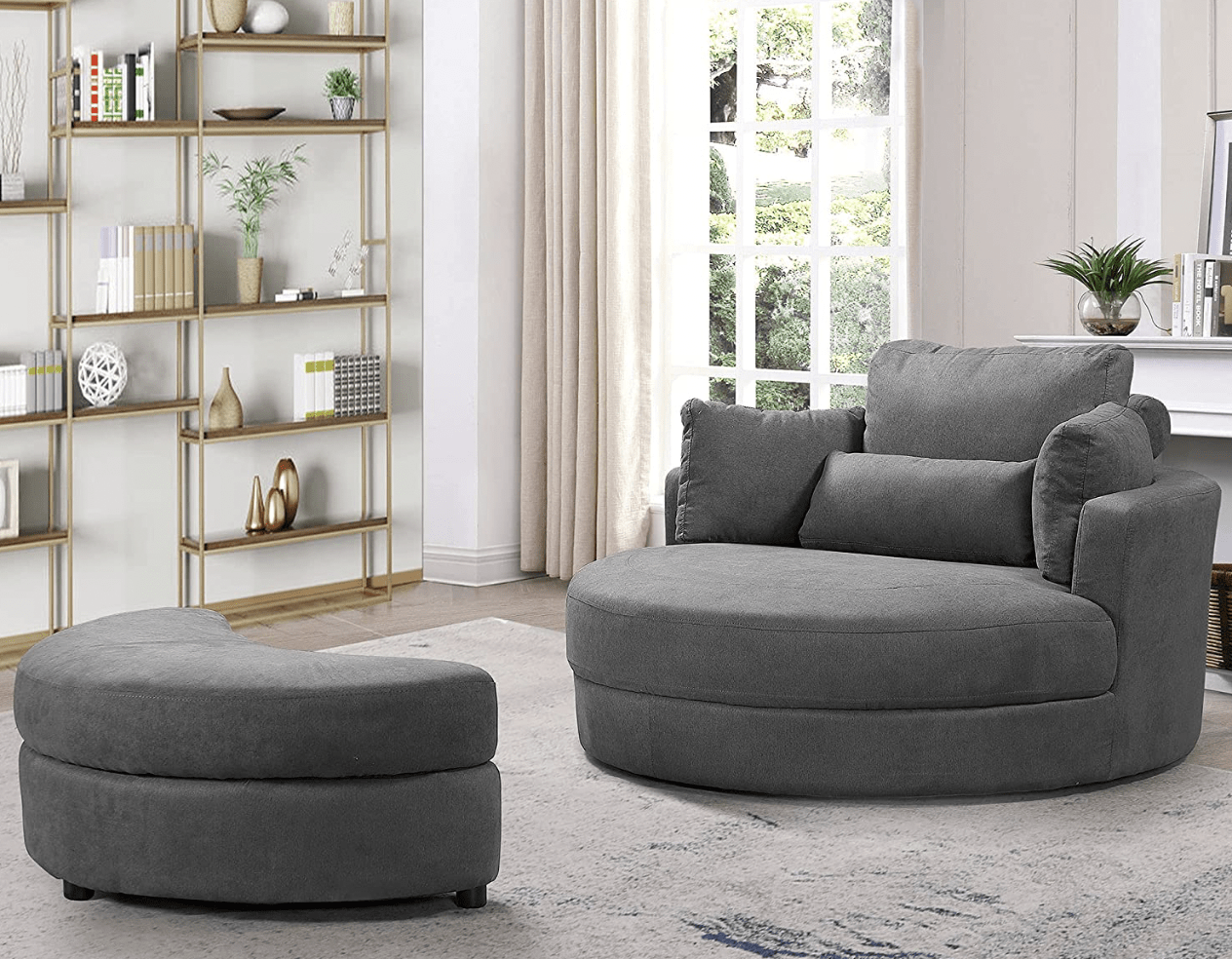 I hope you enjoyed this list of gorgeous oversized chairs and it gave you some good inspiration to decorate your home with unique furniture pieces. You don't always have to stick into a mold of decorating the same as everyone else. I feel like big chairs are super unique not everyone has one. In fact most people don't have one in their home.
But there are so many ways to decorate with it. That's why I love these chair so much. You can literally put one in almost any spot in your house and it will look good. It is always the center piece of a room and you can decorate around it. Because your eyes will go right to it when entering a room and you can add small accent pieces that go with it.
Which one of these chairs did you like the most? Tell me in the comments below. And as always if you choose one of these chairs in your home tag me in a pic I would love to see. @Rusticpassion
I always enjoy seeing photos of your homes. I hope I can always bring you inspiration and some of my favorite design ideas that won't break the bank. Because that's always the goal to decorate affordably and finding budget friendly furniture and home decor.
Thanks so much for stopping by the blog today. It meant so much to me that you came.
The very best options of oversized chairs for your living room.