I love Christmas!!! Haven't I mentioned that a time or two?! There is just such a happy feeling around Christmas time. Except when I decide to pick up a couple last minute gifts the week of Christmas! Haha it's crazy out there! 😉 I wanted to share my Christmas tree this year with y'all. I chose a Snowflake Winter Wonderland theme. I think it came together pretty well.
I used a lot of White, Blue, and Turquoise. I have always wanted a flocked tree maybe next year I'll buy one. This was in the beginning I put on my large turquoise balls first. These ornaments are so big and pretty.
I have small, and medium turquoise ornaments that are matching. They brought my tree together so well.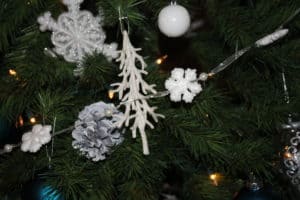 I am obsessed with cameo's! Have been my entire life. I buy one every time I see one. Even if it is on an ornament.
I made this tree topper. I hot glued on some pearls in the middle and beads around the outside. I think it turned out adorable.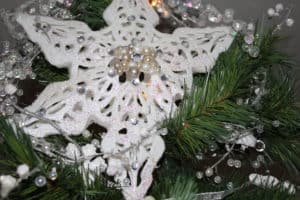 Here's on where you can see the entire tree.
Merry Christmas friends! I hope you all having an amazing holiday with your loved ones! Thanks for stopping by.