You guys this is such a cute center piece that can be used all winter long, not just for Christmas. I've changed where it's been displayed in my house so many times because it can go anywhere! So to start out my project I went out in the backyard and gathered branches that had fallen of our trees. I gathered a few of them. Each branch was around a foot.
I painted them using white acrylic paint.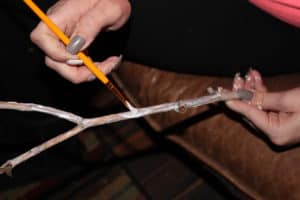 After I painted the branches white I poured glitter on each branch while it's still wet. It saves an extra step if you put the glitter on the branch before the paint is dry instead of later on. I'm all about making DIY projects simple.
I let the branches dry overnight. Once they were dry and the glitter was attached they were ready to apply the snowflakes. I got a pack of plastic, and felt snowflakes from Hobby Lobby. I bought these a while ago and have been trying to decide how I wanted to use them.
I hot glued a couple on each branch. Let them dry for a minute before I put them all in a cute white mason jar.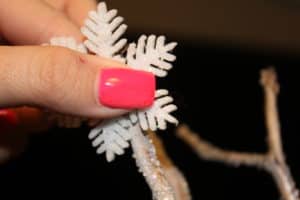 This snowflake center piece turned out better than I pictured in my head. It is so cute and I am so happy with the end result.
Thanks for stopping by friends.