7 Affordable Design Tips & Living Room Ideas on a Budget.

7 Design Tips & Living Room Ideas for decorating a neutral home.
I have been dying over all these cute trends going on Pinterest for Living Room Ideas on a Budget. So that's inspired me to create a blog post with stunning living room ideas on a budget. Everyone loves creating their dream home affordably. My favorite thing is finding home decorations that barely cost anything. I get so excited over it.
Other Living Room Blog Posts you may like:
Who's with me on getting inspiration for your dream living room!
It's crazy to me that everyone isn't out there buying items on sale or thrifting. I have found some of the best items for my home that way! It's something I am so passionate about. I love teaching you that you too can have a stunning home that doesn't cost an arm and a leg. Isn't that great to hear?
Are you looking to create your dream home without spending a lot of money? There's a way to have a beautiful home without breaking the bank! That's what I teach in the Rustic Passion VIP Community. If you want to learn more you can click below.

Truth be told a living room is a dwelling place for your home. It's a gathering spot that can be used daily for your family. There are some rules/a guide to having the perfect living room. And I will share it with you. You can easily create a beautiful spot in your home you are proud of. A spot you want to show off!
Whether your design style is traditional, modern, rustic, farmhouse, boho, elegent, or neutral… You will find some useful tips and tricks here. I promise. I th-ink 1 thing we all want is a cozy place to hangout in our home. That's my goal whenever I am decorating is to create a peaceful place that I love spending time in.
What is one thing you like to focus on when decorating? Tell me in the comments below.
So I'll let you know what the must-have's to create a functional and beautiful living room in your home are.
Choose a color palette that you love and use items that fit that color scheme. I love all things neutral. So the colors in my home are gray, white, and brown. I always use pops of color when it's Spring and Summer time. But for the most part most of my home is filled with white decorations and furniture. I love using rustic wood pieces – wood trays, thick wood frames, farmhouse signs.
Using large pieces of furniture to line the room and create symmetry. A tip I like to use is creating a focal point in a room and building design elements around that. The focal point can be a coffee table, a dresser, hutch. It's usually a larger item that your eye is automatically drawn to.
Choose decorations that will last a long time in your home. There is nothing wrong with following the latest decor trend. But one thing that has made my home completely unique is using decorations that are different or stand out. A lot of the unique items I use to decorate I find in thrift stores. If you look at items in a way of how can I use that or what can be done with that it always helps. I have found some of the most amazing decorations that I just don't know why someone would throw it out.
So now I'll get down to some specifics for decorating a neutral living room.
When decorating a coffee table there are so many different options. I love using a dough bowl or wood tray to display items on. If you are using a tray you can use vintage books stacked with a vase filled with faux flowers, or a large glass jar filled with decor balls. If you are using a dough bowl you can fill it will decor balls. There is so many different kind of decoration balls. If you want to see DIY globe balls I've made or DIY moss balls you can see exactly how to make them.
When decorating shelves or your fireplace mantel balance is everything. I love designing my fireplace mantel using multiple vignettes. It creates an appealing design for your eye to look at. Creating multiple small focal points when decorating is so important. I have found a lot of the items I use in my vignettes through yard sales, and thrift shops. Using small decorations is key.
Make things personal in your living room. I know a lot of designers and home decor bloggers that won't use a ton of family photos through out their home because it doesn't match their design dream. To me this seems silly. I love displaying photos of Tyson and I. I probably have too many around the house! Even if you want a clean neutral white style in your living room you still can use family photos. You can use black and white pictures in white or black frames. It creates a clean look and your home still looks personal.
Are you enjoying these tips so far?
A favorite tip I use to eliminate clutter is buying furniture with storage built in. A lot of coffee tables open up and have space inside to store items. I collect antique trunks, they are the one item that I am obsessed with and can never have too many. These are gorgeous furniture pieces and have soooo much storage. It's nice to keep blankets or extra items that you don't want out in the open view.
What do you think about these 7 tips to create a gorgeous living room? I hope it helps you with Living Room Ideas on a Budget. These are tips I have used a lot. And have helped me create a cozy space that I adore. A place I love spending time in!
I want to give you some inspiring living rooms to help give you living room ideas on a budget. You can create your dream home affordably and I want you to remember that. It's so much easier than people think!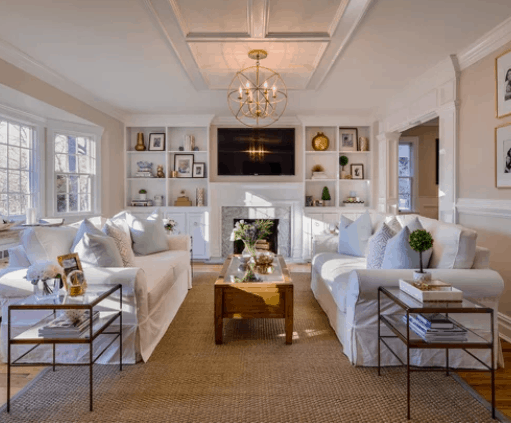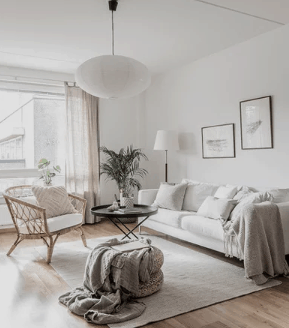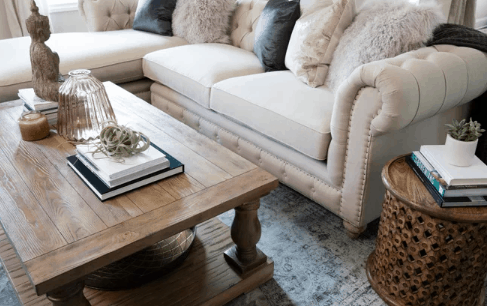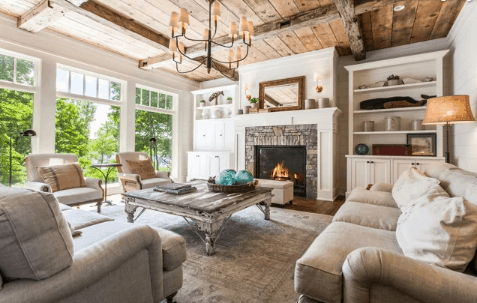 These living rooms are all very different but the one thing they all have in common is balance. Balancing a living room and creating a cohesive look is so important it creates peace and coziness.
I hope you enjoyed this post this blog post as much as I enjoyed writing it. And more importantly that it gives you some tips and tricks you have been looking for with Living Room Ideas on a Budget.
Don't forget to take a look around the blog. I promise you will be inspired and find some fun DIY projects and beautiful homes.
Popular Blog Posts: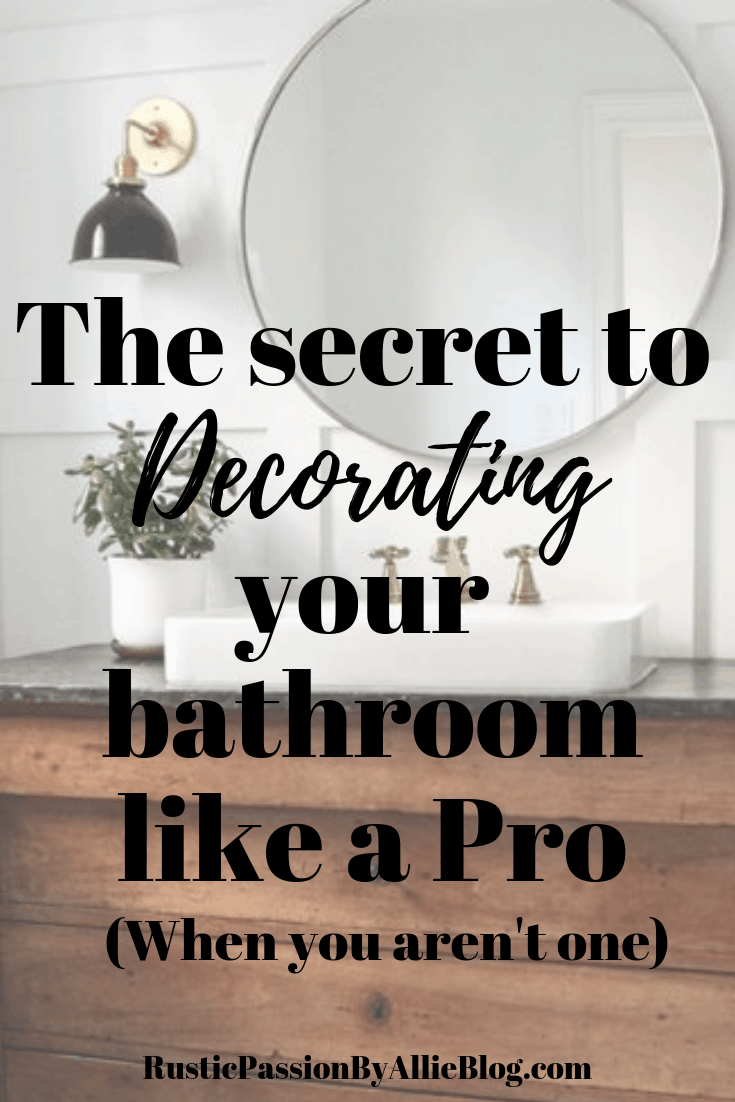 So let's hangout more than just here? I would love for you to join my blogging family. I pour my heart into my email list so fill out the form below and come be a part of it. You will get the best DIY hacks and tutorials for creating your dream home affordably.
You may also like these Blog Posts full of the best budget friendly furniture and decor:
Come find me on Pinterest, Instagram, and Facebook.
Also I can't forget… Have you been wanting to start a blog? I have created a step by step blog post to teach you exactly how to start a blog the easy way!
Blogging is what I do full time, I make all my income from this blog. So if you want to learn how to create passive income and enough money to replace your 9-5 take a look HERE.
Thanks for stopping by the blog today friend. It means so much to me that you spent time here.