19 of the BEST Affordable Laundry Room Design Ideas that you NEED to Copy!
19 of the BEST Farmhouse Laundry Rooms
Hi friend. How is your week going so far. Thanks for stopping by the blog today. We have been remodeling the entire house over the past year. And I have been dying to re-do our laundry room. I browsed ideas all over Pinterest. The options are endless when choosing how to decorate your dream utility room – farmhouse laundry room. So I will give you the best laundry room design ideas and 13 must have items in your laundry room.
You will get inspired and find so many ideas for your utility room; laundry room cabinets, farmhouse laundry room sign, laundry signs, open shelving, DIY shiplap walls, farmhouse laundry baskets. Even if you have a small utility room you will find plenty of small laundry room ideas from this blog post.
I promise you will find the BEST farmhouse laundry room decor! And want to copy each one of these Laundry Room Design Ideas.
A blogger friend of mine posted a tutorial the other day about doing a faux brick accent wall in her laundry room. It was such a fun affordable update.
Are you looking to create your dream home without spending a lot of money? There's a way to have a beautiful home without breaking the bank! That's what I teach in the Rustic Passion VIP Community. If you want to learn more you can click below.

You can change the style of your utility room – farmhouse laundry room affordably! Come get inspired by these 19 laundry room design ideas. AND I am ALSO going to give you 13 tips – must have items that will help you create your dream laundry room! Along with these 19 stunning farmhouse laundry room design ideas! You will adore them just like I do. And I hope this blog post gives you A TON of design inspiration.
Some of the links on my blog are affiliate links, meaning no additional cost to you, I earn a commission if you purchase through the links. Thanks for supporting my dream!
Other Laundry Room Posts you may like:
13 Must have items in your laundry room:
1. Farmhouse Laundry Hamper – Because a sorting hamper is the best kind! I have in my farmhouse laundry room and it makes it so much easier to do laundry. And keep everything organized! I have a small laundry basket in my master bedroom to keep things off the floor. Because we all know how messy husbands can be! 😉 But this sorter is the best thing ever! If you don't have one yet you need it. It will save you so much time! I promise.
2. Laundry Room Sign – Because I have been making farmhouse wood signs for years I always find inspiration for them where ever I go. This white and black farmhouse sign is so cute. And has the perfect neutral design look that I adore. What is your favorite style for wood signs? Do you like pops of color or white and black? Tell me in the comments below.
3. Storage Baskets – Every laundry room needs a few storage bins. I feel like storage bins are so functional but they also look cute! That's the best part is you can hide anything in them up on a shelf or organize them how you want and no one will even know what's hiding in them.
You've only read 3 tips… Keep reading for more inspiration!
4. Counter/Shelf Decorations – So this item I didn't really want to list a lot of items to put on your laundry room shelves. Because everyone's style is different. But these cute decor cases are so adorable. They would actually look great in any room in our home.
5. Laundry Soap Container – This is the cutest farmhouse neutral soap container. So if you like keeping your laundry soap in a decorative container this is the perfect one for you! I love small details like this. It always adds so much character to a laundry room.
6. Trash Can – I feel like this one is almost one I didn't need to include because everyone already knows you need a garbage can in your laundry room for lint and emptying pockets. But here it is anyways.
7. Dryer Balls – Dryer balls are an awesome alternative to dryer sheets. If you haven't used them yet, definitely try them. They are scent free. Plus they save you drying time. Because they suck in moisture from your clothing. So your clothing will be dry WAY faster. Which is so nice!
8. Container for Change – So Tyson and I hoard change! Lol we keep it for months. And then take it in to exchange when our jar is full. I have always done this. It's so nice because you never really think about keeping change. But this change container will help you count how much money you've saved.
If you get that last one I promise you will have extra cash in your budget you didn't even realize was there!
9. Folding Station – Truth be told, I am the WORST EVER when it comes to folding laundry. Like I loathe it soooooo much. I would rather clean my entire house than fold laundry. But a folding station is so nice because right when it comes out of the dryer you can just take a few minutes to fold your laundry. And then you're done! So dang convenient.
10. Storage Hooks – So I love storage hooks. They are great for coats, towels, sweaters, and scarfs…. Literally anything can be hung on these hooks. And I love that they have a rustic industrial farmhouse look. They are gorgeous!
Aren't these must-haves great? They make all the difference in my laundry room!
11. Small Basket for Items removed from pockets – This is such a nice thing to have in my laundry room. Because Tyson throws all kinds of stuff in his pockets. And forgets about it! So I just empty 'em out and throw everything in the basket. He can then see what's in it when he's missing his headphones or something. You will love this idea for your hubby and kiddos! I promise!!!
12. Small Basket for Spot Remover Cleaner, and lint roller – So I like items to look organized and hidden away. I hate displaying cleaners and everything on shelves. Throwing your spot remover cleaner, and lint roller in a basket is nice because it's hidden. And you know exactly where your lint remover is for the next time you need to use it!
13. Greenery/Plants – I am a sucker for a good plant! Because I think plants add so much to any room. I have real and faux plants all over my house! I am not the best at keeping them alive. But that doesn't stop me from buying them! So whether you love fake or real.. Add a plant to your laundry room shelves. The splash of color will just add so much.
Keep reading! Because you need to see all these gorgeous laundry room design ideas! Like I wish I could have more than one laundry room because of this post! LOL 😉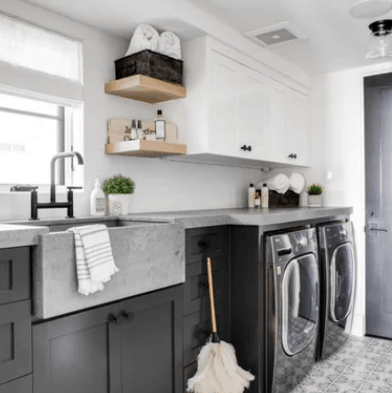 So what did you think of these STUNNING laundry room design ideas? I just can't! They are all so gorgeous. Tell me below which one is your favorite. It's so hard to decide. It really is. But I love that most of them are neutral. Because you know ya girl loves neutral EVERYTHING!
So if you aren't already a part of my blog family. Come join me. I pour my hear into my email list to give you the best Interior Design tips and DIY hacks to save tons of money. Fill out the form below.

Let's hangout more than just here?!
Come find me on Instagram, Pinterest, and Facebook!
Also, one last time I want to mention before you leave… Have you ever thought about starting your own blog? I am a full time blogger and make all of my income from my blog! If you have been dying to find out how you can make a full time incoming blogging check out my blog post. It will teach you exactly how to start your own blog.
Thanks coming stopping by friend. It means the world to me. Don't forget to add me on social media. Let's connect!
You may also like these Blog Posts full of the best budget friendly furniture and decor:
The best tips for a gorgeous neutral laundry room