How to make EASY no-sew DIY fabric flowers.
Hey guys! I hope you all are having an amazing week. Valentine's Day is coming up soon. Which is one of my favorite holidays. Actually, let's be real… I love ALL holidays. Y'all know that. BUT seriously give me all the sappy love movies or cheesy anything! Because… I am THAT person. I love LOVE! 🙂 That's probably why I enjoy Valentine's Day so much.
What is your favorite holiday? Or are you like me and can't get enough of ALL holidays?! Although, they are all equally important.
Don't forget to sign up for my blog family. You will be the first to get updates about the blog. As well as get access to my Free Home Decor Resource Library.

Tyson and I usually stay home and cook a nice dinner for Valentine's Day. Cooking together is one of favorite things to do. For the first couple years we were together I didn't even know Tys could cook. He kept that a secret from me! Lol
Let's get to it.
Honestly, I stayed in one afternoon and made 30+ DIY Fabric Flowers because I just couldn't stop…
Because these flowers are that fun to make!!! So, you will get to see a HUGE selection of them in this post.
Popular Valentine's Day Blog Posts:
So I wanted to do some fun shabby chic flowers to show you all. These were so easy to make! But more importantly they turned out gorgeous. I love white and neutral so much so these were perfect. There are so many ways you can display your fabric flowers. I will show you what I ended up doing with them!
I've been wanting to make a lot of fabric flowers for a while. So I just picked up a bunch of different ribbon from Hobby Lobby, and Amazon.
EVERYTHING that I used to make these gorgeous shabby chic flowers is linked.
The best thing about shabby chic flowers is they can used for so many different decoration accents. I hot glued my on my shabby chic vintage books.
Besides what I used them for you can use them on farmhouse wood signs, wedding decor, wedding bouquets as well… the options are endless! In other words, they can be used on basically ANYTHING! Therefore, you will never run out of ideas for these cuties.
Some of the links on my blog are affiliate links, meaning no additional cost to you, I earn a commission if you purchase through the links. Thanks for supporting my dream!
Items you will need for this project:
Hot Glue Sticks – The link I have included is a kit of Glue Sticks and Glue Gun
First I cut some jute ribbon in about 3 inch long pieces.
Then folded them in half and hot glued the ends together.
I glued all 5 fabric pieces to a small square of felt.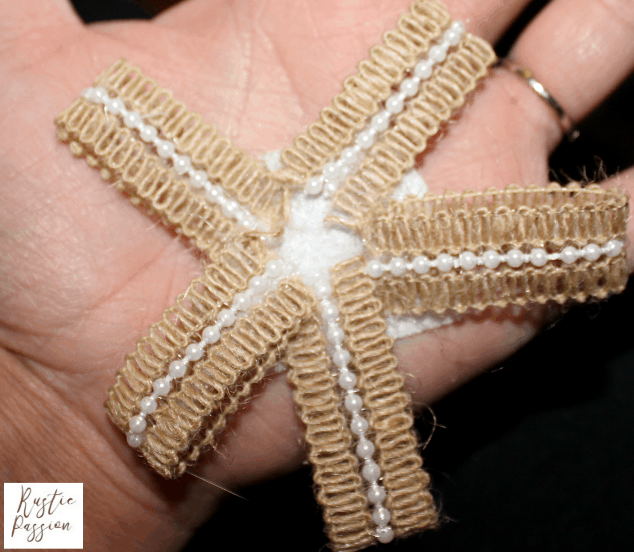 I wanted there to be a couple different kinds of ribbon on this one flower.
So I cut 5 strands of white ribbon. But isn't this ribbon just gorgeous?! I just love it!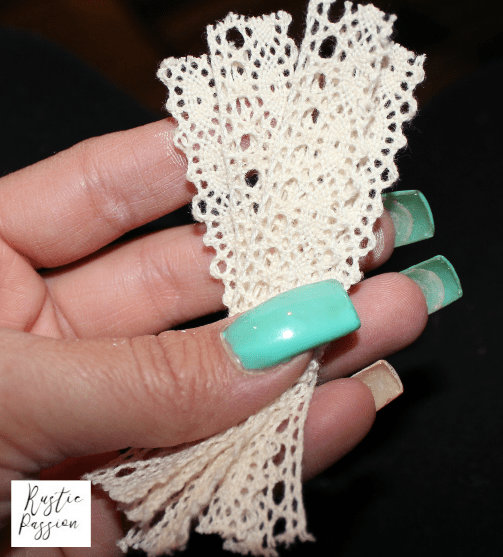 Same thing on this ribbon, I folded them in half and glued the ends together.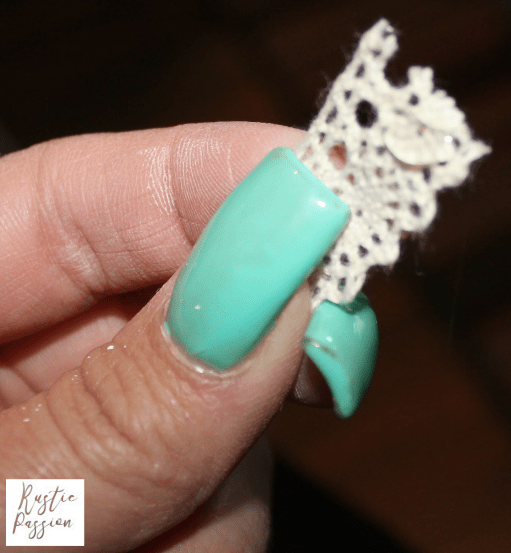 I glued the white ribbon on top of the burlap strands in the middle, and glued a pearl in the center on top.
Do you love these cute shabby chic flowers? I do so much!
Here is the end result guys! Of course, I think these flowers turned out so pretty! I love the neutral shabby chic look. They are so beautiful.
Like I mentioned above, these DIY Fabric Flowers have so many decor purposes they can be used for. I used them for decor on white vintage books. See how to make these shabby chic faux vintage books here.
Thanks for stopping by friends! I am so glad you are here. Don't forget to join my online family. I send out weekly emails. My email list ALWAYS gets the best home tips and the latest updates on the blog first.
Popular Blog Posts You Will Love:
Don't forget to tag me in your photos of your own Fabric Flowers! I love seeing what you guys are working on! Let's be friends on Social Media! I am super active on Instagram, Facebook, and Pinterest!