Learn How to Make the Easiest DIY No-Sew Farmhouse Pillow in less than 5 Minutes.
Hi friends. How are you doing? I hope you are doing well, and happy today. I have been extremely happy this week. Being a full time blogger I am listening to podcasts literally ALL DAY LONG. Which is totally amazing. I get to fill my heart and head with encouraging, positive, uplifting words. What is better than that? Truthfully, not a lot y'all. In other words… positive podcasts, or videos are what pumps be up, and motivates me most! What's your favorite podcast to listen to? Above all, what gets you the most motivated to reach your goals? Tell me on Instagram! I am always looking for podcasts to listen to. 🙂
Popular Blog Posts:
So let's get down to business!
While it may be true, tell me I'm the only crafter who can't sew? I can not for the life of me sew no matter how hard I try. With so many failed attempts I have tried and triend and it NEVER works out. Which is fine y'all. Haha I will be that person that lives, breathes, bleeds crafting that can't sew. It's fine!! 😉
Some of the links on my blog are affiliate links, meaning no additional cost to you, I earn a commission if you purchase through the links. Thanks for supporting my dream!
I saw some adorable DIY place mat pillows the other day on Pinterest. Obviously, I loved them. As a result I decided to use dish towels for my no-sew project. So when I found these cute farmhouse red and blue striped dish towels I knew they would be perfect. Truth be told, I think that the dish towel pillow idea was a lot cuter.
So when I made the easiest no-sew farmhouse dish towel pillow it turned out so cute and only took a few minutes to make! Of course I think a hot glue gun is a girls best friend. Do you agree YES or YES? Or at least it's my best friend!!
Let's hangout more than just here?! Sign up and become a part of my blog family! I would love to connect with y'all. Fill out your info below.
Items you will need to make your own Farmhouse Dish Towel Pillow:
First to start I folded over the edges and glued the entire edge of the towel so you couldn't see the hem.
Once I got rid of all the showing hems I hot glued the edges of both towels together to create a pillow case.
I left one side of the pillow case open for the Polyester Fiber Pillow Fill.
Almost all the way to the top.
Once it was completely filled I glued the last side closed and it was ready to be displayed in my home.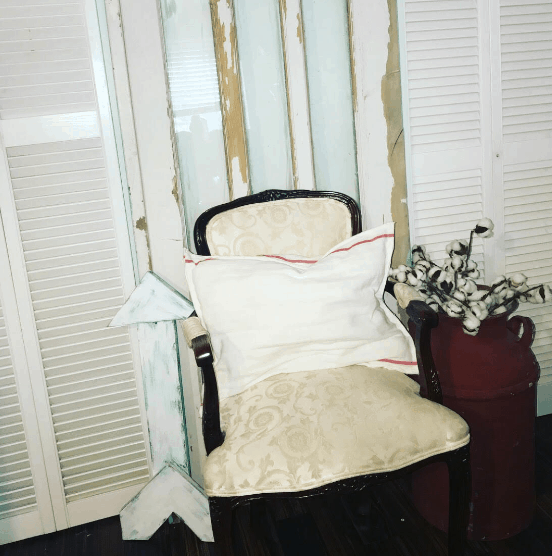 This was seriously the easiest project and took 5 minutes. I love the way it turned out! Don't you!? What's your favorite DIY Farmhouse Home Decor Project? Tell me on Instagram!
Lastly, have you been wanting to create your own blog? I make ALL of my income from being a full time blogger. Keep reading if blogging is something you have always been curious about.
In other words here is an amazing post for y'all to give you step by step instructions on exactly what I use. Really though take a look at my blog post How to start a Blog the easy way! I've included a list of the best tools I use for my blog. I have used all the items in this blog post personally and absolutely love them. I have also linked discounts or the best price possible for each item. Go read it now and start a blog the easy way!
I pour my heart into connecting with my community. So if you want to be a part of my blog family I would love to connect with you. Let's be friends on Instagram, Pinterest, and Facebook.
Thanks for stopping by friends.