The Best DIY Chalkpaint To Use on Furniture and It Barely Costs Anything!
Hey guys! How is your week going? I hope amazing! The weather is gorgeous lately here in Salt Lake and I have been able to work on projects in the backyard like crazy! Recently I made the easiest DIY chalkpaint that works great on furniture.
Truth be told, I have been going a bit overboard with redoing all the things! LOL I have been painting my kitchen table, night stands, vanity desk, end table with it and it looks so beautiful.
Don't forget to fill out the form below if you want to become a part of my blogging family and be the first to know what's on the Blog. I send out emails with DIY tutorials and soooo many Home Decor Freebies!
I have tried multiple different kinds of chalkpaint but it saves so much money to just make your own DIY chalkpaint.
But really.. You will become obsessed with this easy DIY Chalkpaint recipe. Don't say I didn't warn you! Because once you make it you will want to paint EVERYTHING! Is that really a bad thing though?
Some of the links on my blog are affiliate links, meaning no additional cost to you, I earn a commission if you purchase through the links. Thanks for supporting my dream!
Popular Blog Posts:
Things you will need for this project:
I used Behr White Latex Paint but really any kind of latex paint you like will do.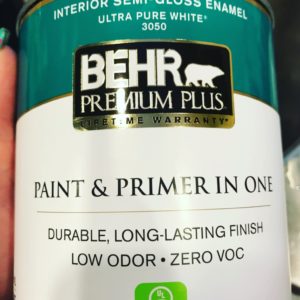 I am obsessed with Rustic Wood and Neutral White interior decor. So I knew I wanted to makeover a lot of furniture in my home using this DIY Chalkpaint. Luckily this batch is huge.
If you have a small project cut it in half and it will work out great!
I mixed all the ingredients into a mixing bowl and stirred it continuously until it looked like milk and all the lumps were gone.
So easy and quick to make!
Plenty of times I've read on other blogs mixing the ingredients separately. But I feel like when I mixed them all together to begin with it was more creamy and looked better on furniture. As well as make sure you are using hot water made it mix easier. In other words, don't use cold water!
You will love this DIY Chalkpaint so much!
I kid you not I painted EVERYTHING in my house this this DIY Chalkpaint.
Can't wait to see all your fun DIY projects using this DIY Chalkpaint! Don't forget to tag me on Instagram in your projects. I love seeing what you're working on.
Let's hangout more? Come connect with me on Facebook, Instagram, and Pinterest!
Lastly, have you been wanting to create your own blog? I make ALL of my income from being a full time blogger. Keep reading if blogging is something you have always been curious about.
In other words here is an amazing post for y'all to give you step by step instructions on exactly what I use. Really though take a look at my blog post How to start a Blog the easy way! I've included a list of the best tools I use for my blog. I have used all the items in this blog post personally and absolutely love them. I have also linked discounts or the best price possible for each item. Go read it now and start a blog the easy way!
Thanks for stopping by the blog today!