How to Chalkpaint Furniture the EASY way!!!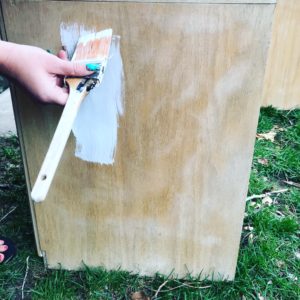 Hey friends! Thanks for stopping by today! I hope you are having a great week so far. I mentioned in my last post how happy this time of year makes me. The weather is amazing and I can work on so many projects outside! YAYYYY!!!
I have been painting furniture like crazy and loving every minute of it. I want to share with you guys a nightstand makeover. My little sister just moved into a new place and wanted to get new nightstands. She grabbed these on a local yard sale site and let me tell you… they were a nightmare to look at.
Seriously so bad!!!
I didn't have a lot of time but knew I wanted to make them look as cute as possible. I love neutral and white everything so I had to use my DIY Chalkpaint on them. Seriously this Chalkpaint is the absolute best one, once you make it you will want to paint everything you own! You will love it. Quick, easy, and affordable!
First I sanded the entire nightstand. The top was black and very rough. I sanded it for a few minutes and it was ready to paint. When I made my Chalkpaint I bought latex paint that included primer which is so nice.
Then I painted the top with gray chalkpaint.
I painted the rest of the nightstand white. Chalkpaint usually dries pretty quickly. I was able to start on the second coat on the top of the nightstand almost immediately after the sides and front were completely painted.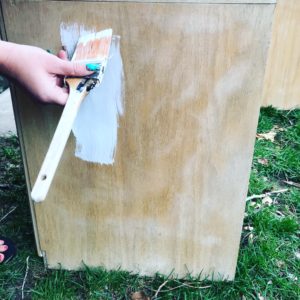 I did a total of 3 coats on the nightstands and once it was dry I put on a poly top coat.
I found white distressed knobs and think they ended up looking super cute!
You may also like this post:
The Best DIY Chalk Paint To Use on Furniture!
Well friends thanks for stopping by!!! I want to see all your projects you are making! Don't forget to tag me on Instagram @RusticPassion.