Learn how to Make your own Cheap Joanna Gaines Inspired DIY Magnolia Wreath.
Hey friends. How is your week going so far? Have you been getting ready for a new year? I love it when are new year comes. It's always a fresh start and a way to start becoming the best version of yourself. I absolutely love looking at past accomplishments for year and making new goals for the new year. What goal are you working on for the new year?
So who else is a fan of Joanna Gaines? Oh… everyone is?! 🙂 I know the community of Joanna fans is huge! I will be the first to admit that I am obsessed with her, her show fixer upper, and her gift of interior design. Totally not ashamed to admit I have binge watched fixer upper many times and am very okay with it! Truthfully her design style is always so inspiring.
If you want to gain access to my Freebie Home Decor Resource Library and join my blog family fill out the form below.
Do you adore magnolia wreaths? They are so pretty. But the price tag isn't! I wanted to make my own Joanna Gaines inspired DIY magnolia wreath. Because I couldn't get myself to spend that much money on it.
You can find all items on Amazon.
Items you will need for the project: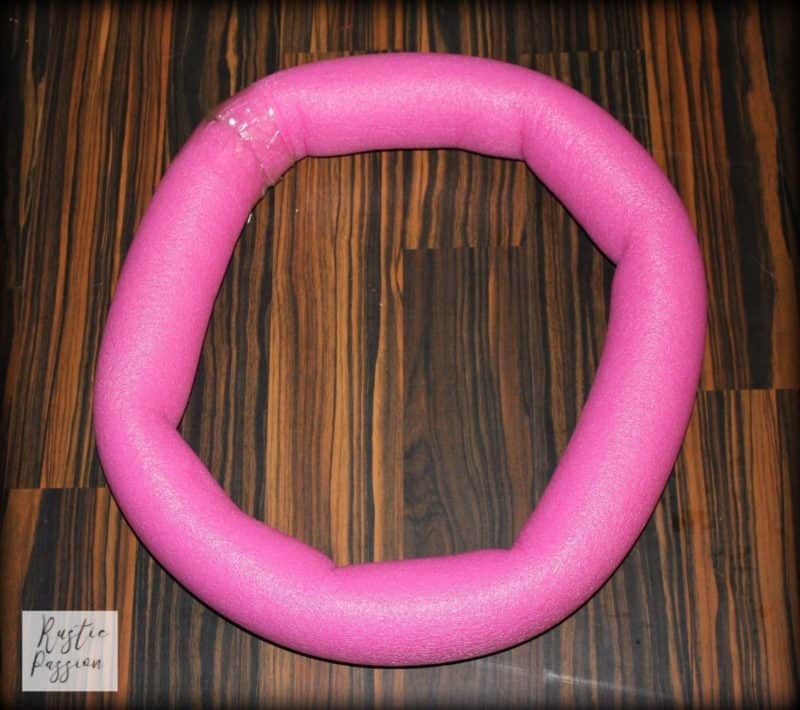 I absolutely love using pool noodles to make wreaths. Truth be told, it's such a cost effective way to make have a big full wreath. Begin by taping the ends of my pool noodle together using duct tape to make a circle. More importantly, a quick tip I tried many times is wrapping the entire pool noodle with masking tape. I noticed that the hot glue doesn't like to stick to the pool noodle, but it will stick to the tape without any issues.
So you will see this pool noodle wrapped with masking tape.
Once my pool noodle was circular I was ready to start gluing on the leaves. It was a must that my wreath looked full, and have a lot of depth. I glued the entire middle section first. Since each stem had 3 leaves on it I had to hot glue one stem down, and place the next one with the leaf covering the plastic stem. I wanted my leaves to be the only thing showing on this wreath.
So I did have to readjust to make sure no stems were showing throughout this process.
You can see I just continued this process over and over again covering the stems.
After I glued the leaves on to the entire wreath it was ready for a second round. This time I placed the leaves on the inner circle. And repeated the process over again.
I glued them at an angle pointing towards the inside to give my wreath more volume. Once the second round of leaves were glued I was almost finished.
Lastly, I just went through and adjusted any leaves so that there wasn't open space showing any stems or the pool noodle.
I had extra leaves so I just hot glued them in any open space.

I absolutely love this DIY Magnolia Wreath!
So I hung it in my kitchen corner on a white shutter. I played around with it a bit and ended up hanging a tobacco basket up and placing the wreath on top of it.
The way it turned out was perfect. It is so pretty, and literally cost me next to nothing. Budget friendly DIY home decor is the best.
Since starting my business and becoming a full time blogger my favorite part is doing crafts 24/7! I love creating beautiful decorations that I can display around my home.
Side note… If you want to start your own blog you can see step by step instructions and see exactly what I do to create a profitable successful blog.
Let's be friends! I want to connect with you more than just here! 🙂 Come say hi on Instagram, Facebook, and Pinterest.
Thanks for stopping by friends!