Make these 15 DIY Signs on Wood for Summer for Cheap!
Make these 15 DIY farmhouse wood signs Summer!
Hi friend. Happy Wednesday. I am just getting back from a trip we took to Vegas with some family. It's always so hard to get back in the flow of everything when you have been in full vacation mode. I've been daydreaming of Summer for weeks now. And it's finally starting to feel like it in Utah. The weather has been rainy and cold for the most part. But it's hot and sunny now and I am taking full advantage by working from my laptop outside. 🙂 So I want to share 21 DIY signs on wood for Summer that you can make yourself. Or buy if you don't want to take the time to make 'em.
These adorable Summer wood signs are too cute and I plan on making them all!
What fun Summer plans do you have going on? I plan on some lake days of course. And being by the pool basically all Summer long. 🙂 Last Summer I bought 10 different pools floats and I plan on using them. LOL
Tell me in the comments what you have going on. Give me some good ideas for fun things to do. I'll probably be spending a ton of time in the backyard in the hammock just working outside if it's not too hot.
So these DIY signs on wood are colorful and bright. They are perfect for your Summer home decor. I love when Spring and Summer come around and I get to add pops of color through out my neutral home decor. I love the bright and happy vibes it brings.
Also, I can't forget if you aren't part of my blog family fill out the form below to get the latest updates and DIY tutorials first.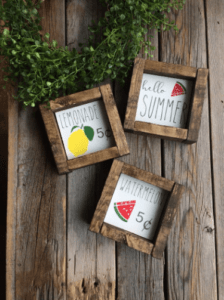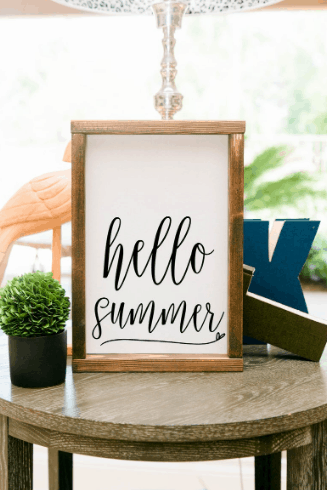 It's hard to choose a favorite isn't it? They are all so bright and cute!
But #4 has got to be my favorite one!
I hope these cuties gave you some great ideas for your Summer decorating. And making of all the things! Because I know I will be making a ton of these adorable wood signs.
Popular Blog Posts:
So let's hangout more than just here? Come find me on Instagram, Facebook, and Pinterest. And don't forget to sign up to be part of my blog family.
Thanks for being here today friend. It means the world that you came.