The Easiest 4th of July Banner to hang on your Independence Day Mantel.
Hey! How is your week going so far? Mine is going amazing! Seriously it has been such a productive week so far for me, those are always the best. Which means it was filled with tons of crafting! My favorite thing!!! It is officially summer y'all. Which makes me so happy. It is supposed to get up to 98 degrees today in Utah. Sooo hot!
So summer crafts have begun for me. This week I have been working on 4th of July Farmhouse Home Decor. Dang they are turning out super cute! I love 4th of July Crafts!
I wanted to share with you a fun patriotic banner that you can make with a few different kinds of ribbon in 30 min or less.
Some of the links on my blog are affiliate links, meaning no additional cost to you, I earn a commission if you purchase through the links. Thanks for supporting my dream!
Items you will need:
Here is the ribbon I used.
I used a red and blue solid bandana. I cut them into strips that were about 1 inch wide and 12 inches long.
I hot glued the ribbon to the top of the twine string. The twine string holding all the strips of hanging ribbon was about 2 & a half feet long.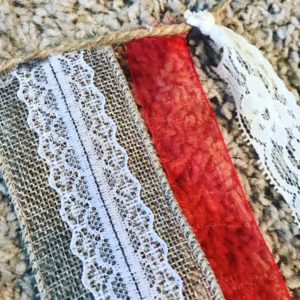 Each ribbon strip is about 12-14 inches long
I fringed the edges of the bandana strips
I hot glued the ribbon and feathers in a random order.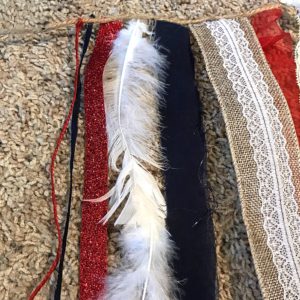 I hung it on my fireplace and I think it looks super cute. I love this time of year and this 4th of July Rustic Banner turned out adorable.
Thanks for stopping by friends!
I hope you like this banner as much as I do. If you make it don't forget to tag me in your photos on Instagram. @RusticPassion I love seeing your photos of your crafts you make!!!
Popular DIY Blog Posts: