Find the perfect entryway table small enough for any space.

The best entryway table rustic and farmhouse design that's gorgeous and budget friendly.
Truth be told Entryway Design is such an important step in decorating your home. I adore vintage antique furniture. So that's why a Unique Entryway table small or large is so important. Entryway Benches and Entryway Tables are the focal point of right when walking into your home. The entryway is area that guests see when they enter your house. So it's so important to have a clean put together area that welcomes people into your home. To be honest, it ultimately sets the mood for your entire home and helps you create your dream house.
So I created a guide of gorgeous entryway tables that you will absolutely adore. Also, I designed a collection of Entryway Benches. All in all I know you will adore each and every one of these console tables like I do! You will be able to decorate your small or large entryway the exact way you want all while keeping in your budget.
Plus I want to share 3 tips to decorate the most inviting entryway possible:
Tip #1 – Make sure you use decorations are personal and that you like. I love cozy vibes when it comes to decorating. So I always use throw pillows, and throw blankets around the house. If you are looking for a cute way to display your pillows you can get a large decor basket to hold pillows under your entryway table.
Tip #2 – Always use a shelf, mirror, or picture hanging on the wall above your entryway table. This creates a focal point at eye level that guests will automatically be drawn to when they walk into your home.
Tip #3 – You need furniture in your entryway. Even if it is a small area. This is why I have created this guide to help you pick out the perfect affordable entryway table.
Take a look at our recommendations page. Because, I know you will want all of these affordable hundreds of farmhouse items including Farmhouse light fixtures, furniture of all kinds, and stunning decor. One of our most popular pages is Farmhouse Home Decor on a Budget! Equally as important as decorating a home the way you want, is always keeping in a budget! So take a look around if you want to be inspired.
I pour my heart into my blog family I would love it if you would be a part of it. You'll be the first to get DIY tutorials and blog updates.
Honestly, take a look around the blog. I am obsessed with our recommendations page it includes hundreds of Farmhouse styled home decorations. However, you'll spend all your money. Because you will want to buy all the things! 🙂 So don't say I didn't warn you!

Some of the links on my blog are affiliate links, meaning no additional cost to you, I earn a commission if you purchase through the links. Thanks for supporting my dream!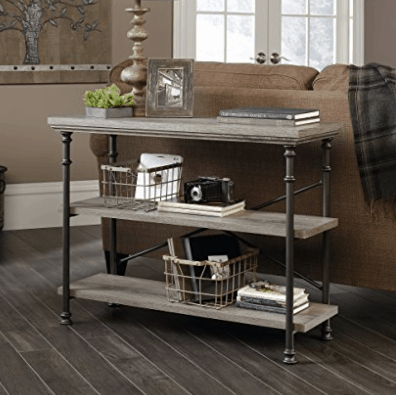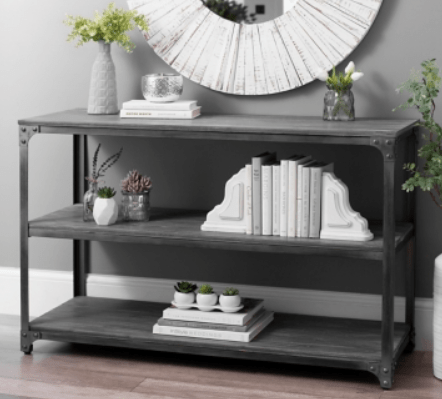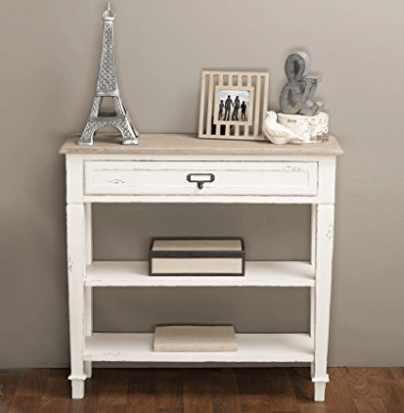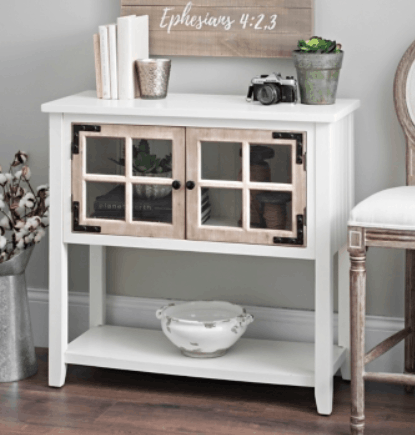 Which one of these console tables are your favorite? It's hard to just pick one. But this one is my favorite.
You may also like these Blog Posts full of the best budget friendly furniture and decor: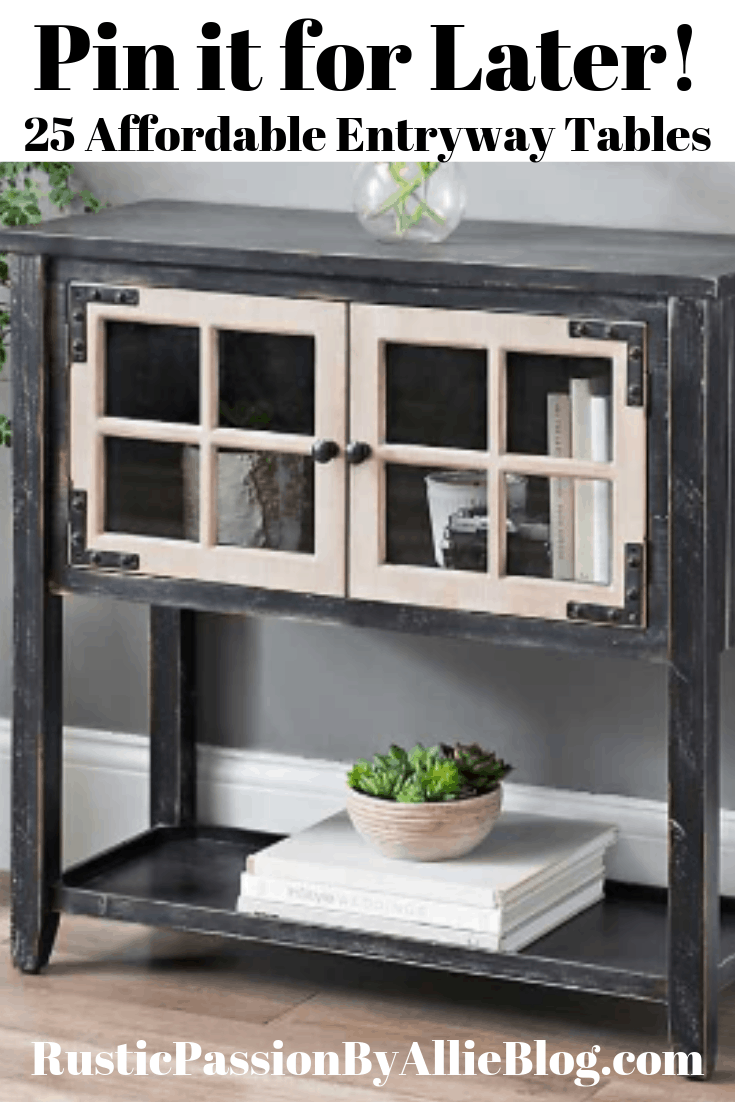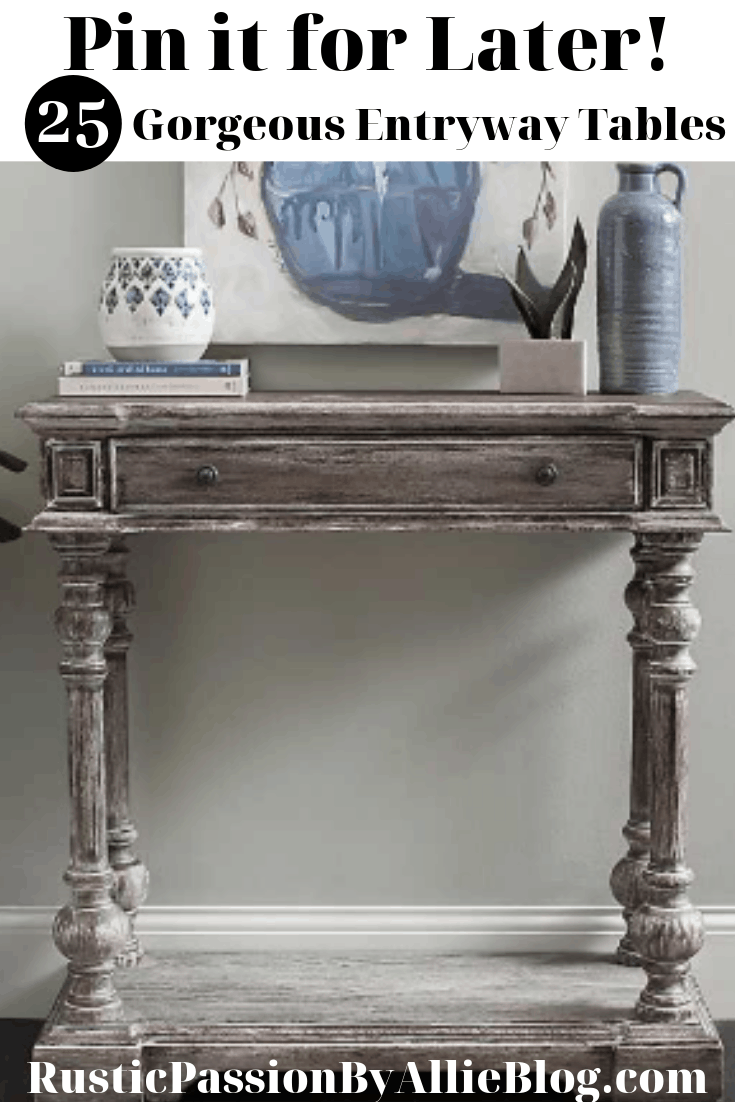 Let's hangout more! Do you want to be friends? Come connect with me on Facebook, Instagram, and Pinterest!
Lastly have you been wanting to create your own blog? I make ALL of my income from being a full time blogger. You need to keep reading if blogging is something you have always been curious about read this post How to start a Blog the easy way! I've included a list of the best tools I use for my blog.
Thanks so much stopping by the blog today. It means so much to me that you came.
The options are endless when picking out the perfect entryway furniture. I hope you found the perfect entryway table whether that be – a table round, entryway table narrow, entryway table console, entryway table modern, entryway table with storage.