Hey guys! I hope you are having a happy Monday and had an amazing weekend. This weekend was crazy for us we had so much going on.
I wanted to show you step by step how you can turn a regular stool or really any piece of wood furniture into an old antique looking item without any sanding. It is super easy and there are only a few steps.
I have had this stool forever honestly and thought it was so ugly so I wanted to give it a makeover.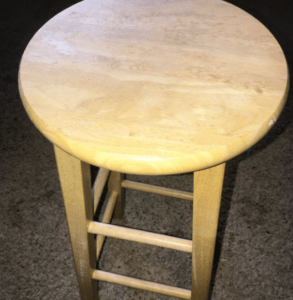 So I started by painting the stool white. I wouldn't recommend using milk paint for this project. I just used white acrylic paint and it worked perfect.
You will want to paint a couple coats.
Once the white coats were dry I painted a light brown streak on the edges using Brown Sugar.  I painted it where the stool would naturally start paint chipping. It worked best for me to use my finger and smudge it down along the sides.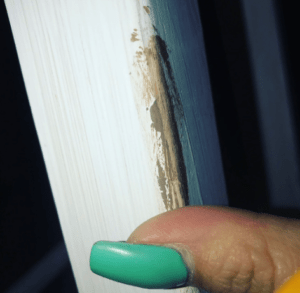 I didn't paint the entire edge. I just painted streaks that were about 3 inches long. Each leg had two or three streaks on it.
Once I painted all the leg edges brown, I painted the top of the stool brown.
Once the top of the stool was completely brown I let it dry for a few.
After you have let your stool dry you will want to use White Elmer's Glue to paint on the top of the stool.
Just make sure it is evenly coated and all painted in the same direction. That part is super important.
After I painted the stool with glue I painted a coat of white paint on top while the glue was still wet.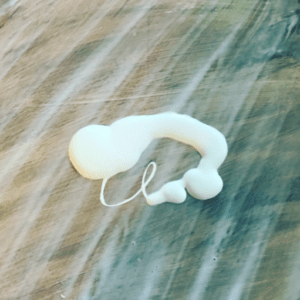 Once the last coat of paint was covering the entire top I brought my blow dryer and started to blow dry the paint and glue coats. The reason it is important for the glue to be painted all in the same direction is because when you blow dry it, it will start to peel in whatever direction you painted the glue.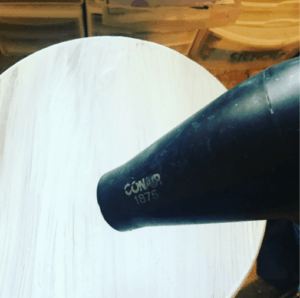 You will see it started to peel away the top coat white so you can see the brown layer through. I let the stool dry for a couple hours to make sure it was 100% dry.
I love the way the stool turned out. It looks so pretty! If you want to see how I made these pretty shabby chic books you can see it HERE.
Thanks for stopping by friends. Have a great week!
Popular Posts: