Hey guys! I love bringing you gorgeous home decor ideas and DIY projects! It's something that makes my heart happy. So sit back and enjoy this blog post. Soak in all the inspo because I found some gorgeous bathrooms that you will love these lookalike fixer upper bathrooms!
Take a look around:
Decorating isn't always easy. It can be so hard to find your design style. But I want to give you some tips and tricks to help you decorate like a Professional when you aren't one with these lookalike fixer upper bathrooms. Something that has always given me inspiration is browsing homes on Houzz. This website is kind of like a hidden gem. A lot of people go to Pinterest or Instagram to get inspo! Which I totally do too. But a favorite place for me to fall in love with interior design photos is the Houzz Home Gallery.
If you want to be a part of my blogging family please fill out the form below. You will get full access to my Free Home Decor Resource Library.
5 Tips to look like a Pro when decorating your bathroom:
 Wood and Whites are so popular right now. Everyone that knows me knows how much I adore reclaimed wood and neutrals together. The color combination to me is perfect.
 Mixing textures works. If you love multiple different textures it's okay to bring them together when designing a bathroom. If you look at the photos below you will see many examples of shiplap, reclaimed wood walls, rustic vanity. They compliment each other well.
Simplicity is a good thing when it comes to bathrooms. I am an over the top decorator. I used a lot of decor in my home maybe too much at times. But with my bathroom I keep it simple to look clean and organized.
When you are out looking for decorations for your bathroom look for unique items. One of a kind decorations are better in my mind. I often find unique decor at the flea market, thrift shops, and yard sales. Look in your area to see if you have some local markets. I promise you find some awesome home goods.
If you look at the photos below you will see that most of these bathrooms have greenery and floral displayed. That is something I love. Plants bring life to any area and look stunning in a bathroom.
So I want to share some of my favorite Farmhouse and Rustic Bathrooms! So you can get motivated to decorate your own fixer upper bathroom. Hopefully it gets you inspired and gives you some great ideas! All of  these gorgeous homes are from HOUZZ.
Do you have a favorite one so far? These lookalike fixer upper bathrooms are stunning!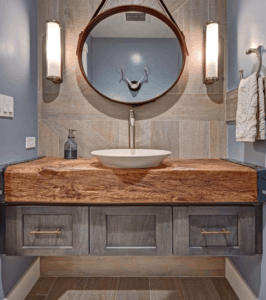 Aren't these bathrooms perfect? Like seriously straight out of a magazine. BRB guys I have to go remodel my bathroom. 😉 I hope these brought you some inspiration like they have with me. So you can design your own fixer upper bathroom and look like a pro using the 5 tips I provided.
Lastly, have you been wanting to create your own blog? I make ALL of my income from being a full time blogger. So keep reading if blogging is something you have always been curious about.
In other words here is an amazing post for you to give you step by step instructions on exactly what I use. Really though take a look at my blog post How to start a Blog the easy way!
I've included a list of the best tools I use for my blog as well. I have used all the items in this blog post personally and absolutely love them. I have also linked discounts or the best price possible for each item. Go read it now and start a blog the easy way!
Popular Blog Posts: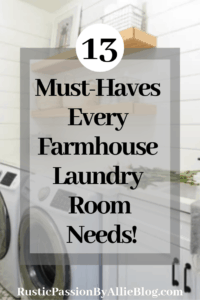 Thanks for stopping by friends. It means so much to me. I hope you were inspired by these fixer upper bathrooms.
Let's hangout more than just on here? Come find me on Instagram, Pinterest, Facebook.