The BEST Sherwin Williams farmhouse Paint Colors! + 7 helpful painting tips 

The BEST Sherwin Williams farmhouse Paint Colors! + 7 helpful painting tips
How do you pick out the perfect paint color for your home? It can be a bit tricky to find a color that is cohesive and gives your home that peaceful feel that we all desire. I have created the perfect paint guide to help you find farmhouse paint colors that you love. I will give you some extremely helpful tips so you can create a stress free environment while painting and updating your master bedroom, bathroom, living room, or any space in your home for that matter.
Tyson and I have been remodeling our house for the past year and dang has it been a lot of work. But fixer upper projects are so much fun. It's been a blast having a home that you get a clean slate on and you get to design it how ever you want. With that of course comes all the decision making for every little step you make in the process. We've knocked out walls, torn out cabinets, pulled up nasty carpet put in hardwood floors, redone the entire fireplace, painted alllll the walls. The list goes on and on.
So of course I had to decide what paint color I wanted my house to be. It was a lot of researching and trying to figure out a color that would last and something that would tie in with all my home decor. Because everyone that knows me knows that I live for decorating and it's what I am most passionate about.
If you want to see my favorite decorations for 2020 you can head over here.
If you are like me obsessed with anything Joanna Gaines inspired you will enjoy this blog post. I feel like gray and white homes are what everyone loves (myself included)!! So let's get down to it. These colors are perfect to bring your modern farmhouse or french country style to life. And will bring the Joanna Gaines farmhouse paint colors inspiration out.
So this is going to featuring the Pottery Barn paint line. Because I literally live for Pottery Barn White Paint. It's the best in my opinion.
Pottery Barn neutral paint colors are something that we all love when heading into Pottery Barn or browsing PotteryBarn.com you can see how beautiful the rooms look with the farmhouse paint.
Sherwin Williams farmhouse colors are so trendy and will be around for a long time trust me.
We are just getting started in 2020 and these are the latest interior design paint colors that you will want to have!
Here is an awesome paint calculator to help you know how much paint you need per room. It's from Thespruce.com. Keep in mind when buying paint you will want to remember how many coats are needed to cover the wall.
There are so many paint colors out there choosing one is never an easy decision! I love neutral colors. White, and gray is my thing. So this blog post will include some of my favorite paint colors from Sherwin-Williams Pottery Barn line.
If you have been struggling to find the perfect Farmhouse paint color look no further!!! I created this color guide to help you find the best color.
Plus I'm giving you 7 tips that make painting your home so much easier!
Tip #1 – Never buy paint without sampling it. This seems like a given. Because most people purchase paint in person. But you'd be surprised because everything can be purchased online now. Pick out 3 different colors that you love and take them home with you. Pick a small section on the wall and paint a stripe of each color side by side and pick out your favorite one.
Tip #2 – Hold up accents and decorations that are going to be displayed in that room to find out what compliments a paint to color to make picking out the perfect color easier. I love using decorations that I plan on using in a particular room to decide what color of "gray" or "white" looks the best.
Tip #3 – Paint an accent wall if you want to save money and make sure you don't spend too much on paint. You can control not buying too much paint by only painting an accent wall instead of 4 individual walls. Accent walls are gorgeous and add a lot of character to a home.
Tip #4 – If you do need to paint multiple rooms or have a large area that needs to be painted, buy in bulk. Buy a 5 gallon bucket instead of individual gallon buckets. If you are painting it all one color there is no reason to not buy more paint if you know you have a larger project.
Tip #5 – Don't hire a professional, when you can paint it yourself. Painting can be a bit scary if you have never painted a room before. But you just have to take your time and don't use too much paint on your roller to prevent lines.
Tip #6 – Take it room by room, don't become overwhelmed by a large area that needs to be painted. It can be a large pill to swallow if you have multiple rooms to paint. Just take it room by room instead of focusing on how much needs to be done still.
Tip #7 – Be smart about buying paint supplies. I have found that Amazon has variety packs of paint supplies for a great price. You will see them below.
Some of the links on my blog are affiliate links, meaning no additional cost to you, I earn a commission if you purchase through the links. Thanks for supporting my dream!
Variety Packs
Other paint supplies
Here are some of my favorite paint colors in the Pottery Barn Sherwin Williams Paint line. You will love them. This is the newest 2020 Pottery Barn Sherwin Williams paint line.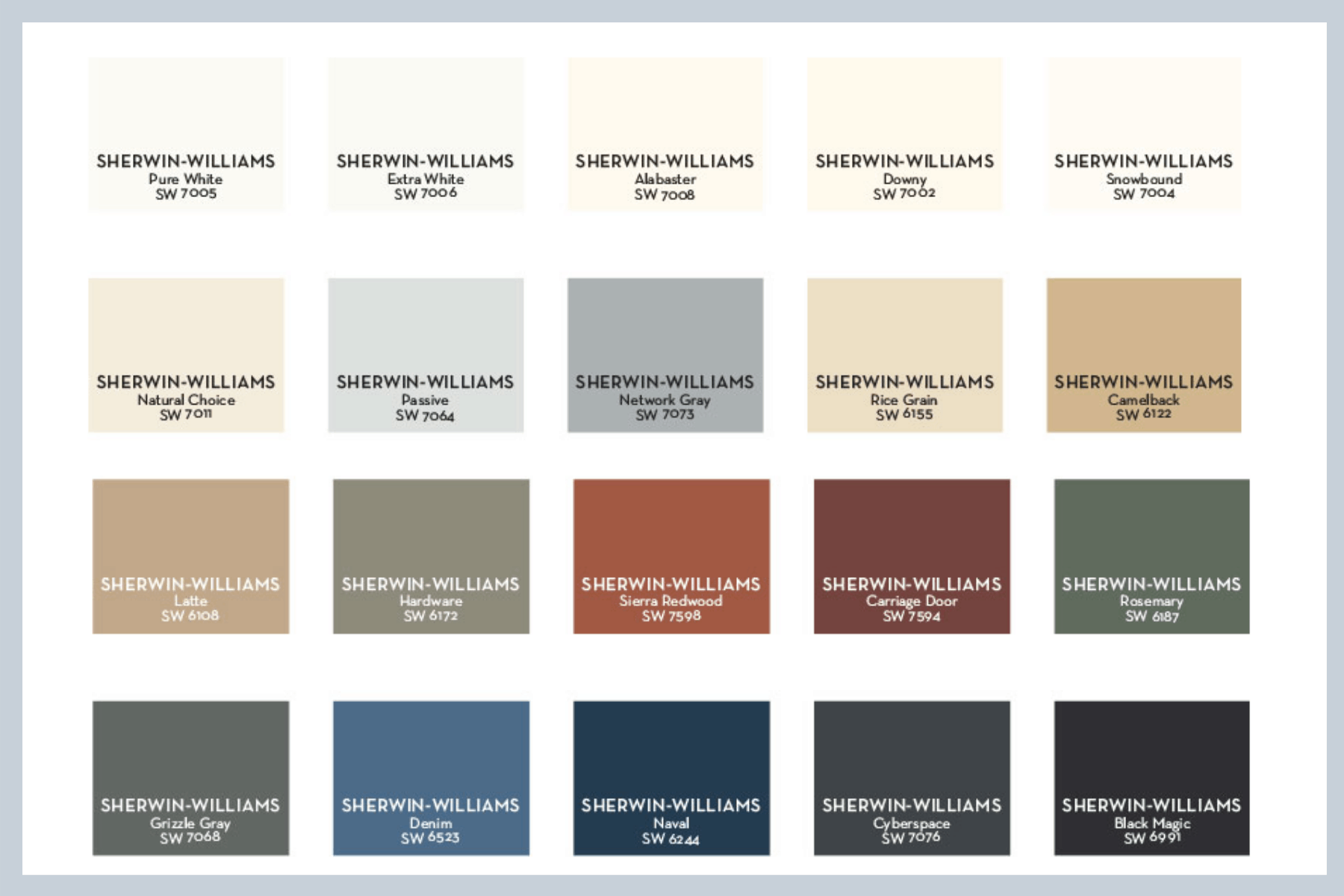 These are the newest paints for 2020 that give quite a bit of variety when it comes to different colors.
If you want to see my favorite grays and whites from the Pottery Barn line you can see them below.
Which was is your favorite out of all the colors? Tell me in the comments below!
The newest 2020 line is something that is pretty different from the normal colors. There is such diversity so you will for sure find a color that fits your needs. You can find the best french farmhouse paint colors.
If you are only looking for a White look at the guide above and you pick out the perfect pottery barn white paint color. I think my favorite one is "Ceiling Brite White."
Anyone that says all Whites are the same has no eye for design. 😉
I hope this pottery barn paints gave you some ideas for the best modern farmhouse paint colors to design your home the exact way your envisioned.
There are so many things to think about when painting a new room or remodeling your home. So don't forget these farmhouse paint ideas when you are updating the next room in your home.
Have you ever thought about starting your own blog? I get the question all the time if it's possible to blog full time? I never thought it was until I did it. If you want to learn exactly how to start a money making blog you can see how here.
Thanks for being here friends. Don't forget to sign up to be a part of my blog family. I pour my heart into my email list and you will be the first to get blog updates and DIY tutorials for home decor crafts.
You may also like these Blog Posts full of the best budget friendly furniture and decor:
My favorite Farmhouse neutral paint colors.