19 Modern Farmhouse Master Bedrooms that you need to copy NOW! + 10 helpful decorating tips.
The past week I have been sharing some of the most AMAZING Homes with you! I love sharing you gorgeous home decor ideas and DIY projects! It seriously makes me so happy when I am able to show you projects that I am so passionate about. If you are looking to get inspiration for some amazing modern farmhouse master bedrooms look no further. This post will be full of master bedroom ideas decor and furniture.
Do you love being inspired by Pinterest and other interior design websites like Better Home and Gardens. Because I can get lost for hours looking at decoration ideas.

I want to share some of my absolute favorite Cozy Farmhouse Bedroom Ideas with you + 10 tips to help you decorate like a pro!
Hopefully it gets you inspired! All of the gorgeous homes are from HOUZZ. Have you guys ever been on that website? They not only have Furniture and Home Decor they have a photo gallery of dream homes! You will love it.
Plus I want to share my favorite farmhouse bedding with you. You will absolutely love these bed sets. To see the rest of them click HERE.
But before I do. I want to share 10 tips that will help you look like a like a pro when decorating your own farmhouse master bedroom. These tips have helped me create a bedroom I never want to leave.
Tip #1 – You can never have too many pillows on your bed. I heard the quote one time that throw pillows are a woman's adult version of stuffed animals. And I have never forgot it since. I collect throw pillows and alternate them on my bed depending on the time of year. I have throw pillows for all seasons of the year. If you want to see my blog post that I created where I share 50 of my favorite throw pillows you can here.
Tip #2 – Always remember to have a nightstand on each side of the bed. It doesn't matter if they don't match because it's pretty popular right now to have nightstands that are different. I love the look of nightstands that compliment each other.
Tip #4 – Trunks and benches at the foot of your bed are a great addition to add some character if you have extra space to fill. I have a trunk in my bedroom it is a gorgeous vintage trunk and it works for storage purposes as well. Which is something I love when a piece of furniture is appealing on the eyes but serves a function as well.
Tips #5 – Use layers in your bedding. You will notice most of these photos include layers and multiple blankets. It looks great to have multiple comforters and blankets to add different textures.
Tip #6 – If you have an empty corner throw a blanket ladder or an accent chair in it. You can hang your extra small blankets on the ladder for decoration or add a throw pillow on a small chair in the corner.
Tip #7 – Don't be afraid to personalize your bedroom with family photos. I have a gallery wall in my bedroom with photos of Tyson and I. Because my room is very neutral I printed black and white photos to create my gallery wall. I adore the way it looks.
Tip #8 – When it comes to decor in the bedroom simplicity isn't a bad thing. I love over the top decor in my home, but my bedroom is more simple to create a clean look. I think nightstands and dressers look better when they don't have tons of clutter.
Tip #9 – Add a rug that you like. You can also layer rugs too. If you find a smaller rug that will compliment the larger rug don't be scared to layer them and use them both.
I hope these tips are helpful when decorating a master bedroom.
Are you looking to create your dream home without spending a lot of money? There's a way to have a beautiful home without breaking the bank! That's what I teach in the Rustic Passion VIP Community. If you want to learn more you can click below.

I've used them all and created a cozy space I enjoy spending time in.
Without further to do, here is some DIY farmhouse bedroom decor ideas and furniture pieces that you NEED to copy!
You can see product details and where the decor in each photo is from my clicking on the bullets below each picture.
Some of the links on my blog are affiliate links, meaning no additional cost to you, I earn a commission if you purchase through the links. Thanks for supporting my dream!
So let's be friends more than just here. I pour my heart into my email list if you want to be the first to get tutorials and DIY tips fill out the form below.
Tell me in the comments below which one is your favorite.
If you want to view more of the gallery where these pictures came from you can view them on Houzz.
Get more helpful tips to help you decorate your bathroom on a budget. Click HERE.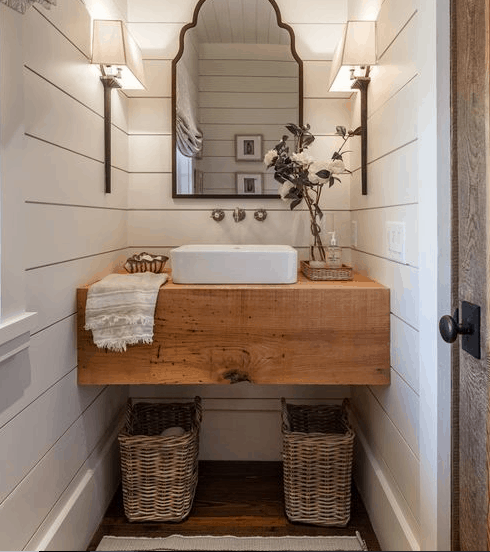 Popular Posts:
You may also like these Blog Posts full of the best budget friendly furniture and decor:
Thanks for stopping by the blog today friend. It means the world to me that you came. Don't forget to find me on Instagram so we can connect!